Ask Indians if they can eat their samosas without chutney, and you're likely to hear a unanimous "absolutely not".
For the uninitiated, as an introduction to the world of Indian condiments, chutney is a spread prepared in the same manner as pickles, with simple spices that enhance the flavour of the dish it accompanies.
Fun fact - Chutneys originated in the Indian subcontinent in 500BC and slowly made their way to the British and Roman Empire through the routes of trade and conquest. Though the traces of chutneys slowly vanished from the English countryside, with an increase in exported foods, remnants of the flavourful condiment can be found in how the west prepares fruit and vegetable preserves.
Coming back to the subcontinent, over 50 kinds of popular chutneys are found in India. Each Chutney represents the culture and food preferences of the region they originate from. For example, the famous coconut chutney that completes south Indian dishes comes from the coastal regions of Karnataka and Andhra Pradesh.
Chutneys like the savoury and tangy mint and coriander chutney and the tangy-sweet tamarind chutney have their roots deep-seated in Indian cuisine. They can be found easily through the length and breadth of the country. Chutney's mostly accompany street foods like fried samosas and cutlets, but up in north India, they're savoured with most Punjabi cuisine dishes.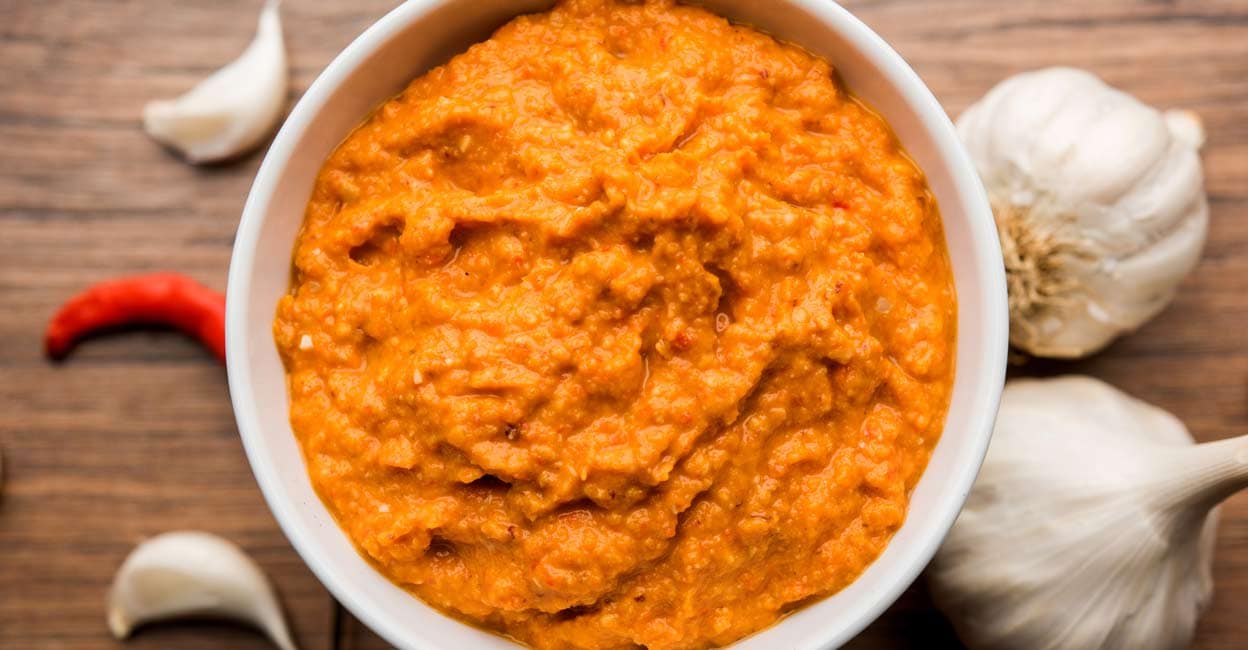 The third in India's holy trinity of chutneys, the famous garlic or Lahsun chutney has made its way to neighbouring countries. It now is widely consumed in Pakistan and Afghanistan. In India, the Lahsun chutney has two variants - one prepared in Rajasthani cuisine and another (dry version) that accompanies all Maharashtrian snacks (one cannot even imagine eating a vada pav without it)!
You probably already know the recipes of these classic chutneys and have made them dozens of times! So allow us to introduce you to a few chutney recipes that you probably haven't tried yet, but once you do, they will become dining table staples for you and your family!
1. Roasted eggplant chutney
Known as Vankaya Pachadi in Andhra Pradesh, this spicy condiment is the perfect accompaniment to be served with Rotis, Dosas and bread at your next party! Here's what you need to make it: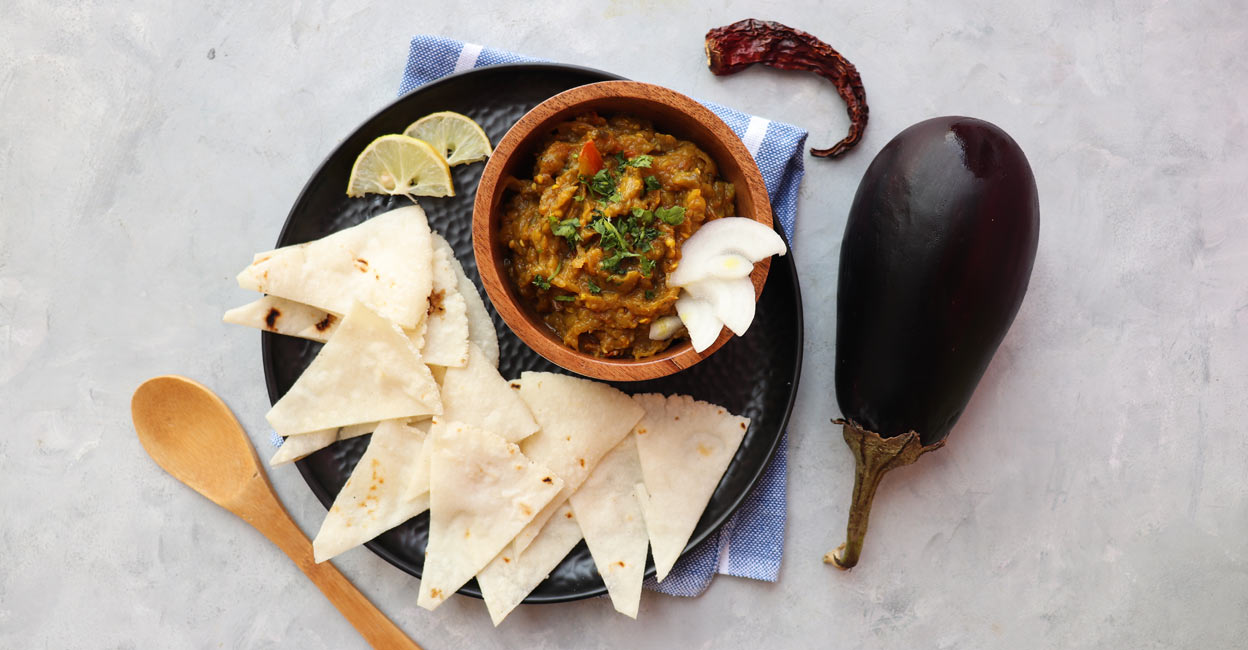 Ingredients
1 big eggplant
a pinch of asafoetida (hing)
½ teaspoon of cumin seeds (jeera)
2 dry chillies
5 curry leaves
1 tablespoon of peanuts
3 cloves of garlic (finely chopped)
½ teaspoon of ginger (finely chopped)
1 teaspoon of tamarind paste
1 small tomato (chopped finely)
1 teaspoon of jaggery (powdered)
1 tablespoon of cooking oil
For the tempering:
½ teaspoon of mustard seeds (rai)
¼ teaspoon of split black gram
½ dry red chilli
4 curry leaves
2 teaspoons of oil
Preparation
Wash the eggplant and chop it into tiny cubes. Once cubed, place the eggplant in a bowl of water to prevent it from browning.
In a pan, heat the oil and asafoetida, cumin, red chilli, and peanuts over medium flame. Sauté them for a minute.
Add the chopped garlic, ginger, and tamarind paste to the pan and cook till the ginger becomes fragrant.
Drain the eggplant and add it to the pan. Cook for 5 to 7 minutes or till the eggplant turns soft.
Once it softens, add the tomatoes to the pan and mix well. Cook till the tomatoes turn mushy, and turn off the heat.
Add the powdered jaggery and allow the mixture to cool down for a few minutes.
Transfer the mixture to a blender and pulse it till you get a smooth paste. Transfer the paste to the serving bowl.
For the tempering, add oil to the tempering pan and once hot, add the mustard seeds. Once they crackle, add the daal and curry leaves. Lastly, add the red chilli and sauté for a few seconds.
Pour the tempering over the eggplant pate, and your Chutney is ready to serve!
This super easy recipe is a huge hit at parties and can be served with lavash as well!
2. Apple and fig chutney
A fruity chutney that will make your tea time absolutely delightful! The apple and fig chutney pairs beautifully with cream crackers and also butter toasts. Here's what you need to make 3 cups of this deliciousness (don't worry, it can last up to 2 weeks, just refrigerate it and use a water bath to thaw it):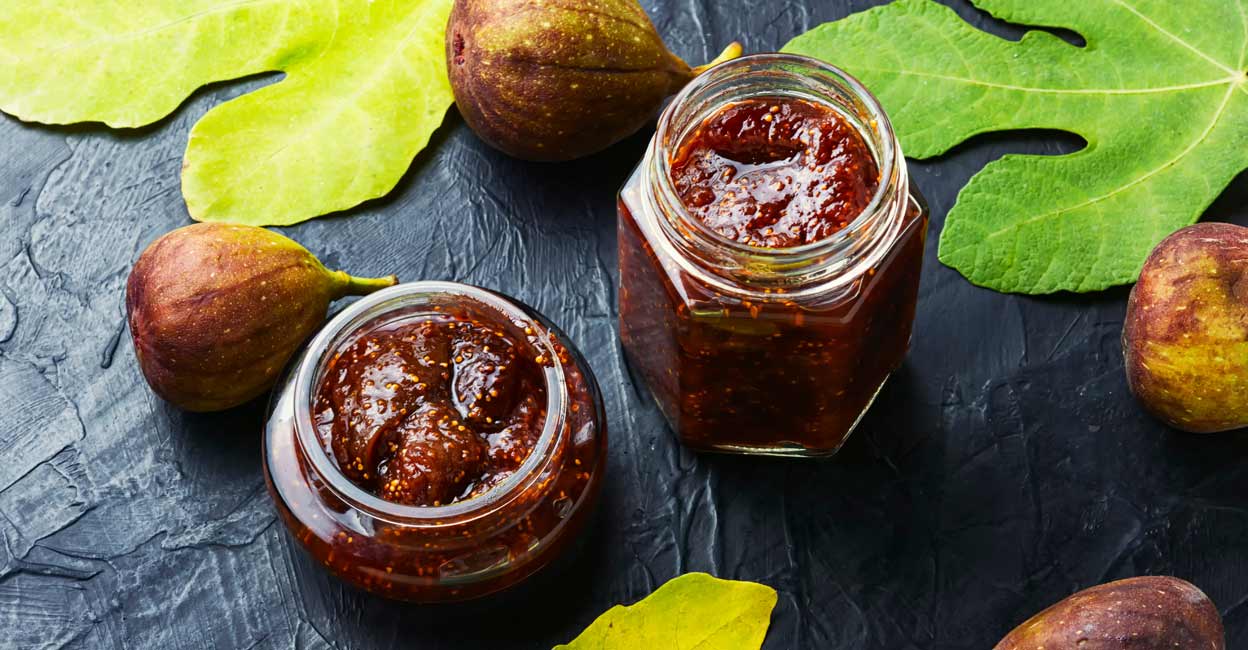 Ingredients
8 fresh brown figs (quartered)
2 apples (cored and chopped)
½ cup of raisins
¼ cup of dates (chopped)
½ cup of white onion (chopped)
¼ lemon (finely chopped)
150ml of apple cider vinegar
1 cup of brown sugar
1½ teaspoon of mustard seeds
1 whole clove
½ cinnamon stick
1 large clove of garlic (finely chopped)
1 teaspoon of chopped ginger
Preparation
In a large pan, add all the ingredients.
Over medium heat, cook them and bring them to a simmer. Then reduce the heat and cook till the blend thickens. (It takes about 45-50minutes, just set it and keep stirring every once in a while).
Once it thickens to your liking, turn off the heat and allow it to sit for a few minutes.
The Chutney is ready; just remember to remove the cinnamon stick clove before serving!
Do you have a chutney recipe that your family loves? Do write to us; we'd love to know!