Be it while watching movies, chit-chatting or listening to stories as a kid, having bhujia as an accompaniment always added that extra savoury flavour to the experience for all of us.
Ever thought what the story of this spicy, crispy delicacy, which has been a constant in India's snacking habits for eons, is? We take you on a delicious journey, exploring its origins and the incredible popularity.

Invented under the patronage of the Bikaneri royalty
The humble bhujia did not have low beginnings. Instead, it is thought to have royal origins according to the majority of accounts, including popular history.
According to history, in 1877, Maharaja Dungar Singh of the then-princely state of Bikaner was the one who first had this delicious savoury made for his guests. The Maharaja and his guests were served the snack, and to everyone's pleasure, they couldn't help but keep asking for more and more of the item they had just tried for the first time in their lives.
The besan or gram-flour-based snack, which was light or golden yellow in colour and spiced with a variety of herbs and seasonings, had never before delighted the royal palates of Bikaner and Rajasthan.
Became a mass product in course of time
But that was only the start. The freshly created savoury, which was crispy, crunchy, and utterly irresistible, quickly made its way from the royal kitchen and nobility's homes to the homes of commoners and families, becoming a culinary craze in Bikaner and elsewhere.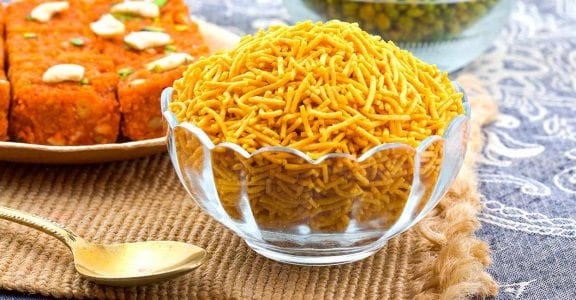 The raging popularity of this savoury quickly attracted small businesses, food adventurers, and entrepreneurs - even before the word "entrepreneur" became fashionable in India - who turned this obsession into formal business outlets.
In due course, bhujia came to be one of the most constant and staple offerings of countless street food vendors, snack stall owners, and food and snack business operators who started to serve bhujia to their customers not only as an independent offering but also by combining it with other food items and tidbits to satisfy the need and demand of the ever-increasing patrons of this snack. Bhujia became a constant presence everywhere, whether it was on pushcarts, bicycle carts, on-head vendors, or established stores and stalls.
Family businesses took the lead, later joined by multinationals
By the turn of the century, a significant number of small localised players had appeared in Bikaner and even further afield in Rajasthan as a part of the so-called cottage industry, advancing bhujia as a core product as a part of their larger basket of offerings.
Around the middle of the 20th century, a few famous family-owned ethnic food companies were established, using bhujia and its variations as their main product to capitalise on the snack's enduring and unwavering popularity. These family-owned companies and their numerous offshoots have developed into prominent ethnic food brands with a presence both domestically and abroad.

In an effort to join the trend, several multinational corporations have developed their own versions of bhujia and related savouries over the past few decades in an effort to catch up with the family-owned Indian ethnic food and savoury businesses.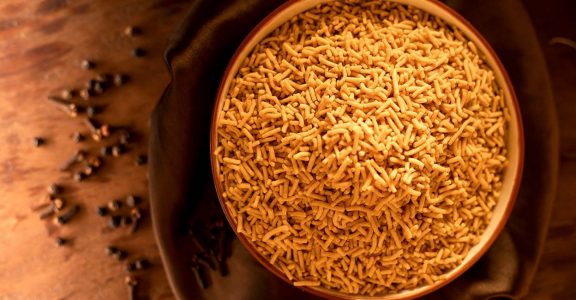 Modern packaging increased shelf life 
Unlike the open and loose forms of bhujias that were previously distributed, the introduction of contemporary and designer packaging has increased their shelf life while also giving bhujias their own unique identity. Different types and variations of bhujia have developed over time based on the primary ingredients used to make them.
Because of the need to preserve the purity and freshness of the product, packaging has become an essential component of the entire process as production of this savoury has progressively scaled up as part of the expanding savoury snack companies due to their continuously rising popularity.
For the packaging of these bhujias, the use of contemporary packaging materials like laminated low-density polyethylene and polypropylene pouches has been especially noteworthy.It is not surprising that ethnic bhujia now accounts for over 15 per cent of the Indian savoury industry. At the same time, branded and locally produced bhujias coexist with their branded equivalents in tier II and III markets.
Geographical Indication label
The government's decision to give it the Geographical Indication label in 2020 attests to both its enduring fame and the distinctiveness and exclusivity in terms of appeal and reputation that this modest savoury from the Bikaner region has established for itself.
It should come as no surprise that bhujia and its variations, including more recent spinoffs like aloo bhujia, paneer bhujia, and maggibhujia, will continue to dominate snack lovers' hearts and minds both in India and around the world.