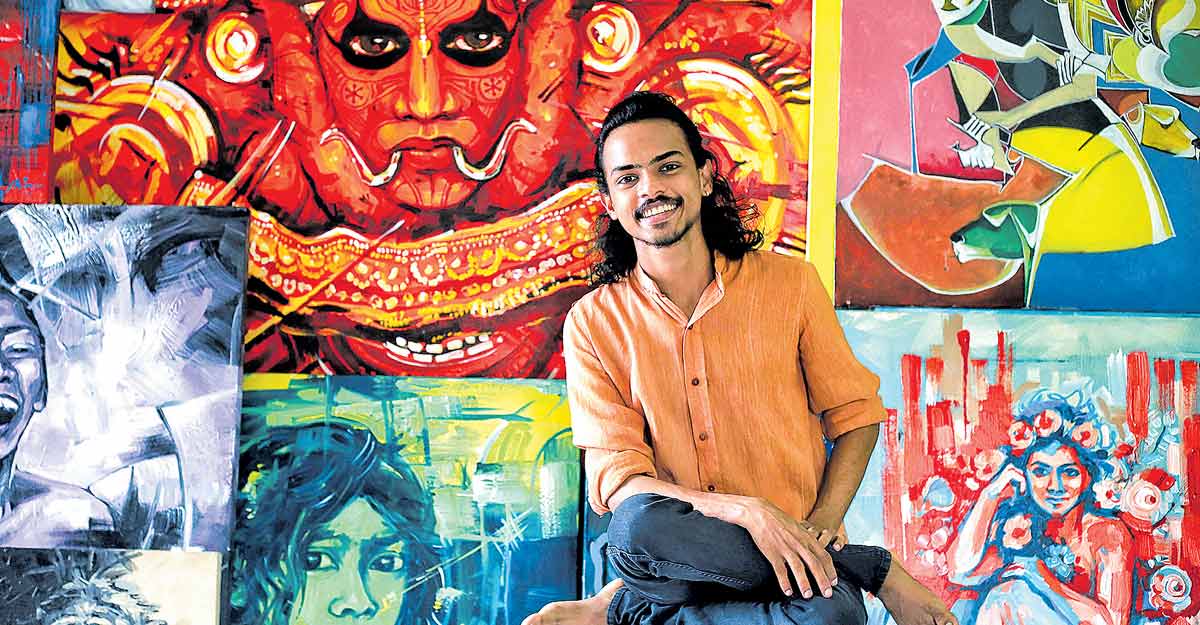 Minon's life story can be a book in itself – one that unfurls and unfolds to narrate many interwoven tales.
Minon, who lives in Kochi now, is many things rolled into one – he is a film actor, narrator/orator, painter, inspired traveller, self-learner, and more.
He hasn't gone to school and never has he learnt a word from the prescribed texts. His parents led him up a path of learning by seeing and observing. Minon speaks fluent Malayalam, Tamil, and English.
Minon is a regular speaker at premium institutes and the world listens when he speaks of environment management, alternative learning, and Malayalam literature.
Who is Minon
Minon's father, John Baby, is from Harippad in Alappuzha. John Baby's matrimony ad, in those days, sought a 'bride from any background for a farmer youth.' His mother, Mini, is from Thrissur.
Renowned writer Pavanan, John baby's friend, used to say that Minon was a portmanteau of Mi (Mini) and ohn (from John).
Minon says his father and Pavana had similar ideologies. His house in Haripad was only a place to keep things and the family was always visitors as all of them were travellers. The rented flat in Kakkanad also serves a similar purpose.
Concept of learning
Learning envisages inculcation by seeing and observing and the family has been adhering to this philosophy. Minon says he and his younger sister Mintu always learnt on their own, without formal schooling. Mintu lives in Thrissur and learns Kuchipudi from Sreelakshmi Govardhan. She likes photography too.
Minon recollects an incident from childhood. People, on seeing his scribblings, used to tell his parents that he should be formally trained in painting and drawing. When Minon was five years old, his father went to see artist Kanayi Kunhiraman to seek advice on this. On seeing the drawings, Kanayi said he need not be taught by anyone. He asked my father to give me a good dose of 'butter and ghee' in my diet. He also asked my father to give me books to read.
"I never learnt painting from anyone. I pain every day, on all mediums, including walls," he said.
Minon has held over 60 exhibitions and his works are on display at places including the Kannur airport.
New learnings
"We grew up in an eco-friendly ambience. We go into the forests to understand it, often," he says.
Minon fondly recollects how his parents took him to places where learning should happen. They took them to a newspaper office to see how a newspaper is made. Minon was taken to the place where 'Mayavi' is born – the Balarama office.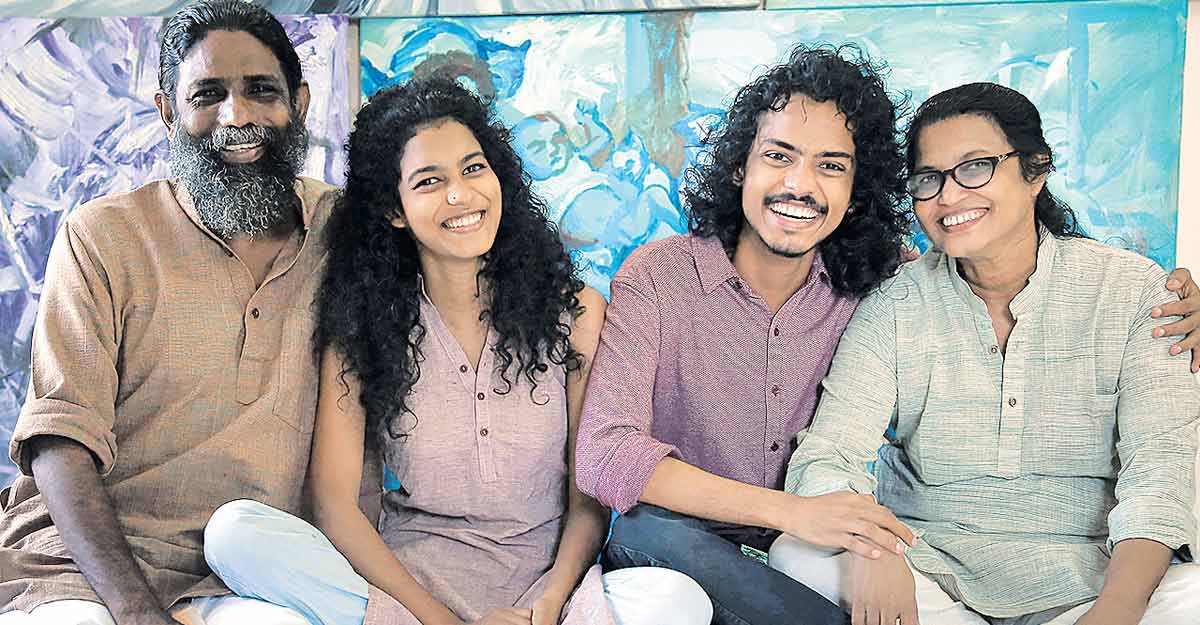 "My paretns planned to teach us letters at 10 years of age. But we got used to a lot of children's books at age 4. I started seeing the pictures and then the letters and started reading early on," he said.
Minon says how his parents used to read out the verse of Vayalar, Akkitham, Narayana Panicker, and ONV. He grew fond of all of them.
Minon says the lack of formal education doesn't mean that he doesn't have teachers. Minon learns music from Haripad Krishnakumar and Kathakali from Kalamandalam Krishnaprasad and so on.
Defining success
The general perception is that education guarantees a certain degree of safety. Minon says he cannot support the idea of 'targeted learning.' He asserts the fact that our happiness is what defines our success.
Minon is happy that he does not have any 'degree' certificates to flaunt. He has been painting from age eight and has been earning an income from that. "All of u together manage the home. I was aware at a young age that the money I get from painting is to buy essentials for food," he says.
Minon says the family focuses on simple living, except for buying books. They buy handloom in bulk from Balaramapuram and John Baby stitches out garments.
Minon looks for an opportunity to present his skills. He recollects an incident when Oscar-winner Resul Pookutty had turned up for a function organised by KPAC. Minon was no stranger to KPAC. He instantly made a drawing of Resul Pookutty and presented it to him on stage. He asked a lot about me and my sister and gave away all the gifts he got that day to me.
Minon says he learns of education to talk more about the way he grew up – without formal education. He said there was a need to excel and had to face a lot of questioning. He said this played a part in character-building.
In films
Minon made his debut in the film '101 Chodyangal' by Siddharth Siva. He got the national and state awards for the 'best child actor' for his performance. He has acted in 30-odd films. He shared the screen with Mammootty in 'Munnariyippu' and with Mohanlal in 'Ennum Eppozhum.' Both the actors, Mohanlal and Mammootty, were eager to know more about our lives. Mammootty said I should tell him everything in detail once.
Minon stands with and excels in what he thinks is right. And what he thinks is right gives him happiness. For the others, who look at Minon, he is a window for the world to peep through. And, the sights are worth a watch.
On a concluding note, Minon says he is quite confident that he is a master at what he likes at what he knows. He reasserts that he knows whatever is required to live in this world.