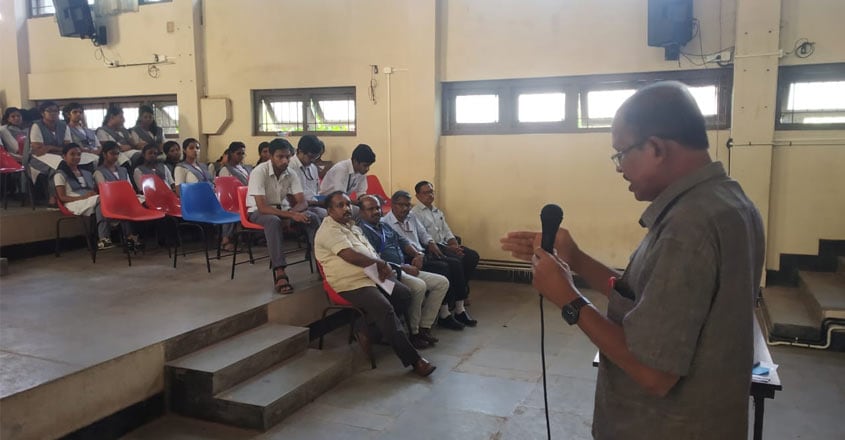 Kochi: A seminar held at the Model Engineering College here stressed upon the crucial role students can play in the fight against corruption.
In tune with the seminar topic "Integrity- A Way of Life", students were urged to be whistleblowers against corruption as it is still rooted in the system.
The seminar was conducted by Engineer T. R. Shaji, Chief Vigilance Officer, FACT, Kochi, and Engineer Sivadasan Pillai C. R. in the presence of Harendranath R, Vigilance Officer, FACT.
The speakers explained what corruption is all about and the role of Vigilance in public domain.
The aims of different anti-graft laws and the activities of agencies like the CBI, ED as well as the state and central vigilance were also touched upon by the experts.
Pamphlets containing a nutshell of different laws were distributed amongst the participants. They were prepared by the FACT and Central Vigilance Commission.
The hour-long seminar concluded by emphasising the role of students in fighting corruption.
The professionals who led the seminar also enlightened students as to how they can exert pressure on leaders and government employees to abide by laws and not to engage in unlawful acts.
Even filing an RTI plea on college and spending by the university, public utilisation of funds by MLAs, MPs etc they can act as pressure groups, the seminar facilitators noted.
The seminar, which was held on the MEC campus at Thrikkakara on November 5, was jointly organised by the Model UN Society of MEC and its unit of the National Service Scheme (NSS) to coincide with the Central Vigilance Awareness Week.
"As engineering professionals, our role is not just limited to the technical field; we have a commitment to society. By moving in the right direction with good ethics and becoming law-abiding citizens, we contribute to nation-building and creating a corruption-free world. This short seminar programme is arranged for the same," Dr M. V. Rajesh, the staff-in-charge of MEC's MUN Society, stated.
Aswin Shanil, the President of MEC's Model UN Society and a member of NSS, chipped in saying "more such awareness programmes will be conducted collaborating with different clubs in the college".
Employees and students attended.