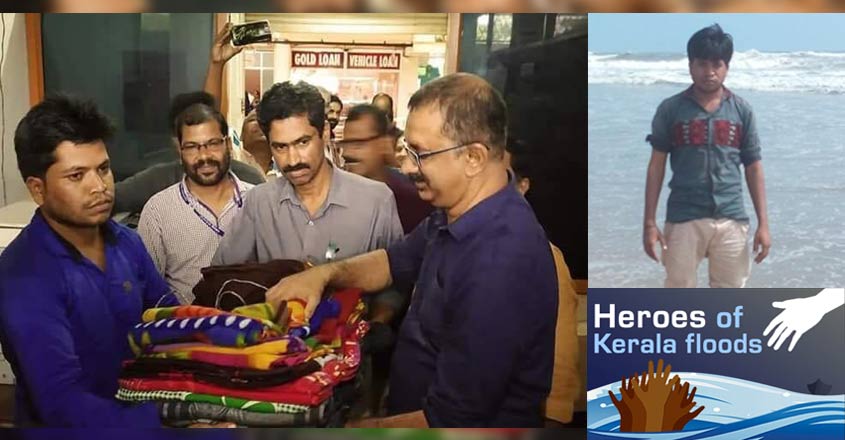 Iritty/Kannur: Sharing takes great courage – especially when you offer someone all what you have. Vishnu Kachhawa, a Madhya Pradesh native who sells blankets door-to-door in Iritty, a rural township of Kannur, Kerala, became a star on social media overnight. The reason will leave any Keralite awestruck: he donated his entire stock of blankets to the people in a flood-relief camp at Adichukootti Government School, Mangad. For Vishnu, it was his 'payback' to the land which has been offering him a livelihood for more than twelve years. When about eight districts of Kerala are being pounded by rains, this migrant laborer offers Keralites a warm reason to smile.
Kerala, my second home
Vishnu, 28, hails from Neemuch district of Ujjain division in Madhya Pradesh. Fourth of five siblings, Vishnu came to Kerala when he was 16. He lives with his wife, Kumkum, and two children in Iritty, Kannur. "Kannur is my second home. Kerala has given me everything – a place to stay, a livelihood to support my family and raise my children... and really good climate. I am seeing Kerala in such agony for the first time. I cannot afford to watch people suffering and I gave them what I have," Vishnu told Onmanorama in all his innocence.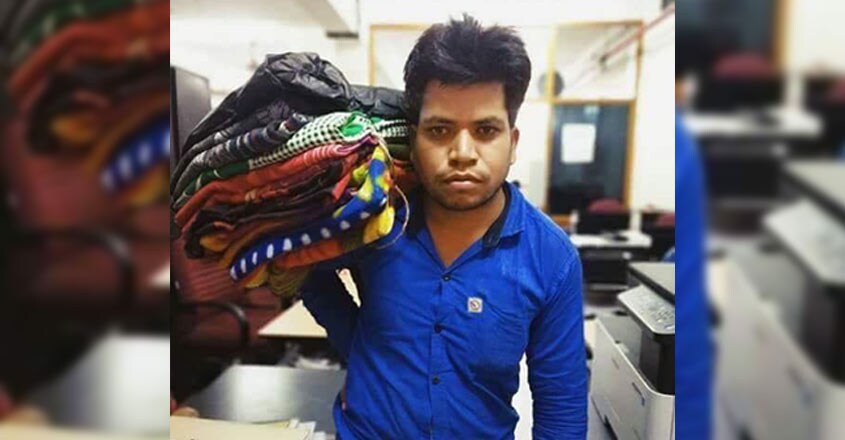 Vishnu purchases his blankets from Panipat, Haryana, and brings it down to Kerala along with his four partners. They divide the stock and sells it at homes, government offices, banks and private firms. It was on August 10 Friday that Vishnu visited Iritty Taluk office, one of his usual destinations, with a fresh lot of 50 blankets on his shoulders. Iritty deputy tahasildar Lakshmanan discouraged Vishnu from doing the rounds of villages in the wake of lashing rain and flood.
"Vishnu used to visit our office once in a while, with a huge pile of blankets, floor mats or dress materials. All of us used to purchase products from him. Moderate pricing and his frequent visits make him a trusted trader," Lakshmanan said. "When he came with about 50 blankets on Friday, I told him of the bad weather and flood situation in the district. I said it is better to stay away from flood-affected areas as there were reports of landslides," he said.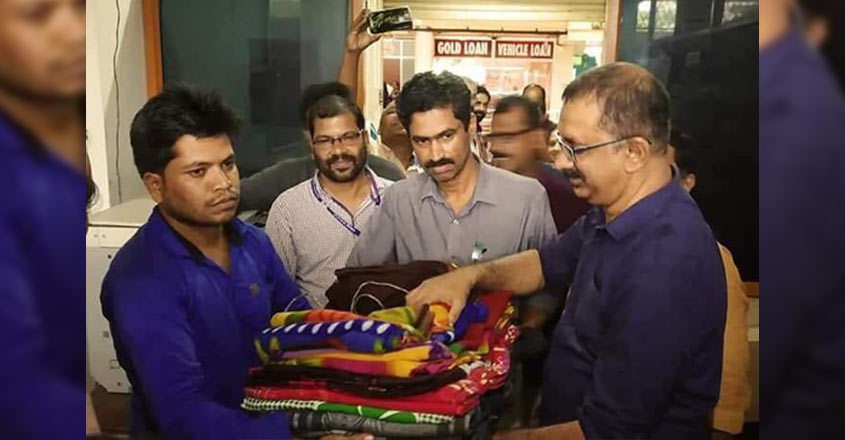 Vishnu asked the officer where the flood-affected people were camping. Lakshmanan told him of the difficulties of being put up in flood-relief camps. Vishnu told him that he wanted to donate his blankets to those in the flood-relief camps.
"I thought he was joking. I asked him how he would earn his living if he donated his blankets. But Vishnu was adamant. We took him to the Adichukootti school where a new camp had opened. Fortunately, Kannur collector Mir Mohammed Ali was on a visit to that camp and Vishnu could directly give his ware to him," Lakshmanan said.
Migration – not a bed of roses
Vishnu says that things are not easy for a migrant laborer in southern states. "Back in north India, we are all connected with the Hindi we speak. However loyal you serve, you will remain a 'bhayya' in Kerala," he says. Vishnu says that he has faced several instances of discrimination from Keralites. " ... but once you learn the language, everything is fine. (You) can't blame the natives because that's the kind of news they get about us. No one writes about the good things we do," Vishnu shares his concern.
Having started as a humble marketing boy under a businessman, Vishnu slowly started taking up orders and built his own customer-base in Kannur. Now, he earns as much as Rs. 36,000 from a single lot. He also sends cash to his ailing parents in Neemunch. Amid his struggles to meet the ends, Vishnu is also pursuing an undergraduate course in the distance mode.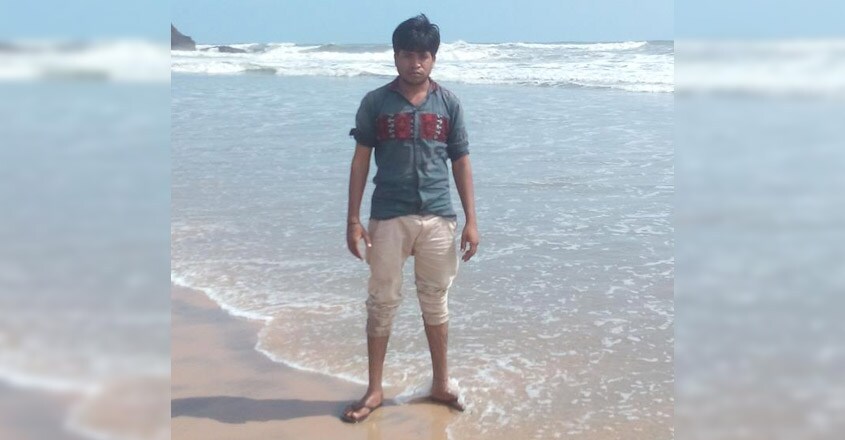 "My elder brother is a schoolteacher. All other brothers are into blanket business. It is my elder brother's dream to make me a graduate. I am studying BA Hindi as distance education," a proud Vishnu said.
With Kerala through thick and thin
Vishnu says that he wants to settle down in Kerala and blend with the culture of this land. He has plans to expand his business by hiring more partners so that he can stop wandering with the head-load. "Keralites helped me when I wanted money. Now, they are in a need and all what I have are some blankets. I shall lend this land anything and stay by its side through thick and thin," Vishnu said.
However, Vishnu is unaware of the fact that he has become a star on Kerala's social media space. When Onmanorama informed him about his fame, he laughed and said "Baap re! Is my news a viral? My wife will be amused today."
Vishnu has two children, a 5-year-old son and a 1-year-old daughter.