Idukki: Starting from April 1, the Bureau of Indian Standards is introducing a new system of Hallmark unique identification (HUID) to weigh gold jewellery, aiming to curb the sale of underweight gold.
The HUID symbol will be the only means by which gold jewellery can be sold in Kerala, except in Idukki district. Idukki is the only district in Kerala that has been excluded from the list of 339 districts notified to implement the HUID system.
This move will help to ensure the authenticity of gold jewellery. The Bureau of Indian Standards (BIS) is planning to further simplify the process by only requiring the registration number, rather than the jeweller's details soon.
The BIS announced on Tuesday that it is currently developing standards for new and emerging technologies such as blockchain. Additionally, the BIS has stated that it will not extend the April 1 deadline for making the six-digit alphanumeric HUID mandatory for gold hallmarked jewellery.
Addressing a press conference, BIS Chief Pramod Kumar Tiwari said, "We make standards in order to promote ease of doing business. Our national standards are being harmonised with the international standards so that our external trade is smooth".
Out of 22,000 BIS standards, 8,000 standards are harmonised with international standards that consist of IEC standards for electrical fields and ISO standards for non-electrical fields. In fact, 88 per cent of the BIS standards have already been harmonised with the global peers, he said.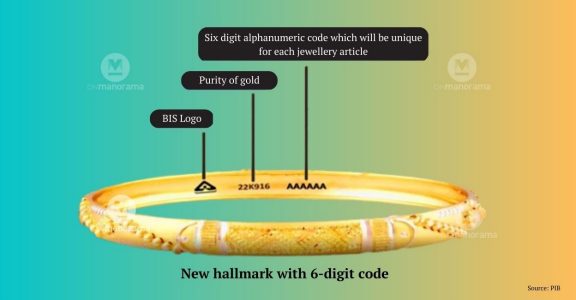 India is actively engaged in framing standards for emerging technologies like artificial intelligence, blockchain, brain computing interface and big data analytics, among others. The country is leading projects in these new areas at the international level, which would emerge as ISO standards in future, he added.
On gold hallmarking, Tiwari said the government has set April 1 as the deadline for the sale of gold jewellery and gold artefacts hallmarked with only a six-digit alphanumeric HUID and this will not be extended.
"We have given more than 2 years for jewellers to clear the old old stock. No further extension will be provided now," he said.
A meeting was held recently with the jewellers' body to impress on them to implement mandatorily the 6-digit HUID mark on gold jewellery, he added.
On the jewellers' suggestion, Tiwari said the Bureau has decided to include the 'weight' of gold jewellery and artefacts as part of the hallmark. That apart, laser machines used for 6-digit HUID mark at assaying centres are also being harmonised with the BIS system to protect consumers' interest and ensure people are not cheated with a duplicate seal of HUID mark.