Melbourne: Max Verstappen was crowned Australian Grand Prix winner on Sunday after two late red flags and a slew of crashes threw the race into chaos before the Red Bull driver was allowed a processional victory lap around Albert Park.
Verstappen was leading Mercedes' Lewis Hamilton with a few laps left when Kevin Magnussen crashed his Haas into a wall, leaving debris on the track and halting the race.
The cars returned to the grid with fresh tyres for a two-lap sprint to decide the race but in a chaotic restart, Williams driver Logan Sargeant rode into the back of AlphaTauri's Nyck de Vries to knock both of them into gravel at turn one.
Alpine drivers Pierre Gasly and Esteban Ocon then crashed into each other to leave a trail of debris on the track and trigger another red flag, the third and last for the race.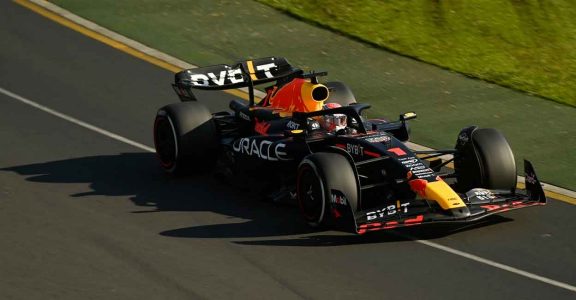 After lengthy deliberations, stewards decided the race would finish with one lap behind a safety car in the order of the previous start - minus the cars that had crashed out.
That allowed Verstappen to claim his second win of the season ahead of Hamilton with Aston Martin's Fernando Alonso third.
Red Bull have now claimed all three Grand Prix wins in the new season, a record for the team, resuming their dominance after their runaway success in 2022.
"It was a bit of a mess but we survived everything .... and we won, which of course is the most important," Verstappen said after his first victory at Albert Park and Red Bull's first since 2011.
"That's a really good weekend for us, we have to be happy with that."
The Dutchman now has 69 points in the championship race, 15 ahead of teammate Sergio Perez.
Alonso, third in all three races, is third in the championship on 45 points.
Red Bull, on 123 points, have blown out a big lead in the constructors championship ahead of second placed Aston Martin (65) and third placed Mercedes (56).
Mercedes' day was soured with George Russell retiring early after losing power and rolling to a halt with his engine on fire.
"It's really unlucky for George today on our side," said seven-time world champion Hamilton.
"Otherwise, to get those points is really amazing today. I definitely didn't expect to be second so I'm so grateful for it."
Lance Stroll finished fourth behind Alonso in a big day for Aston Martin, with Perez placing fifth.
McLaren's Lando Norris was sixth ahead of seventh-placed Nico Hulkenberg.
It was a dark day for Ferrari with Charles Leclerc knocked out of the race at the first turn and teammate Carlos Sainz missing out on the points after being given a five-second penalty.
Verstappen had to recover from a poor start as he lost his lead to both Russell and Hamilton in the first three turns.
But after two early safety cars and a red flag when Williams driver Alex Albon crashed out, Verstappen reclaimed the lead by passing Hamilton at the 12th lap after Russell pitted for an early tyre change.
Verstappen opened up a big gap before the late red flags saw the race turn from procession to drama and back again.