It's a short four-hour flight away, has amazing food, unbelievable experiences to offer, and is a shoppers paradise. Yes, we are talking about the often underestimated, but always over-delivering-on-our-expectations destination, Dubai!
You perhaps already know Dubai for its malls, marina, beach and night safaris, but did you know that this city has something to offer to every age group? Making it the ideal destination for a family vacation. 
Due to their Covid safety protocols, Dubai is also one of the safest places to visit this holiday season. Mandatory quarantine is a prerequisite for everyone entering the middle eastern land until tested negative for Covid. 
So with the satisfaction of knowing that this is a safe haven for families, we thought it appropriate to present an extensive list of things to see and do in Dubai. So whether you are on the lookout for sports, music, food or adventure; or just want to chill out, Dubai will have something for you and your family.
1. The Green Planet Dubai – An indoor rainforest with beautiful wildlife. It spreads over four levels, each explaining the importance of the rainforests and has various activities wherein you encounter and learn about reptiles, birds and sloths in their natural habitat! This is the best kind of experience to give a school going child!
2. VR Park – Indulge in the world's largest virtual reality themed park in the Dubai Mall.  With 25 exhilarating experiences including augmented reality rides like a virtual drop from the Burj Khalifa, ensures there is something for everybody.
3. Dubai Aquarium and Underwater Zoo – With a 10 million litre water tank, this walkthrough aquarium and zoo of all water creatures, in Dubai Mall, is a phenomenal experience for the entire family. Special access passes are also available for those enthused by aquatic life. 
5. Laguna Waterpark – With state of the art rides and one of the world's largest surfing experiences overlooking the Arabian sea, this waterpark in La Mer is the ideal place to be at when the sun is overhead.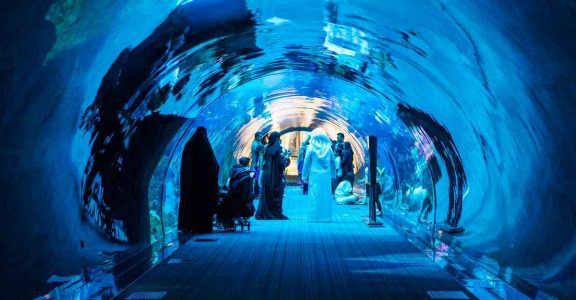 6. Dubai Garden Glow – The world's largest Glow park shows the infinite abilities of human imagination and artwork. Perfect to keep both younger children, and elders of the family mesmerized.
7. Dubai Miracle Garden – As the name suggests, this gorgeous garden with breathtaking floral sculptures is a treat for the eyes and the senses. They keep changing their main attractions, so even if you've been there before; there's a good chance you'll see a new work of art every time you go. 
8. Dubai Safari – In operation since half a century, this safari boasts of over 2,500 animals and is a must-visit tourist attraction in Dubai. It has great animal interaction zones, wherein you can feed the giraffes and even a separate farm built especially for children to learn about animals whilst interacting with them. This animal safari is different from the Arabian Desert safari, that takes you dune bashing under the Arabian night sky.
9. Aventura Parks – An outdoor activity park with 5 exercise circuits of over 80 obstacles and zip lines, to indulge your thrill seeking sports enthusiast. Situated in the Ghaf forest, this gem is home to some exquisite flora and fauna and is best for kids and young adults who love their jungle gyms and don't mind getting their hands dirty!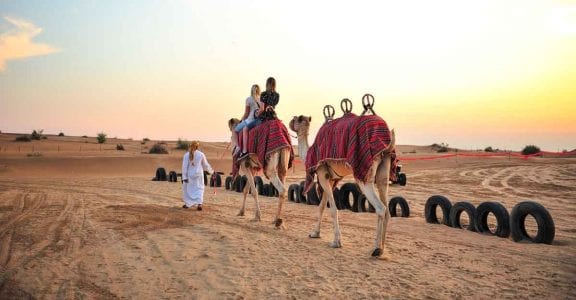 10. Bounce Dubai – the world's first terrain park for freestyle sports houses adrenaline pumping slides, bounce pads, airbags and trapezes.  This indoor trampoline park is perfect for the kids and the kid inside you. Be sure to go on a light stomach of course! 
11. Ski Dubai - Located in the Mall of Emirates is an indoor snow park and ski centre with fabulous attractions including "breakfast with the penguins". You can go enjoy the cold temperatures under the hot desert, have a snowball fight or even undertake extensive ski tutorials.
12. Global Village – Spend a day meeting people from all over the world and learning about cultures across the globe whilst indulging in inviting cuisines and unique experiences.
13. Kite Beach – This beachfront spot is popular for kitesurfing and kayaking. So when the sun gets hot and it's time to get your swimsuits and sunscreens on for some amazing water sports.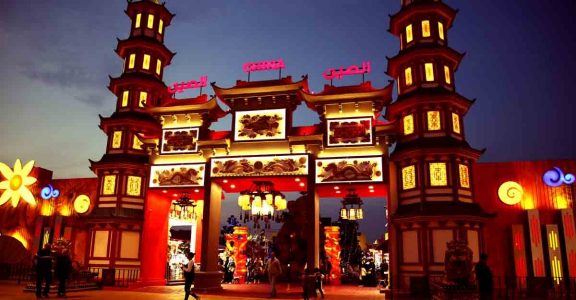 14. JBR The Walk – This absolutely fantastic beachside destination, hosts over 300 restaurants and 20 other attractions along with some (always rewarding) retail therapy of local handicrafts.
15. Pier 7 – With 7 floors of different restaurants that present breathtaking views of the Dubai Marina, this is a gastronomical paradise for the foodie in you.
16. Dubai Opera – With seating for 2000 people, this multi-platform theatre for performing arts is a must for art and theatre lovers. Check out the website for the latest shows calendar and be sure you book in advance to avoid disappointments.
17. Dubai Parks and Resorts - A unique multi-theme park including motion-gate Dubai, Bollywood park, Dubai Legoland and water parks, this is your one-stop destination for a fun day with the family. 
18.  Sky Dive Dubai - You could glide through the Emirates skyline in tandem with a fantastic instructor or take lessons to become a licensed skydiver yourself (given you have that kind of time, of course)!
19. The Pointe - at the Palm Jumeirah. Houses a variety of delectable restaurants with the view of Atlantis, and the largest dancing fountains. The Pointe also hosts high-profile concerts and events throughout the year, including artists such as Dua Lipa and Robbie Williams.
20. Souk Madinat Jumeirah – Dip your feet in some Arabic culture by visiting these Arabic themed souks with outlets retailing their local handicrafts and curios and restaurants serving their divine local cuisine. All this with a view of Burj al Arab.
These are our recommendations for things to do in Dubai with your family. Granted a short weekend trip may not be enough time to experience it all. Pick and choose what seems more suitable for your family and you and save the rest for another visit! 
Happy holidays!