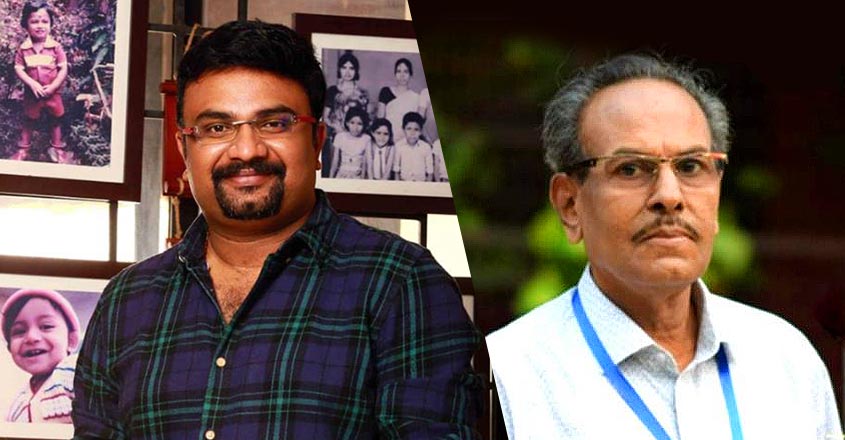 The recent Malayalam movie 'Vijay Superum Pournamiyum' starring Asif Ali and Aiswarya Lakshmi in the lead roles begins with a special narration. The audience was quick to recognize the unique voice which has been advising them that the lungs were like 'sponge', in the extremely popular anti smoking campaign, "Shvasakosham sponge pole aan..."
Director Jis Joy deserves credit for using the voice, which every Malayali would easily recognize, in the most unique way. "He was not just any voice," Jis Joy remembers former news reader at Akashavaani and renowned dubbing artist Gopinathan Nair.
Though Jis and Gopan collaborated for the movie, they hadn't met each other in person. When the film maker called the veteran dubbing artist on the phone, requesting him to do the narration for his movie, Gopan happily agreed. He had dubbed the portions at a studio in Delhi and sent it to the makers. Though he promised to meet Jis when he comes to Kerala next time, it never happened.
Jis Joy revealed that Gopan had greatly wished to dub for the movies. When the director called him to thank for recording the narration and sending it over, Gopan said with a hit of complaint in his sound, "My voice hasn't been used in the movies so far." In an emotional note posted on the social media, Jis wrote that he came to know about the sad news of Gopan's demise as he was planning to invite him to dub for an advertisement.
"Usually the narrations in Malayalam cinema are done by a few directors or by actor Sreenivasan. I wanted to try something different in my film and when I called Gopan chettan, he was only too happy to agree. I send a track version and he dubbed it in his own voice at a studio in Delhi and sent it back. I couldn't stop laughing when I heard it. When I called to thank him, he said with a hint of complaint in his voice, 'My voice hasn't been used in movies so far though I had wished for it. What made you decide to use my voice in this movie?' I replied that his voice was unique and would create the effect of a flash mob.
He laughed a lot hearing that. He wished me luck before hanging up. Sometime later, after watching the movie in Delhi, he called me on the phone and said we could meet when he comes to Kerala next time," wrote Jis Joy.
Jis said that lots of people appreciated him for using Gopan's unique voice in the movie. He revealed that a renowned film maker had collected Gopan's phone number from him to invite the senior artist to dub for a TV commercial, the coming week. The film maker had even asked Jis to call Gopan beforehand and introduce him to the veteran artist.
The film maker wrote that it was extremely difficult for him to believe the news of Gopan's demise. "His voice made us feel pleasant and energetic as if watching a flash mob. If we think about it, we would realize that there is no one who could create that effect in us by just using his voice. I was destined to introduce his voice in my movie; may be destiny had something else in store. I can't say that now. Goodbye to dear Gopan chettan, whom I haven't met in person. I pay my respects to him. Your voice was not just 'any' voice for us," Jis concluded his Facebook post.