Shihab's brand-new house in the beautiful countryside of Vilathur in Palakkad, Kerala is a fabulous structure where modern features meet the serene charm of nature. The contemporary architectural style is the highlight of the house. The elevation dons the elegant colour combination of white and red. The car porch is built in the detached style.
Designed in 5200 sqft, the mansion has a car porch, sit-out, formal and family living areas, dining space, kitchen with an adjacent work area, five bath-attached bedrooms, a balcony and a swimming pool too.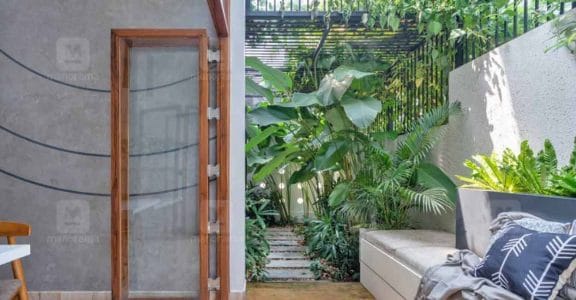 From the sit-out, one could enter the spacious hall with a double-height ceiling. The living and dining areas are arranged in this vast hall. A sliding door is what connects the formal and the family living areas.
The courtyard and the swimming pool are the focal points of the interiors. These areas are arranged by ensuring enough privacy. A view of this area is possible from the three bedrooms in the ground floor. The green courtyard exudes positive vibes. This is a spot of greenery that refreshes the mind and body.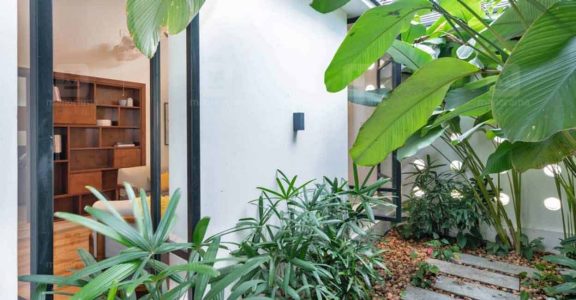 The dining area too is designed in double height. The folding glass doors here could be opened to the beautiful courtyard. Meanwhile, the custom-made furniture pieces perfectly suit the general theme of the house.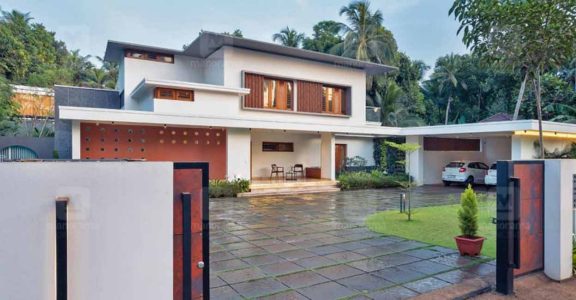 The majestic staircase boasts of the elegance of exquisite teak wood. This area has been envisaged as a gathering space too; so, facilities for this are arranged in the first landing. Lots of golden sunshine enter the house from the skylight on the ceiling.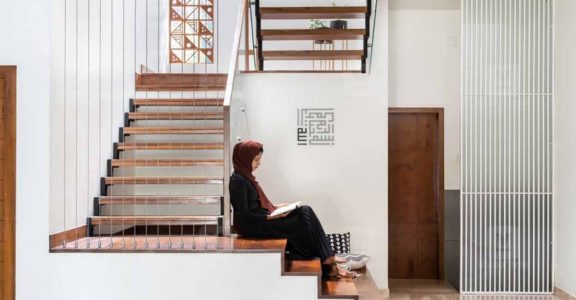 The kitchen, meanwhile, has been furnished in the classic combination of off-white and beige. The cabinets are done in marine ply with a lacquered glass finish. The countertop has been paved with Korean stone.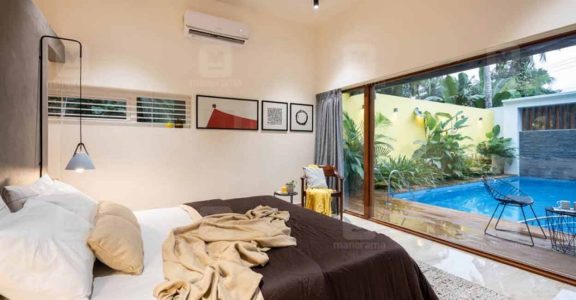 The bedrooms are designed in unique colour themes. The luxuriously furnished bedrooms could give any premier resorts a run for their money.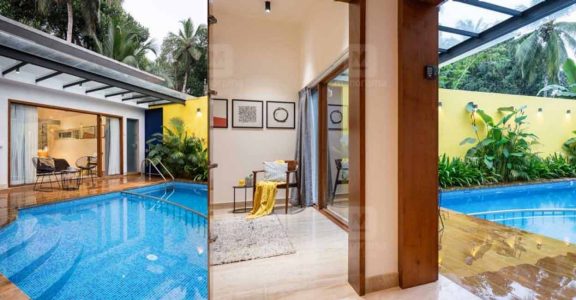 This house where elegance joins hands with modern amenities has become a major landmark in the locality.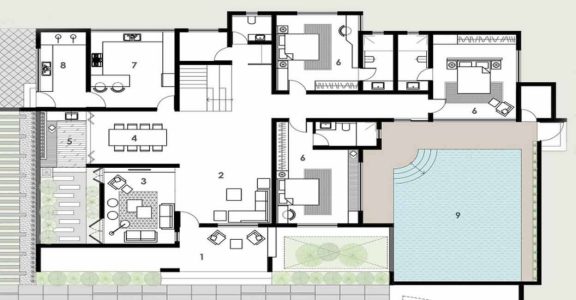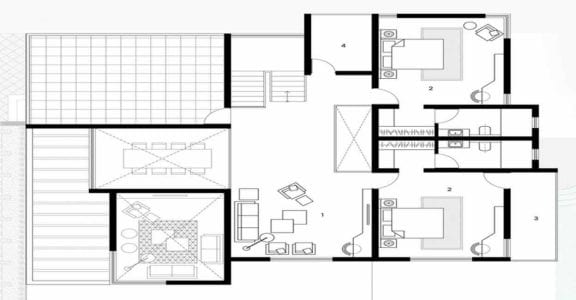 Project Facts
Location – Vilathur, Palakkad
Plot – 25 cents
Area – 5200 SFT
Owner – Shihab Paraliyil
Architects – Muhammad Faris, Muhammad Fazil
Cognition Design Studio, Valancherry
Mob – 9048671681, 9567892276
Year of completion – 2021