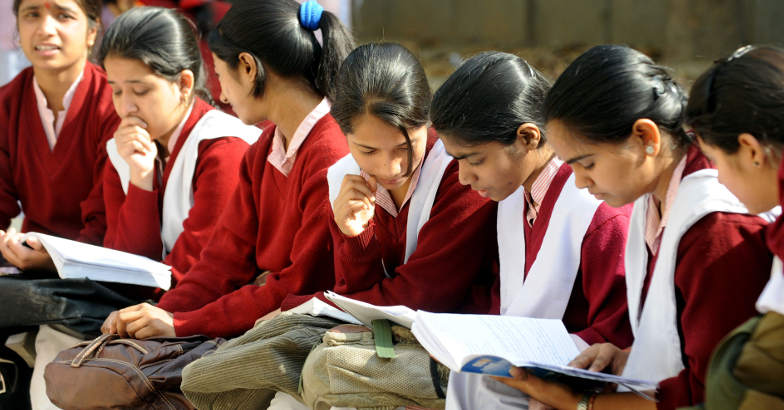 New Delhi: The Central Board of Secondary Education (CBSE) notified the new syllabus for classes 9 to 12 for the 2020-21 academic session after rationalising up to 30 per cent of the curriculum.
However, CBSE's move to rationalise its syllabus by dropping certain chapters to reduce course load on students in view of the COVID-19 pandemic has not been welcomed by a section of academicians, alleging that the exercise appears to be "ideologically" driven.
According to the revised curriculum, the chapters deleted from the Class 10 syllabus are those dealing with democracy and diversity, gender, religion and caste, popular struggles and movement and challenges to democracy.
For Class 11, the deleted portions include the chapters on federalism, citizenship, nationalism, secularism and growth of local governments in India.
Class 12 students will not be required to study the chapters on India's relations with its neighbours - Pakistan, Myanmar, Bangladesh, Sri Lanka and Nepal --; the changing nature of India's economic development, social movements in India and demonetisation, among others.
Course load lessens, but...
There was a mixed response from various stakeholders as several school representatives welcomed the move to reduce the course load on children, while a section of academicians said it appeared to be ideologically driven. Some others said it would affect the quality of education and will work against students, especially those who have to appear in entrance exams.
"On the face of it, it appears that there is some ideological element in the choice of what is deleted. How do you optimise learning during this time? You are trying to reduce the investment in education, you are compromising on the learning of students," Professor at the Jawaharlal Nehru University's School of Social Sciences Surajit Majumdar told PTI.
"There are other ways to think of adjusting like making adjustments to the academic calendar. What will you do for primary students? This is a very casual approach. It reflects that there is no interest in having an educated society," he said.
Rajesh Jha, a political science professor at the Delhi University (DU), said when the choice-based credit system was introduced in varsity, the paper on nationalism and colonialism, which was earlier compulsory was made optional in 2017.
"Now, it has also happened to the school syllabus. Unfortunately, political considerations have taken over academics. This will only affect academic rigour and quality. The concepts of liberty, equality, social justice, secularism are linked. How can one be taught without others?" he said.
Congress fumes
However, the decision to drop topics related to Social Sciences drew sharp reaction from opposition parties like the Congress, Left, Trinamool Congress, NCP and Shive Sena.
The Congress said removal of chapters on Federalism, Secularism, Nationalism and citizenship, which are the pillars of Indian democracy, is a crude joke on democracy and is highly condemnable.
Party spokesperson Abhishek Singhvi said it is unconstitutional and wondered if it is part of a "bigger conspiracy".
Singhvi also said that he would challenge the action in court in his individual capacity and not on behalf of the Congress.
CPI(M) leader Sitaram Yechury termed the CBSE move as "atrocious" and "unacceptable".
"Using the pandemic, Modi government is deleting sections dealing with India's diversity, plurality, democracy etc that uphold our Constitutional values," he tweeted.
CBSE's defence
As a row erupted on the issue, the CBSE said the reduction of the syllabus from classes 9 to 12 has been interpreted differently.
"Contrary to some of the impressions being created, it is clarified that the rationalization of syllabus up to 30 per cent has been undertaken for nearly 190 subjects for the academic session 2020-21 as a one-time measure only," CBSE Secretary Anurag Tripathi said.
The board claimed the objective of rationalisation is to reduce the exam stress of students due to the prevailing health emergency and prevent learning gaps. It asserted that no question shall be asked from the reduced syllabus in the board exams 2020-21 only.
Universities and schools across the country are closed since March 16 when the Centre announced a classroom shutdown as a measure to contain the COVID-19 outbreak.
A nationwide lockdown came into effect on March 25. While the government has eased several restrictions, schools and colleges remain closed, though many are having online classes.
(With PTI inputs)