One cannot imagine celebrating Onam without the sumptuous Onasadya. This year, most people would celebrate Onam in a safe way at their homes itself. Though Keralites are determined to fight the COVID-19 pandemic by maintaining social distancing, they wouldn't say 'no' to the elaborate Onasadya which is the highlight of the celebration.

All the dishes that are served on the plantain leaf for Onasadya are storehouses of nutrients and proteins. A single serving of the sadya provides the nutrition that is required for a person in a day. Onasadya mostly consists of vegetarian dishes that are delicious and wholesome. From the kuthari rice (matta red rice), dal curry with ghee, papad, plantain chips and sarkaravaratty to pickles, pachadi, kichadi, avial, thoran, sambar, olan, kalan, kootukari, rasam and buttermilk, the traditional sadya treats your palette to unique and intricate flavors. Each dish has a significance of its own and is served in particular orders depending upon their taste and flavor profile. There is a special way in which traditional sadya has to be eaten and enjoyed.
Rice
Rice with bran is loaded with B complex vitamins like thiamine, riboflavin, and niacin. As the glycemic index rate is low in it, this rice is excellent for diabetic patients and people who suffer from other lifestyle diseases. The rice bran is rich in phytonutrients and provides 80% of the manganese that is required by the body for a day. Meanwhile, the fibers can reduce the fat content in the body as well.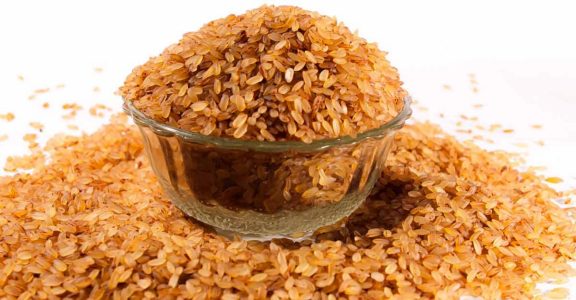 Dal curry, ghee and papad
These dishes are usually served in the plantain leaf at the beginning of the sadya. In the first course, rice is enjoyed with dal curry, ghee, and papad. These dishes are rich in iron and potassium. Meanwhile, the potassium, calcium, and magnesium in dal help in controlling blood pressure.
Ghee is a storehouse of vitamins A, D, and E. Vitamin A is good for the eyes while vitamin E can help the skin retain its suppleness. Vitamin D helps the body absorb calcium.
There is a saying that a bit of inji curry is equal to one hundred dishes. It is usually served on the left side of the plantain leaf. This dish aids digestion and the antioxidants in inji curry boost immunity as well. Ginger is rich in vitamins A, D, and E, magnesium, phosphorus, potassium, and calcium. It fights fungus, viruses, and flushes out toxins.
Lemons and mangoes have vitamin C and flavonoids in them. The limes that are usually used in pickles have minerals, vitamin B, and potassium. The citric acid in lemons aids digestion.
Vegetables like cucumbers and beetroots are used to make kichadi. Cucumber flushes out toxins from the body and protects the bones as well. Meanwhile, veggies and fruits like pineapple, beetroot and pumpkin too could be used to make pachadi. An enzyme called bromelaine helps ease indigestion. Beetroot contains folic acid, iron, zinc and carbohydrates. Meanwhile, pumpkin has alpha carotene, beta carotene, healthy fibers, vitamin C, potassium and magnesium. Vitamin A helps in improving eyesight.
Avial is a storehouse of vitamins, minerals, and essential nutrients. Made with multiple vegetables and grated coconut, avial is considered a 'regal' dish. The fibers help in reducing body weight. It is an amazing dish for those who have malnutrition.
Sambar is a quintessential South Indian dish that is delicious and nutritious as well. Like in avial, a variety of vegetables could be used in sambar. The fibers it reduce constipation. Dal which is rich in protein is a vital ingredient in sambar.
Pulissery, buttermilk, and rasam
Buttermilk is rich in calcium and vitamin D. They are required for the health of the bones. It contains healthy bacteria that are required for the body. It cleanses the intestines and aids digestion. Buttermilk has potassium, phosphorus, zinc, iodine, and riboflavin. Meanwhile, rasam is loaded with aromatics and spices that refresh the body.
The traditional sadya is incomplete without payasam or the final course of dessert. Ada pradhaman and pal payasam (milk payasam) is the most common desserts that are usually cooked for Onasadya. Payasam made with a jaggery base has zinc, potassium and other minerals. Meanwhile, pal payasam is rich with calcium, phosphorous and protein.
Traditionally people indulge in entertaining games like thiruvathirakali, vallam kali (boat race) and puli kali (tiger dance) after enjoying the Onasadya.
(The author is the chief nutritionist at SUT Hospital, Pattam)