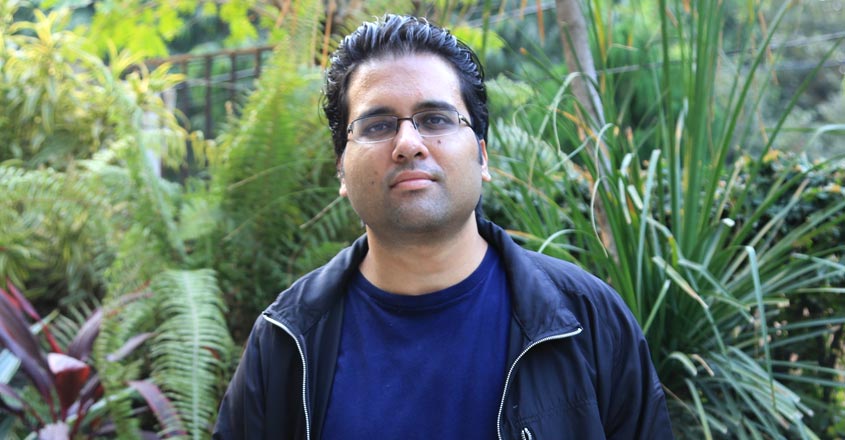 Both Kanishka Gupta and Anees Salim struggled and faced several setbacks during the early stage of their careers. Salim was clueless regarding how to get his books published. Kanishka became a literary agent and launched a firm, but could not publish even a single book. However, an unexpected email changed their lives forever.
Kanishka received an email from girl named Haseena Mansur with some chapters of a book titled 'Tales from a Vending Machine'. Kanishka read it and found the story interesting. The rest, as they say, is history.
Anees Salim is now an author who has won several honours, including the Sahitya Akademy Award of India. 'Writer's Side', Kanishka Gupta's firm, is the leading literary agency in South Asia, representing over 400 writers and having published around 1,000 books.
Kanishka speaks on the changes he has seen in the literary field, the relevance of literary agents and related topics.
The tale of an email
Writer's Side was started in 2009 and Anees Salim sent the email in the name of Haseena Mansur in 2010. "My novel 'History of Hate' was long-listed for the Man Asian Prize. That's how Anees came got my email ID. Haseena Mansur was a character in 'Tales from a Vending Machine' and Anees had sent the mail in her name. I realized that it was an excellent work and contacted the commissioning editor of Harper Collins. The response was to send the book if I found it good. What followed is history. Harper Collins published 'Tales from a Vending Machine' and 'Vicks Mango Tree'," says Kanishka.
'Blind Lady's Descendants' by Anees that won the Kendra Sahitya Akademy Award too has an interesting side story. The first two publishers we approached rejected the manuscript. It was released by the third publisher, but their attitude was not encouraging, says Kanishka. "It was not the publisher who sent the book for various awards and we terminated the contract with them. A deal was struck with Penguin later," says Kanishka.
Life among letters
Kanishka says that he was not a bright student in school or college. "Everyone in the family was engaged in business. However, I had realized that my life was elsewhere. Moreover, books were the biggest support during the hours of crisis in my life. Though there were no writers in the family, I found books inspiring and completed my first novel while I was 22. It was a work done without proper research, but my confidence was high," he says.
The youngster sent a copy of his first creation to Khushwant Singh and received a reply within days. Singh found many faults with the book, criticized it heavily and sent it back.
Kanishka approached several publishers, but no one was willing to accept it. "During that time, I met Shobhaa De through a close friend of my father. She introduced me to the editor of Penguin, but I was told that my book was not fit to be published. It was Shobhaa De who encouraged me at this time and said that I should not stop writing," he recalls.
Meanwhile, Kanishka was introduced to novelist Namita Gokhale in 2007. "The seven months that I worked under her transformed my life. I soon launched Writer's Side with an investment of Rs 7,000," he says.
Meeting Anees
The launch of Writer's Side and its growth coincided with the arrival of Anees Salim the writer as well his rise to fame. The literary agency was started in 2009 but Kanisha could not find even a single author. Nobody approached an agent who had no experience or a degree in literature or other achievements to his credit. "Neither could I approach a publisher without a good book or writer. It was after I came across Anees Salim that I first found a publisher," he says.
But Kanishka feels that the literary field is yet to give due recognition to Anees even though publishers are queuing up for his works, which have won several awards. "More people need to read Anees. His books should reach the global audience," says Kanishka.
Non-fiction holds sway
According to Kanishka, good novels and short stories are not being created in Indian English. "No wonder, most readers prefer non-fiction. Books like 'Early Indians' by Tony Joseph are much in demand. Meanwhile, the popularity of works related to travel, ecology and lifestyle has dimmed. There are many readers for books on cricket, but sports are not as much in demand as earlier. Though it has a regular readership, the popularity of sports books is not growing," reveals the top literary agent of the region.
Many publishers are not willing to spend much money on marketing too, he adds.
Kanisha also speaks about his tasks. "A literary agent has much work to do. It starts from discovering a writer, getting the book published and even engage in several activities afterwards. Agents now even negotiate over turning the books into web series and movies," he explains.
Writer's Side now boasts of a galaxy of authors, including Viswanathan Anand, Dipa Karmakar, Subha Mudgal, Aneesh Pradhan, Hussain Zaidi, Subhash Chandran, Josy Joseph and Anamika Mukherjee. A team of editors support Kanishka in checking the copies and exchanging ideas. Meanwhile, Kaniksha is engaged in the work of his own latest book.