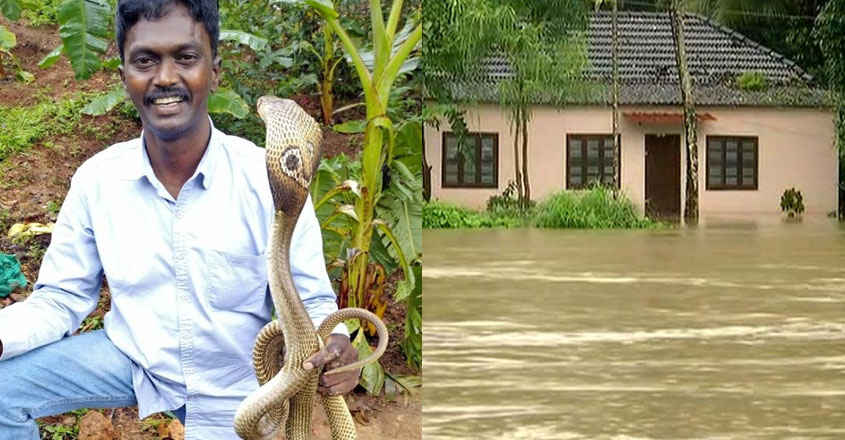 After the deluge, Kerala is getting ready to reclaim its homes. The inundation has rendered a majority of them temporarily uninhabitable - plastered with silt, dirt and carcasses. But the real danger lurking in these homes is yet another – snakes that have been washed inside with the flood water. Snake catcher Vava Suresh gives some pointers to help people going back home steer clear of venomous and non-venomous reptiles.
Before entering your home
Make sure that you do not enter the home before tapping around with long sticks or metal rods. Do not touch anything with bare hands. Check every nook and cranny in this manner because snakes could be hiding under/inside almirahs and cupboards, between stacked clothes and so on. Russell's Viper (Anali) is the most likely to sneak inside houses.
Even if you didn't find any snakes on inspecting the house thoroughly, it is better to take a precautionary measure. Make a mixture of kerosene and water and can be randomly spattered all around the house. If the house has an attic (machu/thattinpuram), pour the kerosene-water mixture there too.
In the event of a snake bite
If you or anyone around you get bitten by a snake, it is important to not push the panic button; remember that it is important to keep the heart rate down. Tie a cloth over the wound. Make sure you do not tie ropes or threads of any kind around the wound. Blood circulation should only be reduced and not stopped. The person who has been bitten should not walk or lie down. The site of the bite should not be raised above the level of the person's heart. Do not attempt to cut the wound open with blades or knives in an effort to squeeze the venom out. Take the person who is bitten to a hospital at the earliest.
Tips to determining the type of snake that caused the bite
The symptoms of the bite can give us clues about the kind of snake that caused it. A Russell's Viper (Anali) bite will cause the blood at the site of the bite to ooze out thin and watery. The site of the bite will also swell up very soon. A cobra bite on the other hand causes the blood to clot. The bite of non-venomous snakes will cause normal bleeding; even if the snake is non-venomous, the person has to be given medical treatment. Bites of venomous snakes will cause severe pain.