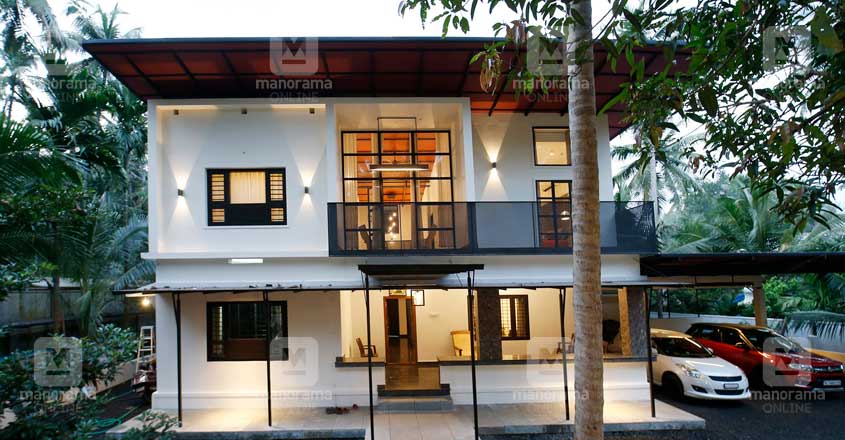 Shamheel, an architect based in Kondotty in Malappuram district in Kerala has designed his own house after a rigorous experimental process that lasted a few years. "This actually is my ancestral home which is around 30 years old. The construction of this structure was completed in multiple stages that spanned quite a few years. Some parts of it were built after my elder brother immigrated to the Gulf. Years later, I drew a new plan while was an architecture student. The construction got completed after I graduated and began practicing," says Shamheel.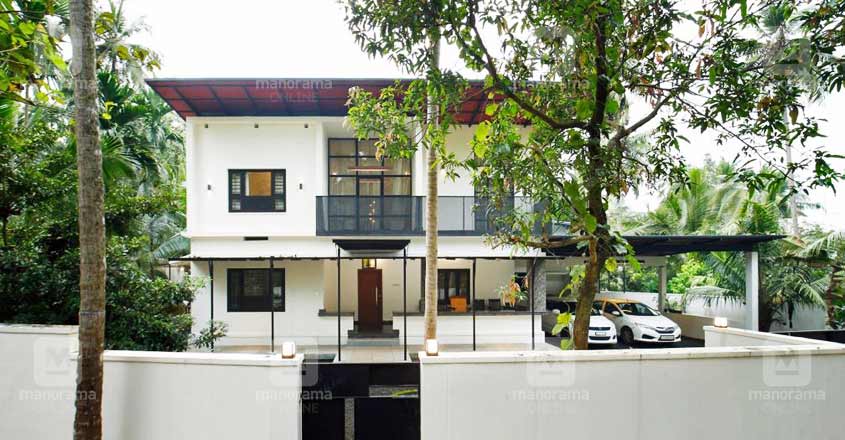 The walls of this house are built using compressed brick walls that do not put too much weight or pressure on the earth. The composite roofing prevents heat from entering the house thereby maintaining a pleasant atmosphere in the interiors. The roof has multiple layers which is a unique feature. The lowest layer is made by wrapping fiber cement board with aluminium bubble sheet. A layer of GI sheet goes on top of it. The gobble roofing technique in which the heat from the lower floor exists through the ventilation above is adopted in this house. This makes the interiors extremely pleasant and comfortable even during the harsh summers. The rain water that falls on the roof is carried by the rain channels into the rain pits and is then used for well recharging.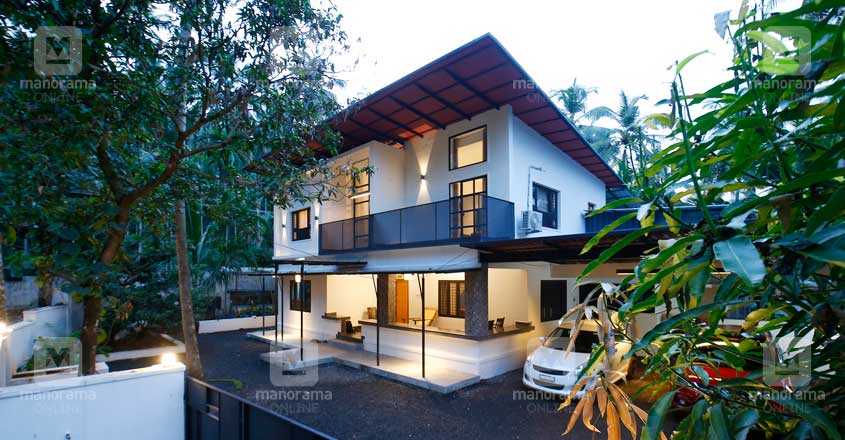 The basic tenets of the vastusastra have been followed while designing the house. For instance, the elevation of the house faces the south – east direction to receive the wind that blows from the south – west direction.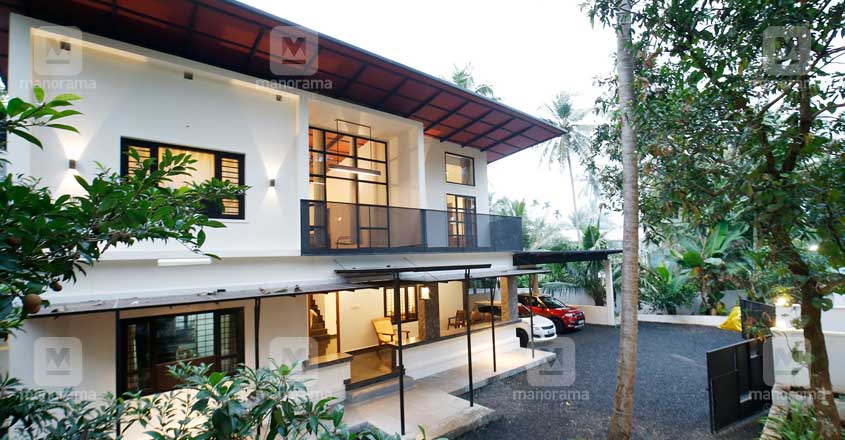 This amazing house designed in 3500 sq ft area has a car porch, it out, formal living room, dining hall kitchen, five bedrooms, upper living area and an open terrace.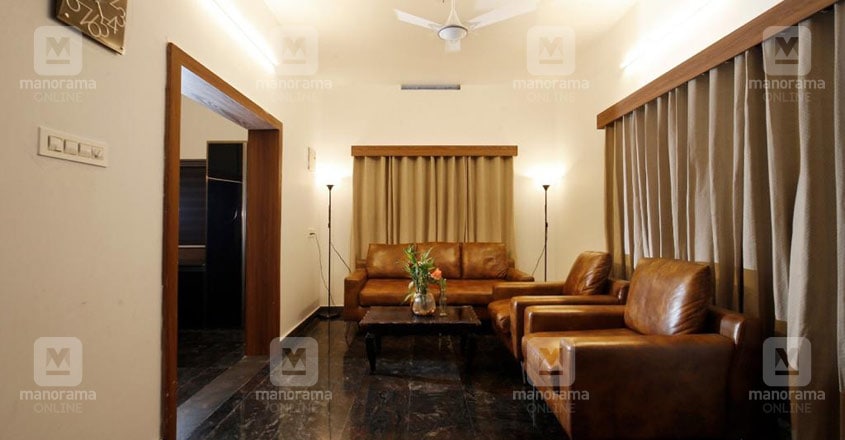 Granite is paved on the floor in the ground floor while vitrified tiles are used for flooring in the upper storey. Both the stories have flooring done in cement finish.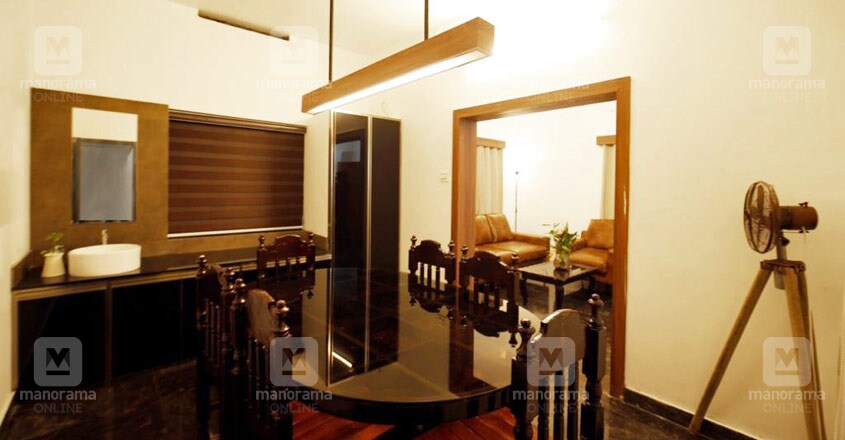 The handrails of the stairway are made using MS mesh. The stairway, meanwhile, leads to the upper living area.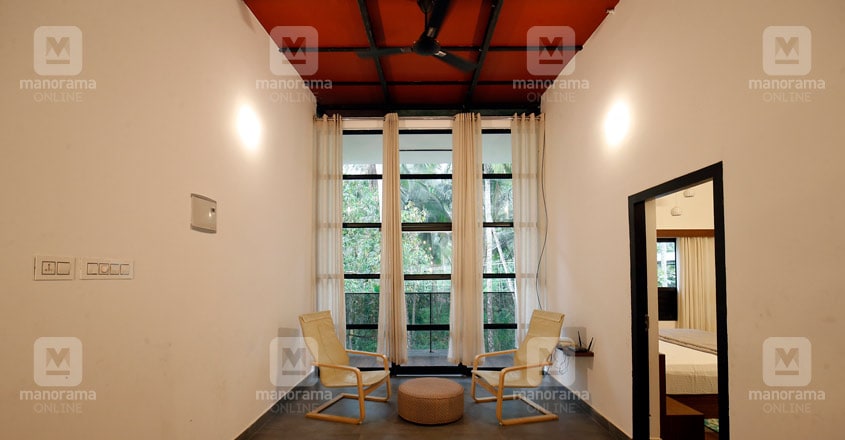 There are two bedrooms in the ground floor and three in the upper storey. All the bedrooms are bath attached with built-in wardrobes for storage.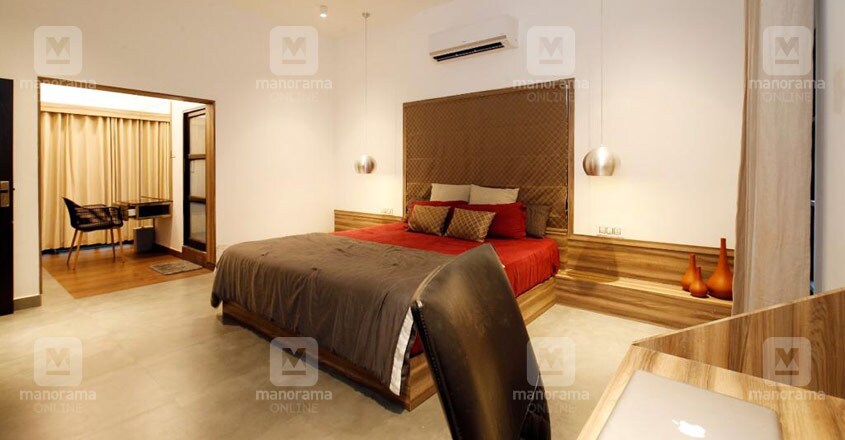 The kitchen cupboards are done using aluminium fabrication with acrylic finish. Aluminium fabrication is done on the bedroom wardrobes as well. This helped save the expenses significantly.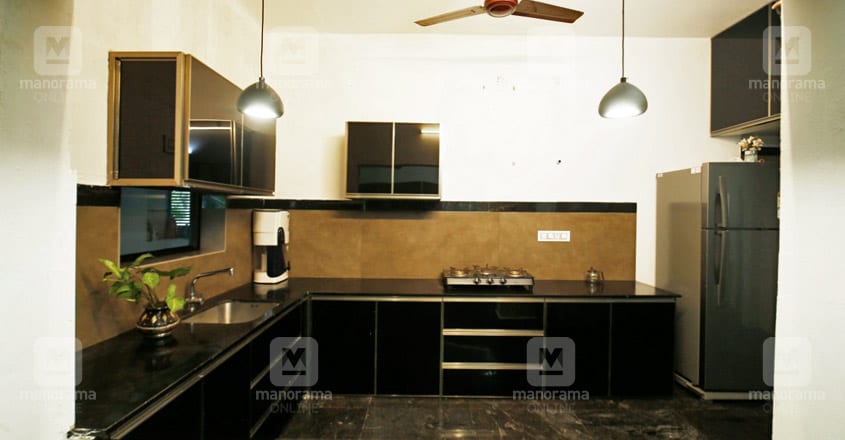 The landscape is designed by retaining the trees in the front yard. Baby mettles are paved here to allow the rain water to seep into the earth. This house was renovated, including restructuring and furnishing, on a reasonable budget of Rs 25 lakh. Shamheel's wife Shibla, who is an architect herself, too had chipped in with her ideas and designs. The couple had waited for 15 years, to finally see their dream abode materialize.
Project Facts
Location – Kondotty, Malappuram
Area – 3500 SFT
Plot – 18.5 cents
Owners and architects – Shamheel Kotta and Shibla
Inked Corridor, Manjeri
Mob – 98957 23322
Year of completion – October 2019
Pictures – Ajeeb Komachi