Aslam's brand new house at Thalayolaparambu in Kottayam, Kerala, stands out for its unique fusion style and minimal designs. The owner had wished to move into the new house before his wedding. Meanwhile, the family wanted their dream abode to feature a fusion style by blending the classy elegance of their old ancestral home with the chic style of contemporary architecture. So, half of the elevation has a slanted roof that is paved with mud roofing tiles while the rest has been designed as a flat box structure. Interestingly, the structure, which stands majestically in a 25 cents plot, has been built by leaving a lot of space in the front.
Designed in 2750 sqft, the house has a sit-out, formal and family living areas, dining space, kitchen with an adjacent work area and two bedrooms on the ground floor. Meanwhile, there is a study space, a balcony, two bedrooms and a terrace on the first floor.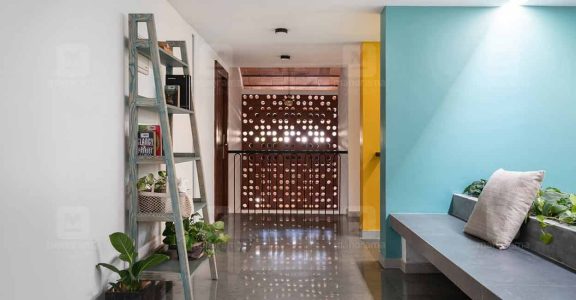 The interiors are designed to welcome natural sunshine and cool breeze abundantly into the house. The jali openings and the skylight ceiling illuminate the interior spaces with golden sunlight.
Interestingly, natural materials have been mostly used in this house. The Kota stones paved on the floor, the terracotta and brick claddings on the wall and the double-layered tile ceiling add an old-world charm to the interiors.
The spaces in this house don unique personalities. The walls of the sit-out are built in the exposed style using rocks and concrete. Meanwhile, the slanted roof has been carefully placed over these walls.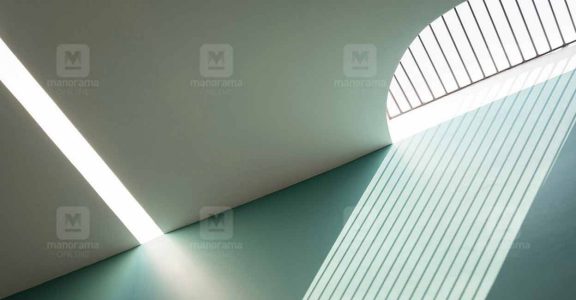 The family living area and the dining space are designed in an open style. The ceiling here has been designed as an in-built planter box in concrete finish. Creepers hang from this ceiling granting a surreal charm to the interiors. Meanwhile, the staircase is built by arranging metal sheets in a unique pattern.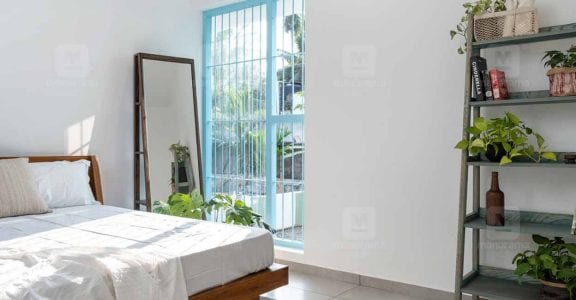 The colour palette of the house is incredibly attractive. The light green, yellow, pastel blue and red hues on the elevation add a spectacular ambience to the house. Moreover, it fills the heart with joy too. All the window and door frames in this house are done in metal–glass finish.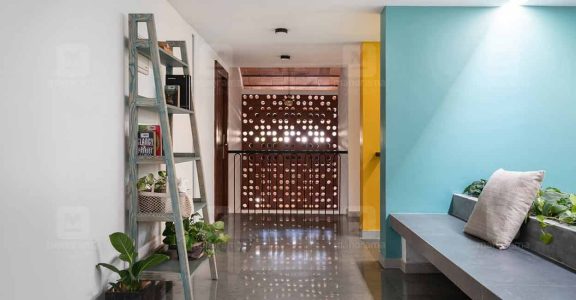 The bedrooms have attached bathrooms and wardrobes too. The bedroom on the first floor opens to a spacious balcony. The kitchen, meanwhile, has been furnished by doing ACP works on ferrocement slabs.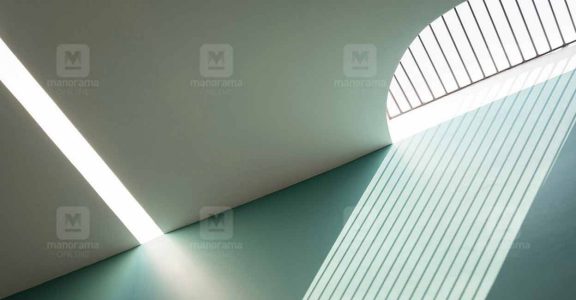 It took almost a year to complete the construction of this splendid house. The construction, including the structure and furnishing, was completed on an exorbitant budget of Rs 91 lakh. The family is delighted that they could enjoy the warmth of sunshine and the cool breeze inside the house. Moreover, there is no need to switch on the light inside the house during the daytime. Project Facts
Location – Thalayolaparambu, Kottayam
Plot – 25 cents
Area – 2750 SFT
Owner – Aslam
Architect – Ahmed Afsal and Muhammad Ansif
ClayCoop Architects, Calicut
Mob – 99477 77627
Year of completion – December 2022