Angel is a mother of six. She was first spotted wandering in a busy city in search of food. She was starving, thirsty and injured. Yet she didn't bother to slow down a bit because all her children, born in a single go, were breastfeeding. She had to gather as much food as possible and keep herself nourished. Angel is an Indian dog and she was found ill on the streets of Kochi.
When the rescue volunteers first approached her with some biscuits, she sniffed it, sniffed the volunteer's hands and ran swiftly to the corner of an abandoned building where the pups awaited her. Angel collapsed by the time she reached her pups and gave a tired look at the volunteers.
At the rescue home, more tragedy awaited angel. Her pups died one after the other at the rescue home because of viral infection. Someone adopted Angel, but the owner returned her to the rescue home due to her passive nature.
Last Sunday, an animal-lover called Kevin Peter, who was looking for a companion for his furious pet dog SherKhan, took Angel home. In the company of another dog, Angel became active and playful. Now, Angel is happy at her new home, with her new family and friend.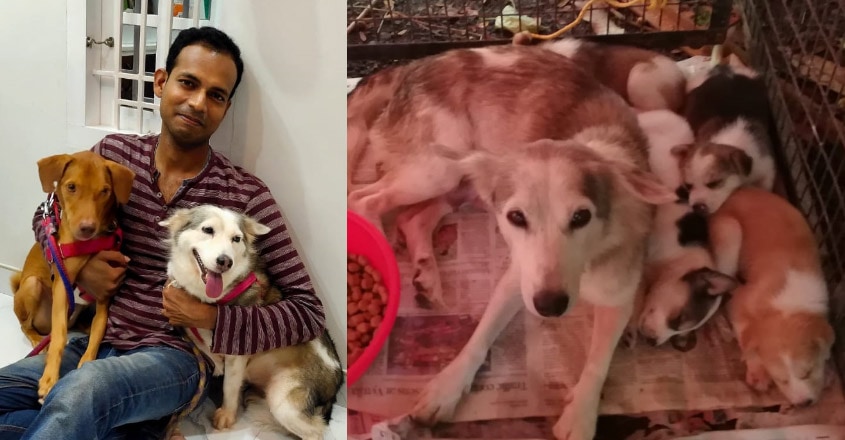 It is not just the case of Angel but also of Mittu, Brownie and several other puppies, kittens and adult dogs that found families at the mega adoption drive that was organized by 'Oneness Collective' at Rajendra Maidan in Kochi on November 10, Sunday. Around 40 puppies, 28 adult dogs and 15 kittens were adopted by people who pre-registered for the event. Most of these pets were rescued from the streets.
Three animal protection organizations - Dhyan Foundation, People for Animals and Oneness Trust - came together to host the unique pet adoption drive. This was the third edition of the event. The first event was held on February 22, 2017, while the second one in September 2018. The animals displayed in Sunday's adoption drive included those rescued from 2018 August floods.
The adopters were selected through a screening process. Commenting on the criteria for adopting pets, Shibin Mathew, co-founder of Oneness Trust, said the animals were allotted to only those who have basic knowledge about pet-keeping, animal rights and diet. "Those interested in adoption must submit copies of their Aadhar card or any other document proving their identity. We would also extend them an awareness class detailing all aspects of pet-keeping," Shibin said. The volunteers of Oneness Trust would also throw surprise visits to the new homes of pets adopted from the drive, starting from a fortnight after the event.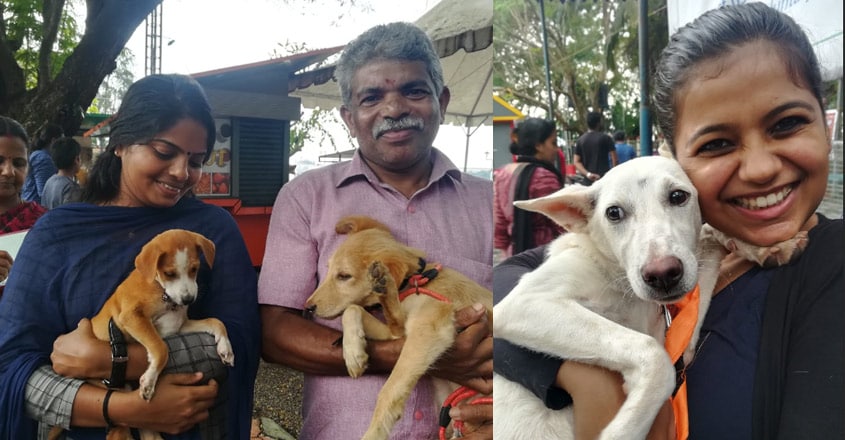 Oneness Trust was formed during 2018 August floods by a group of four like-minded youngsters, Shibin Mathew who is an IT professional, Rajalakshmi Kanchilal, a graphic designing and animation student, Ashwini Prem and Arun CR, plant nursery owner – in order to rescue and protect animals that were washed away in the floods.
There were seven adult dogs that are left behind after the adoption drive. According to the NGO's, the organizers have already received 15 inquiries regarding those seven. The pets given out for adoption were provided with mandatory vaccines and essential medical attention.
"Funding is a major challenge. We work using the donations made by kind hearts," Soumya, a volunteer said. Shibin said the collective spent around Rupees 15000 to host the event, which was pooled with the help of volunteers and sponsors.