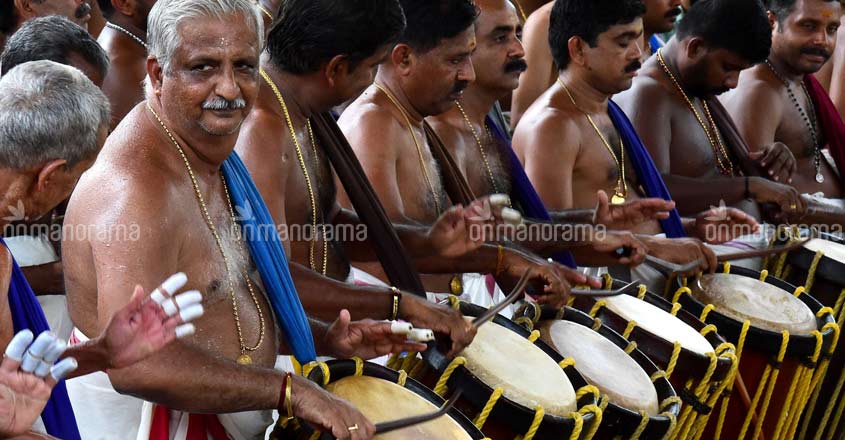 Thrissur: A controversy has been triggered over the rights of the performance of the percussion ensemble for the 'Thrissur Pooram'. Pooram aficionados are complaining of the inability to share videos and audio clippings of the 'Ilanjithara Melam' and 'Panchavadyam' on online platforms like YouTube, since the performances are claimed to have been 'copyrighted' by a private music company.
The Ilanjithara Melam, Panchavadyam and Panchari Melam of Thrissur Pooram were recorded earlier for the multilingual movie 'The Sound Story' featuring Resul Pookutty in lead role.
Copyrights for these went to producers Sony Group along with the songs recorded for the movie. Once a copyright is obtained for a song, that music or anything similar cannot be uploaded online.
There have been various complains of people who were denied from uploading a video or audio clip that contains the performances claiming copyright issues.
However, the pooram enthusiasts are questioning its application on Thrissur Pooram and its percussion performances by eminent artists, including the percussion maestro Peruvanam Kuttan Marar.
Some fear that similar performances at other venues could also be barred from being uploaded. They also seek action against owning copyrights for Kerala's own percussion forms.
If copyright rules have given exclusive rights of Ilanjithara Melam to someone, the rule itself needs to be changed, said Peruvanam Kuttan Marar, who led the performance.
Peruvanam Kuttan Marar had also acted in 'The Sound Story' movie.
Meanwhile, Resul Pookutty, the Oscar Award winning sound designer, said he doesn't understand how the controversy was formed.
"YouTube has so many videos of Thrissur Pooram. Some channels stream it live. Sony has only requested not to use the recording in The Sound Story as it is. It is in no way connected to Thrissur Pooram, which is Kerala's own pooram," he said.
The annual pooram festival, considered as the mother of all temple festivals in the state, is known for its colourful fireworks extravaganza and display of caparisoned elephants.
The two-century-old Thrissur Pooram had its origin in 1798, through a royal edict of the then Raja Rama Varma, popularly known as Shakthan Thampuran, a powerful ruler of the erstwhile princely state of Cochin.
This year the festival was held on May 13.