It seems Mercedes never creates something puny, though occasionally the company comes out with small packages which pack a punch. The new A Class is an example of how much you can load in a small car, and can be called a pocket luxury hatchback.
A test drive was arranged by the company for select journalists in India.
History
Mercedes decided to come out with a hatchback in spite of strong opposition. Many of its loyal customers and the top management did not want the company to condescend to making small cars. Even when some loyalists threatened to change brands and some top officials were ready to submit their resignations, the company did come out with its A Class which became an instant hit in the 1997 Frankfurt auto show.
The small Merc uses a front wheel layout, with a small four cylinder engine. It initially had many hiccups, and once the company even had to call back around 3000 cars to retrofit it with electronic stability programs. The quality and cost of the car soon gave it much fan following and many hatchbacks that followed were on the lines of the little Benz. The second generation made its appearance in 2004 and the third generation came in 2012. The third generation has now come to India.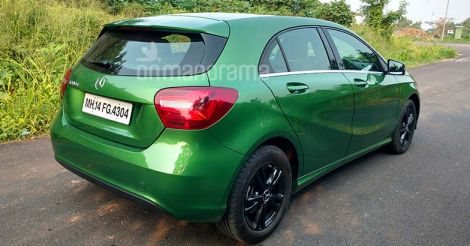 Mercedes A Class. Jithu Kuruvilla Thomas
Design
The new model has more space and luxury than the previous models. It is about 4.5 metres long and has a bigger wheelbase than most sedans. The cost comes to around Rs 30 lakhs.
The car carries two new bumpers to make it sportier. It stands on 16-inch alloy wheels and the body is accentuated in chrome. Panoramic sunroof is standard and the new green colour is an eye-catcher.
The interiors carry a minimalistic layout and the round AC vents and the pop-up LED display are the only other prominent landmarks. Seats are done in black and the chrome inserts give the steering a sporty look. Software upgrades have made the infotainment systems much easier to navigate.
The 2.1 litre engine delivers 135ps and 300nm torque. The seven-speed automatic gear box is paddle shifted and takes only 8.8 seconds to pull the car to 100 km/hr from zero.
Those who need a hatch with no let-ups in luxury has to either go for the Mini or the Merc A Class because BMW 1 Series is not being sold in India anymore. The brand Merc does not need any introduction in India, while the Mini might need one as it is not well-known here. Service is not a problem after Bridgeway Motors became a new dealer of the brand.