Kottayam: After two decades and a half, the controversial Rock opera 'Jesus Christ Superstar', which was stifled at birth by a prohibition order in 1990, was staged at Pallikoodam School in Kottayam, before a packed audience.
The then district collector Alphonse Kannamthanam had ordered the ban citing scenes, which could hurt the religious sentiments of Christians. Later, a Division Bench observed that the presentation of Jesus Christ in the play was "both sacrilegious and blasphemous."
However, Father Abraham Vellathadathil, former Principal of Henry Baker College, Idukki, challenged the ban in the Kerala High Court along with Mary Roy, claiming that the rock opera was a literary piece and even the Christians of the Vatican enjoyed it. The case shuttled between the lower courts for a decade and later went to the Supreme Court.
In April 2015, the SC quashed the notification, which banned the staging of the drama in Kottayam district. What's perhaps most ironic is that the same 'Jesus Christ Superstar' was staged the world over, including the Vatican, decades ago and was very successful.
In the light of the lifting of the ban, the play was re-enacted by the students of Pallikoodam. And sure enough, with its breezy depiction and poignant rock anthems, no show could have better illustrated that a new theatrical era had arrived. Written in 1970 by Tim Rice, the play is told from Judas' perspective, portraying him as an idealist unhappy with the direction of Christ's ministry.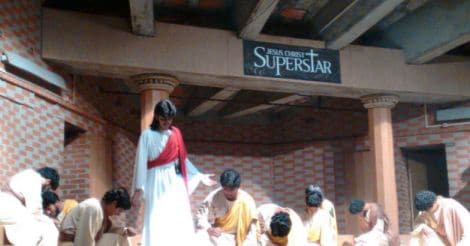 'Jesus Christ Superstar' was staged at Pallikoodam School in Kottayam, before a packed audience.
'Jesus Christ Superstar' details the last seven days of Jesus' life on earth starting with Him and his disciples in Jerusalem and ending with His crucifixion all the while highlighting the struggle between Judas and Jesus from a psychological point of view.
The opera throws light on the agony of Jesus during his betrayal, trial and condemnation. According to the play, Jesus Christ was nothing more than the right man at the right time. The rock opera also suggests that Mary Magdalene may have had a relationship with Jesus.
While all the lead roles were handled by 11th standard students, kids from junior classes too played their part in bringing the play to life.
Disclaimer: The views expressed in My News are solely those of the author in his/her private capacity and do not in any way represent the views of Onmanorama, or any other entity of Malayala Manorama