My first experience of a snow storm and I dint know what to expect. I was disappointed that my soccer match was cancelled just because of snow, and I was wondering why they were making a big deal, but when I woke up I knew exactly why it got cancelled.
I heard the sharp sound of the wind and I looked at the window and I saw little balls of snow hitting the window. I looked down and I was surprised because I was not expecting so much of snow but then I realized there was about twelve inches of snow. For the first time that we saw empty roads, there were no cars and or no people walking around except to take out their dogs for 3-4 min and the run back inside.
Since there was so much snow I really wanted to go out and sled. So I had to wear many layers, for example: a t-shirt, a pair of thick pants, a snow suit (it covered my whole body), a thick jacket, etc. My mother told me to wear two pairs of socks but I didn't listen, and wore only one pair (and that caused me a lot of pain in my feet) and we also wore snow boots.
When we went down, I was really excited and I jumped deep into the snow rolled around with excitement and snow went inside my boots and I felt I had a major injury on my foot. I was screaming and howling in pain. I just couldn't take it any more so I made my father take my boot off to empty out the snow from it. My socks were drenched so it had to be taken off. I wore my mothers sock (second pair) and then continued to have my fun.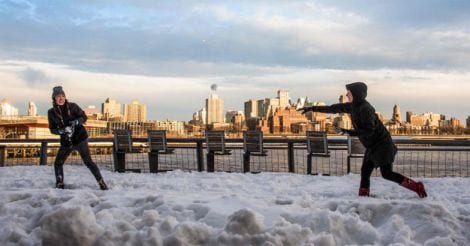 When we reached the park the first thing we did was sledding. There were many kids from the neighbourhood sledding, throwing snow balls, and building snowman's. There was a really tall hill nearby, every time we went down we would probably sled for about fifty feet. It was awesome!
Last year, though there was a blizzard warning, it missed New York and went directly to Boston. So this time I was really happy that I could experience I and be a part of it.
Disclaimer: The views expressed in My News are solely those of the author in his/her private capacity and do not in any way represent the views of Onmanorama or any other entity of the Malayala Manorama