At first, there was no snow at all. I was thinking that this winter was not so much fun. But last week we had a little snow shower and even with that I was excited. My brother and I were collecting snow from what fell on the cars, we tried to throw snow balls at each other. But there was certainly not enough for snowmen , sledding or snow angels. So I was still a bit disappointed.
Then on Saturday morning, I woke up and looked out of the window, there was a lot of fog and we couldn't see the New Jersey side. But I looked down and saw soooo much snow. And what was more exciting was that I was seeing that snow kept falling faster and faster and I knew there would be lots of snow to play with.
Since there was heavy wind and snow, my brother and I wanted to have some fun. So we opened the windows and let the snow come in, and we took the snow that had collected on the window ledge. We tried to make a ice hockey rink in the bathroom!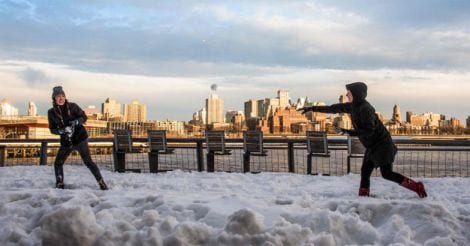 We decided to go sledding with my friend. We wore many many many layers of clothes. Even though I wore a face mask, snow kept going into my eye but I was having so much fun that it dint bother me. The most excited part was going outside and walking and falling into the snow which was above my knees. I did something that I have never done before...since there were no cars allowed on the roads, we were actually lying down in the middle of the roads and making snow angels.
Since there were only 2 sleds for three of us, we took turns and sometimes my friend and I went on it together which was even better. We were outside playing for a few hours and when we were tired, we were ready to get back home, and have hot showers and keep warm.
IT WAS A SUPER FUN DAY and I will never forget it!
Disclaimer: The views expressed in My News are solely those of the author in his/her private capacity and do not in any way represent the views of Onmanorama or any other entity of the Malayala Manorama