Over the last few years, Priya Menon has been going all out to do whatever she can to empower women. She has been conducting exhibitions to promote creative talents of women. She launched her venture Sankalp, which means determination in Sanskrit recently and is now all set to hold a short film festival.
This festival, says Priya, will be unique. The festival will have movies which had at least one women member in the crew. People from the film world, Joy Mathew, Amal Neerad are also supporting the initiative called " Women and Filmmaking in the Indian Scenario."
What is unique about this film festival?
I feel that the uniqueness of Sankalp Short Film Festival lies in the mandatory clause that each entry submitted must have the involvement of women in some way or the other. By this, we are ensuring the participation of women in this festival. Film making is one field which is by and large, male dominated. It is not because of the dearth of talents or ideas by women, but I feel it is more due to lack of opportunities. We are trying to encourage women who are interested in the medium of film making by giving them a platform to discover their talents and further their passion and creativity.
What made you think of a film festival and not an exhibition?
Sankalp started out six years ago as an organization which conducted women centric exhibitions titled 'Crafts'n Weaves' where we provided a platform for participating women from all over India, to display their handmade/sourced out products and connect directly with buyers. Our aim was to empower women and encourage entrepreneurship. Our forthcoming exhibition in this regard is planned at Trivandrum in August.
I had recently started feeling the necessity to diversify into some other field where Sankalp could extend its services to women who have interest in other areas too. Film making, I felt, was one zone where the involvement of women was limited, and hence we decided on this film festival, where we could ensure participation of women through every single entry.
What do you want to prove through this festival ?
Women, especially in our society, need a bit of support and encouragement to come up and live the life of their dreams, and to follow their passion. All that I am trying to do, through Sankalp, is to provide them a small platform for the right type of exposure and experience, so that they can get a foothold and start progressing in their chosen careers.
Should women be the subject of the theme " beautiful day"?
Not necessarily. We do not interfere in the creativity of the filmmaker by laying down rules regarding characterization. All that we insist is that there should be atleast one woman involved in the making of the short film, either in the production/technical side or the acting part.
Is this film festival the first of its kind? I have heard of film festivals for women in Mumbai, but I doubt if there has been any other similar film festival in Kerala.
How are you planning to encourage the crew of film makers, especially women, in such short film-making?
The Sankalp Short Film Festival essentially aims at providing a platform for women who are interested in the field of film making. We have made it mandatory that atleast one woman is involved in the making of each film that is submitted for the competition.
We also plan to conduct a panel discussion related to the topic of Women and film making, on the day of the film festival, where we expect several strong personalities in the industry to take part and give inputs to the aspiring women filmmakers, which would be of help to them.
Would there be a forum to present these films in a national / international banner?
Not immediately. Perhaps later on. We are also learning, this being our maiden venture.
Do you get governmental aid / subsidy / fund for promoting such festivals? Did you approach them?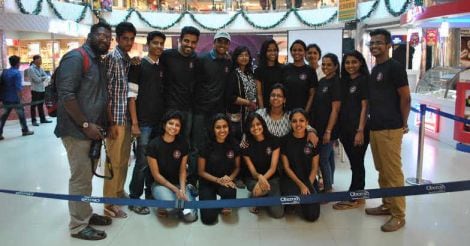 Team Sankalp Creative Ventures
We haven't approached any government agency for funding yet. We are hope to receive funds from private sponsors.
How many of you are working on this project and how do you plan, allocate and execute your tasks?
A dedicated team is always an asset to any organization. The same goes for Sankalp Creative Ventures, which can boast of a committed team filled with enthusiastic volunteers from various spheres of life, who are forever involved in several aspects related to the betterment of society in general, and work collectively towards this goal in their own special ways.
Our team for the Short film festival essentially consists of a few students and teachers from St Theresas College, Kochi, students from Jyothi Engineering College, Thrissur, and a few other men and women who support our cause strongly. My main source of support in the volunteering aspect is my friend, Ann Mary Thomas, a gifted artist, who is also a faculty at the St Therasas College, Kochi. She has been instrumental in getting together a group of her students, co-teachers, and friends as volunteers for this project.
Don't you feel a short film-making initiative, exclusively by women, would actually acquire more recognition?
It certainly would have. But I was not very sure about the number of entries we would receive if it were an all women festival. Moreover, it wouldn't have been fair to a whole lot of men who are also looking out for opportunities in this sector. As a society, I believe, we should have a healthy balance of both genders working hand in hand, to achieve success.
What are the bottlenecks you are facing in connection with the festival?
The main challenge I face now with regard to this short film festival is in giving it enough publicity outside Kerala. Since we are working on a limited budget, we have our limitations. But we are certainly trying through social media networking, which is a powerful tool.
Our second challenge lies in obtaining sponsors. That is also something which I am hopeful about.
Being our initial attempt, it goes without saying that each new step is a fresh challenge, but thanks to an awesome team, I find that I am able to steer Sankalp forward smoothly.
How has response been from the media, mentors and other groups of people?
Sankalp has always had tremendous support from the media. All our events have been well-covered, be it print or TV, and that has been one of the greatest reasons for our success. Even in this short film festival, we got featured by a couple of national dailies in English and Malayalam, which has definitely brought about a considerable increase in the number of enquiries.
When I started off with the idea of organizing a short film festival, one of the first people I approached was my cousin, Pradeep Kalipurayath, the creative head of Poorman Productions, Chennai, himself a gifted and busy ad-film maker. He has been actively mentoring the project from day 1. Even today, I make it a point to discuss any doubts I have with him, regarding the film festival. The same goes with Rajesh Hebbar, a multifaceted actor, Mr. Sharath A Haridasan, the well known director, and Seema G Nair, the talented actress. They have always been a great source of help whenever I needed it.
I consider myself fortunate enough to have a few good friends to whom I turn for help and guidance whenever I require it. They are always ready to help me out right from the designing part to marketing, finding sponsorships, media management, etc.
How have you been able to meet the expenses?
The Sankalp Short Film Festival carries a small entry fee which could meet a bit of the expenses are covered. But other than that, we are hoping to get some good sponsors who would be interested in supporting us.
Has your family been supportive about the initiative?
My parents have been a great source of support and encouragement to me in whatever I do, and it is purely due to their blessings that I have been able to bring up Sankalp to this level. My son, Varun, who is an engineering student, has been enthusiastically working for Sankalp right from his school days. He has rounded up a few of his other friends who are always willing to lend a helping hand. I would say that Sankalp has been possible only due to the support and backing of my loving family – my parents, my son, my sister, cousins, and a whole lot of well-wishers within and outside the family.
Why did you name the theme "it's a beautiful day" and whose idea was it?
When we decided on the short film festival, I was particular about just one thing. That the films should promote positivity and happiness. We have a whole lot of reasons to feel bad about. But we seldom realize the blessings that we have and the fact that happiness is something that is very much within us. 'It's a beautiful day' was suggested by Pradeep Kalipurayath. I liked it very much since this particular theme could never ever bring out anything negative.
Each day is as beautiful as we make it out to be. Life can be all about having a positive attitude and living out the myriad moments with gusto. Through this particular theme, 'It's a beautiful day,' we intend to spread a message of happiness and positivity within the society that we live in.
Disclaimer: The views expressed in My News are solely those of the author in his/her private capacity and do not in any way represent the views of Onmanorama, or any other entity of Malayala Manorama.