Being known by the name of a character you played happens only if you are lucky. If that happens in the first film of yours, it becomes all the more delightful. Vishak Nair, K Unnikrishna Pillai aka 'Kuppi,' had this rare luck after his debut in Aanandam. Here is what he has to say after essaying a role that provokes laughter and thought:
Are you 'Kuppi' in real life?
No entirely so, although you can see nuances of Kuppi in me. I take that out only when I am in the company of close friends.
About your roots
I was born in Muvattupuzha. I lived in Sharjah until I completed my plus two. My college days were in Mangalore and it was during those days that I became interested in films and music. I was part of a band there. Then employment took me to Chennai and I was with a theater group there.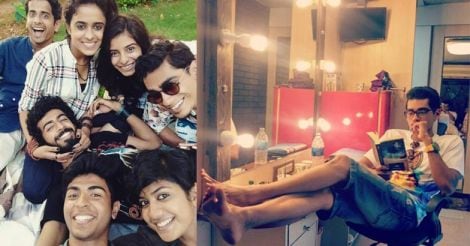 The seven of us lived together in a house in Kaloor and we became close friends, says Vishakh
Entry in Aanandam
I came to know about the audition for Aanandam from a friend in Chennai. During the audition I was spotted by Ganesh. I then, sent him some of my short films as well as dubsmash videos. He then sent me a dummy script which I sent him back after acting out the part. That is how I came to be part of the film. Before actual shooting started, we had a small rehearsal camp. The seven of us lived together in a house in Kaloor and we became close friends. That got reflected in the film.
How was acting in films and drama different for you?
There is of course a world of difference. During a play, we are interacting or communicating with the audience and our actions are modified by the reactions of the audience. In films, we mostly face the camera, which can copy most subtle actions of ours. During the filming of Aanandam, my acting had lot of variations and the director often used to ask me to tone down a bit. I wish to continue my association with films as well as theater. I am also interested in writing and have written scripts for short films.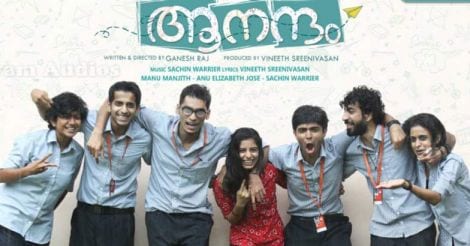 Poster of the movie
Ganesh Raj and the making of Aanandam
I never felt that we were working in a movie set. We all behaved as if we were travelling. All the 56 days during the shoot were entertaining. The longest shoot extended to 28 hours, but we were never tired or bored. Ganesh had no presumptions and was very friendly at the location. He was free enough to accept our inputs and we all had the opportunity to give our ideas in each scene. He also gave me enough room to develop my role, 'Kuppi.'
As with the audience, Aanandam was a travel experience for all of us. We spent about a month in Goa and it was a new experience for me because I have never spent so much time in Goa. I was bowled over by Hampi and would call it paradise unexplored.
About Vineeth
I guess Vineeth Sreenivasan is the biggest luck that a new face in films can get. His presence has helped me a lot. While he would scoot when the shot was being taken, he was very much associated with the film during the pre and post production phases. He also promoted the film with us when we visited colleges for it. He used to give us a lot of tips. He especially helped us a lot when we had trouble with dubbing. We used to meet after each day's shooting and he used to interact with us during those get-togethers. He is humane as much as he is a good artist.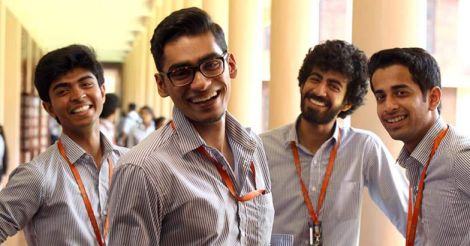 A still from the movie
Your favourite character in the film?
I personally like 'Gautham' played by Roshan. That character has a lot of depth and the character goes through a lot of tensions in the film. Roshan has presented it well.
About the most cherished feedback after release
Definitely, I value the feedback from my parents the most. My father is not one who expresses a lot but he ended the appreciation with a handshake and my mom was crying when as she exited the theatre. I am their only son and they knew that I would select music or acting as my career and they have only encouraged me. However, they wanted me to be educated and that is how I completed mechanical engineering.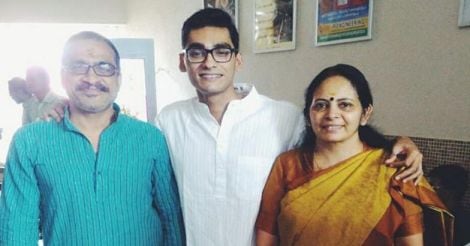 Vishakh with parents
When the offer for the film came, I was preparing for MBA and that was the end of MBA. They were concerned about my future and now that they are happy, I am proud.
Vishakh is now busy collecting feedback from audience at theaters. He does not have time to think about the future now. Like 'Kuppi,' he wants to enjoy life, making others happy in the process.