M.K. Arjunan, popularly known as Arjunan master, is an evergreen musician whose songs continue to reign supreme even today. He has a large volume of songs to his credit and his music catered to a wide range of genres. Although the onslaught of age has robbed the master of his agility, the musical doyen still exhibited the same vigor and enthusiasm of his hay days. He took some time off his latest project -- Jayaraj's upcoming movie Veeram – to rummage through his faint memories. Excerpts.
Initiation to music
Hailing from Fort Kochi, I am the last child of my parents' fourteen children. At the age of seven I, along with my brother Prabhakaran, went to Pazhani. In Pazhani, we stayed in Jeevakarunyanda Ashram. In the ashram there were bhajans in the evenings, which we used to recite along with elders. During one such occasion a seer noticed me and my taste in music and introduced me to a musician named Kumarayya Pillai Bhagavatar. My early lessons in music started there. Thus I learned music for seven years. Later, when the ashram was shut down we were back in Fort Kochi again.
Into the world of cinema
Back in Kochi I started working in a private firm. Some of my friends asked me to compose songs for a play titled 'Pallikkuttam'. The songs were written by E.M. Kasim, a poet based in Kozhikode. It was followed by another play titled 'Ennittum Kuttam Pallikku'. In 1960, music composer Devarajan Master was searching for a harmonium player. I joined Devarajan master and simultaneously worked for professional troupes of drama theaters like Malavika, Alappey Theaters, Manishada, Geetha Theaters. In 1968 came the film Karutha Pournami. It was my friend C.P. Antony, a playwright, who handed me the offer.
Formative years
I started my musical career in 1958 by composing music for plays. My first film was 'Karutha Pournami' (1968). I did music for another film in 1969, but the movie did not see the light of the day. 'Rest House' was released in 1970. It was during this period that my rapport with poet-lyricist Sreekumaran Thampi was established. That continued for years. Most songs that I composed were written by him.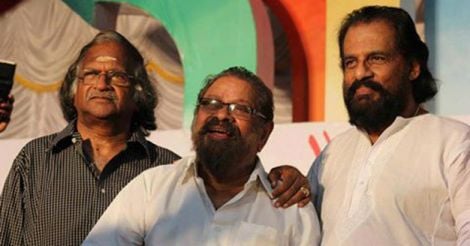 Sreekumaran Thampi, M.K. Arjunan and Yesudas
Breaking Bhaskaran master-M S Baburaj tie-up
Bhaskaran master (P. Bhaskaran), who wrote the lyrics of the songs in Karutha Pournami, and noted musician M.S. Baburaj were doing well as a team those days. So when my name was suggested, it was a sort of new experiment and was questioned by circles close to the duo. Bhaskaran master, however, gave a go ahead to involve me since I had already been intimated and I was asked to do a couple of trial songs. After I composed and sang the songs, Bhaskaran Master wanted my name to be announced as the composer.
On R.K. Sekhar and A.R. Rahman
I was not much familiar with the studios in Madras (Chennai) and was in need of an assistant. So, it was Devarajan master who introduced R.K. Sekhar to me in 1968. He assisted me in several films, since my first film. We composed songs at Shekhar's house most of the days. A.R. Rahman, Sekhar's son, was ten or twelve years old then. The boy used to listen during our composing sessions. When we were away, Rahman used to play the tunes we composed on the harmonium. He was sent to piano classes after his extraordinary talent and interest in music was spotted. He was very different from kids of his age. He never used to play with other children and remained indoors practicing music lessons. I introduced him to the AVM (studio) where he began his musical journey. Later on, he worked for almost all music directors of the time. It was during his stint with ad jingles that filmmaker Mani Ratnam spotted him and brought him around to compose music for the film Roja. He is a music director of repute globally now. Yet, he calls me on important occasions.
On compositions close to your heart
I don't remember most of my songs and I am not able to sing those which I remember. The songs Manathin Muttaththu Mazhavillalazhaku, Hridayamuruki nee karayillenkil, (Karutha Pournami), Padaatha Veenayum Padum (Rest House), Anuragame Anuragame, Dwarake Dwarake (Hello Darling), Chempakathaikal Pootha (Kaathirunna Nimisham) are some that I remember.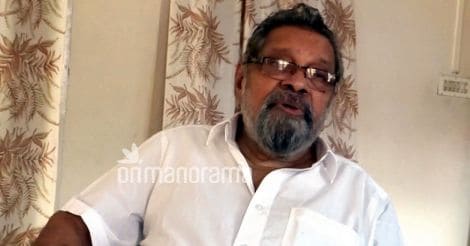 Have you ever sung in films?
No, I have never sung in any film. But I have taught songs to singers. Be it any song, we need to teach them (singers) the nuances and meanings of the songs and explain the feel of the words. Only then will they understand the songs thoroughly. I have taught Yesudas more than 90 songs. Similarly, I have taught singers like Susheelamma, Janakiyamma, Vani Jayaram and so on. When we give a song to a singer he or she will return it hundred times better. That is how a song comes into existence. It is through their voice that people hear the songs. So a singer's voice is most important factor.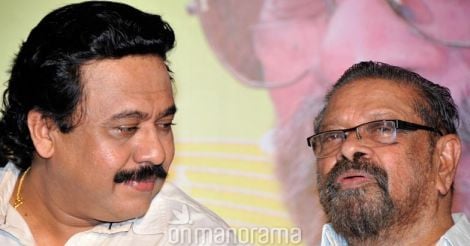 Arjunan master with Vinayan
Your latest ventures
I did compose music for Jayaraj's film Nayika released in 2013. It had three songs besides the remake of the song Kasturi Manakkunnallo, the original song rendered by K.J. Yesudas in the film 'Picnic' released in 1975. Presently I am working on Jayaraj's multilingual film 'Veeram' starring Bollywood actor Kunal Kapur. The work on the music is still in progress.
Family
My wife is Bharathi Arjunan, we have three daughters and two sons. The eldest son is Ashokan and youngest is Ani. Ani has a recording studio in Thiruvananthapuram. My daughters are Rekha, Nimmi and Sreekala. Though all of them have musical tastes nobody has chosen it as a profession except Mithun, my grandson, who is a keyboard player based in Chennai. He has been assisting music directors including Vidyasagar and M. Jayachandran.