Bhagyalakshmi went to see Oru Muthassi Gadha with her younger son. After seeing the film, he opined that she should have pursued a career in acting than dubbing. She has been receiving a lot of accolades for her role in the film from many quarters and all wanted to know why she was late in facing the camera.
On acting in Muthassi Gadha
I liked the film Om Shanthi Oshana by Jude Antony very much. However, I did not call him up to congratulate him. One fine morning, Jude called me up and said that he wanted to discuss a story with me. After he came to Thiruvananthapuram and narrated the story, I liked it because the subject has similarities with me. I know people who are never at ease and never allow others to be at ease, as in Leelamma in the film. I counsel such people. So essentially, the character I played is the one that I liked.
On training Rajini Chandy
Rajini is a person who does not know much about cinema and therefore it was my duty as a person with 40 years of experience in the field to help her out. Jude was also taking a risk by casting Rajini in the title role. I explained the nuances of acting to her and helped her out in facing the camera and to remain calm and composed in front of the camera. She is a bold person with lots of ambitions and I started off by letting her understand that when she faces the camera, she is 'Leelamma' and not Rajini Chandy.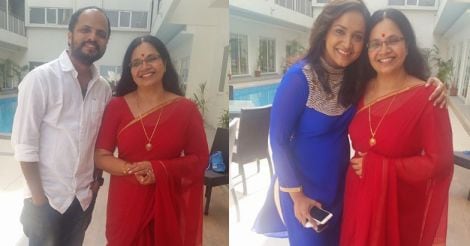 Bhagyalakshmi with director Jude (L) and co-star Lena
Elderly roles
I have no problems doing elderly roles. I am a very religious person, but to imbibe the qualities of 'Susan' in me, I kept aside my beliefs for 45 days. My son is 29 years and if I had a daughter in his place, she would have been married with a kid. Therefore anyone can guess my age. While acting in PaVa, I had enacted an even older lady and was paired with Anoop Menon who also acted as an old man. If Anoop, who is younger to me, can act as an old man, why cannot I?
Jude had approached many actresses for playing the role of Susan, but they were all afraid of being typecast.
On acting
I have decided that I would act again only if the character is good. I need to feel empathetic with the characters I choose to play. In this film all have specific roles. Dubbing is part of my life and I often insist that I would dub only for leading ladies. That is because only then can I bargain for my compensation. I have no such terms or conditions in acting.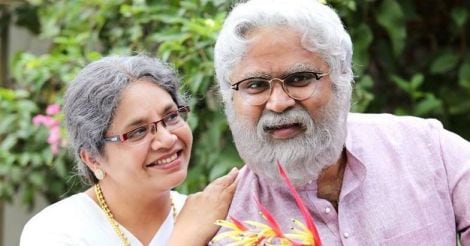 A still from the movie 'Pa.Va'
On being late to acting
Even though I have acted in many films before, I was not confident about myself. I used to feel that I was not beautiful. Now that I have hosted a TV show, I have learnt how to handle myself before the camera. I was more inclined to dubbing.
Accolades and recognition after the film
Many people have called me to congratulate me on my acting and even my younger son said that I should have started acting a long time before. Many people could identify me in the film in their own lives.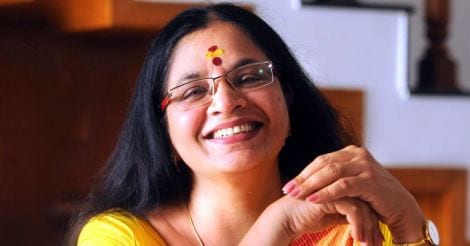 Success celebration
The entire unit was apprehensive whether the film, about two elderly ladies, would be a success. I even used to ask Jude whether he was apprehensive. He was confident and would say that if he loved his mother, sister or wife, he would take them to see the film. That is what is happening. Most people are bringing their elderly parents to see the film. We need a lot of people around us and have to love them to be happy. However, we need to love ourselves if we need to feel proud about ourselves. This film has given such a message.
Future plans
I have some dubbing and documentary jobs on my hands. Meanwhile I will be around in films as sound and star.