In his short career span, he has grabbed attention for the kind of roles he has played and he could rub shoulders with different generations of actors, from Rajan P. Dev to Nivin Pauly, and now with Kollywood's beloved Ilayathalapathy.
Meet Bineesh Bastin, the suave baddie hailing from Thoppumpady, Kochi, who is playing the main villain in Vijay's much-awaited mega-budget film Theri.
Revelling in the success of Action Hero Biju, in which he played the role of Mattancherry Martin, a small-time crook, Bineesh is now eagerly waiting for the release of Theri, which is expected to hit the screens during Vishu. He hopes that his character in Theri would fetch him more prominent roles in the future.
Bineesh talks to Onmanorama about his experience of sharing screen space with Vijay and how he landed a role in Theri.
You have played a key role in Theri. How did you get that opportunity?
Honestly, I was stunned when the character Prem in Theri was offered to me. It was the first offer I received after Action Hero Biju. Director Atlee was looking to cast a Malayalee actor as the main villain in Theri. I had sent my photographs to them. They liked it and asked me to send two random videos. I sent them a clip of my scenes with Mohanlal in Angel John and the promotional video of the movie Kattumakkan. Atlee was impressed by my performance and asked me to go to Chennai. When I was selected to play the role, the shooting had already begun.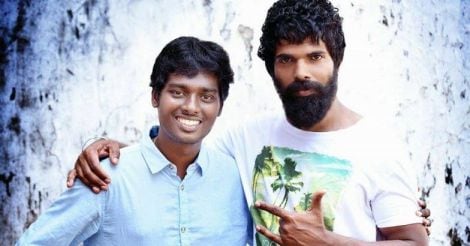 Atlee was impressed by my photographs and videos and asked me to go to Chennai
Tell us about your experience of working with Vijay
There are many combination scenes with Vijay. I'm an ardent fan of him and, to be honest, I was prejudiced. But to my surprise, I was accorded a warm welcome when I arrived on the set. In fact, Vijay treated me with great respect. I count myself lucky to have worked with Mohanlal and Mammootty, that, I believe, could be the reason for getting such a genuine treatment.
Moreover, Vijay is very down to earth, and a lovely person. All our ego will vanish once we interact with people like him. He was always there to help me with tips to improve my acting. Also, Vijay was very generous in praising other artistes if he loved their performance. Filmmaking is a collective effort for them.
I should also mention the help and support provided by the members of the Vijay fans' association. They gave me the kind of respect which is given to superstars here. When they called me 'sir' I felt embarrassed, so I told them to call me just Bineesh. Vijay fans in Kerala have also started to phone me.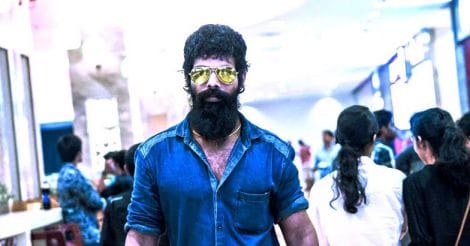 Bineesh Bastin
Vijay has a huge fan base in Kerala. Were you tensed to do a negative role opposite him?
Yes, I was a bit tense and I made a mess of my first shot with Vijay. He came near to me and made me feel very comfortable. His tip was to deliver the dialogue thinking that some other newcomer, not Vijay, was standing opposite to me. I did the same and the very next shot was okayed by the director. Eventually, we became good friends and I did not feel any kind of nervousness afterwards. Like Lalettan, Vijay is naturally talented with a good sense of timing. Be it dancing, fighting or dialogue delivery, his impeccable sense of timing is conspicuous.
Was it your cool, ruthless looks that helped you to land a role in Theri?
I think so. They liked my hairstyle and the beard. In Theri, I had a scene with a little kid. The director wanted the child to tell me something, but when the shooting began the kid started crying nonstop. Finally, we went for a ride together on a two-wheeler to convince the kid that only my appearance is villainous and I am actually a good human being! As per the script, the kid was supposed to scare me!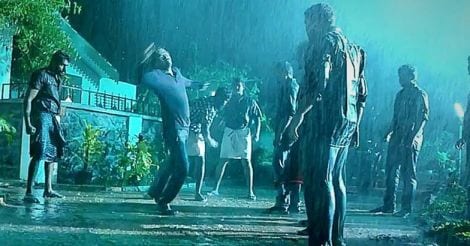 A still from the movie 'Theri'
I have got an offer in Kalabhairava directed by Lawrance (Raghava Lawrence) sir. He has told me to keep this rough looks intact. I used to dream acting with the likes of Rajinikanth sir and Vijay. One such dream has come true now.
You have done several negative roles in Malayalam movies. Do you love playing villain?
I grew up movie crazy. I took to modelling and bodybuilding considering them stepping stones to films. When I was desperately looking for a break, I got a small role in Pandipada as one of the gang members at the den of Rajan P Dev, the main villain. I grabbed the opportunity with both hands. Though almost all the roles I was offered afterwards were similar, I did not reject any of them for my passion for cinema was so intense. Later, my ambition was to deliver dialogues. When that happened, my next dream was to play the main villain in big movies. Fortunately, I received meaty roles in the movies of Lalettan, Mammookka, Prithviraj and Nivin Pauly.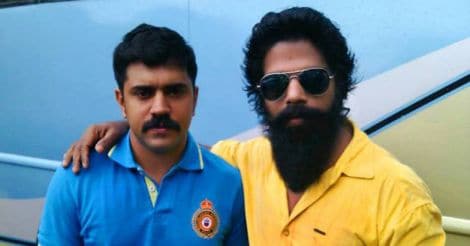 Bineesh with Nivin Pauly
Looking back, there were many persons who extended me a helping hand. Rajan P Dev used to recommend me to directors of the movies in which he was acting. Mammookka too has been extremely supportive.
Marthandan chettan (director G Marthandan) offered me a good role in Pavada. Both of us knew each other from his days as an assistant director. When he became an associate director he used to call me to do small roles. He has assured me a good role in his next venture.
Have you ever felt doing some roles than the negative ones?
Of course. I want to change this looks and portray a solid character role. You will get bored when the roles are repetitive. I love doing roles with comic shades as I'm a person who loves to crack jokes. I'm keen on exploring comedy roles in my forthcoming assignments that include a movie with Dulquer Salmaan, which is a dream project as far as I'm concerned.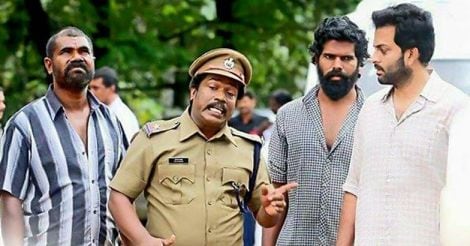 A still from the movie 'Pavada'
How do your family react after watching you play baddie?
My parents have four children and I'm the youngest one. I have two brothers and a sister. My father passed away long back. I live with my mother now, while the others are living separately with their families. My family vehemently opposed my plan to opt for a career in acting. As all the roles I was offered during the initial days were minor ones, they advised me to try some other jobs that pay better salaries. Now, they do not complain at all. I think they realised that there is no use complaining and ranting any more.