Almost a decade ago, when Fahadh Faasil debuted in his father Fazil's Kaiyethum Doorathu, which was a box office failure, none imagined the curly haired, moustache guy would one day become Mollywood's poster boy.
In an industry ruled by fickle fame, Fahadh made a terrific comeback with his bold, experimental and hitherto embargoed acting style.
After winning Kerala State Film Award for the Second Best Actor for his performances in Akam and Chappa Kurishu, Fahadh made a statement with 22 Female Kottayam. An actor to be reckoned with, the handsome man became all the more special to us when he married our girl-next-door Nazriya Nazim.
With Maheshinte Prathikaaram gearing up for release this week, Fahadh talks to Onmanorama in an exclusive video chat on the highs and lows of his career, married life and his personal observations doing each movie. Excerpts:
When 'friendship' paved for 'Prathikaaram'
I share a special bond with Aashiq, Dileesh, Shyam, Shyju and the film is the fruit of this friendship. It's almost two years since we came together for 22 Female Kottayam and now, I am joining the same crew once again for Mahashinte Prathikaram. It's the story of a small-town photographer, Mahesh.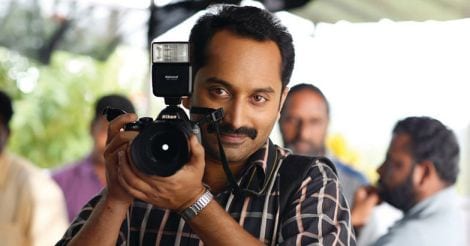 A still from 'Maheshinte Prathikaaram'
The 45-day-shoot in Idukki was absolute fun. I can't think of any other film, wherein I have enjoyed this much during the shoot. This film will be a complete team effort. Each artiste in the movie has significant roles and each of done them has done their best.
Film making, a learning process
I don't know if people would really believe it or not but there's only one film which I chose and the rest of it, just came to me. I don't usually plan for a project and do what comes my way.
Rajeev Ravi's Annayum Rasoolum was the one, which I opted from my end. When I had a few interactions with Rajeev, I admired his way and wished to work with him and see him as a director.
Experiment is one word that I would go for. When we make an exciting project and when it reaches viewers and maintain that same excitement, there's a whole lot to learn from the exercise. Sometimes it may work and sometime it may not. It's just part of film making.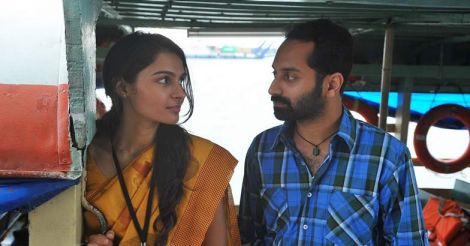 Fahadh and Andrea in Rajeev ravi's movie 'Annayum Rasoolum'
Director's actor
I believe that anyone with a bit of guidance can claim themselves as a good actor. The major speciality of Rajeev Ravi is that he follow an actor's emotions naturally without infusing any kind of drama. In his craft of film making, camera follows the actor.
No forehand preparation
Basically I have never been to any acting school. When I went to University of Miami to pursue Engineering degree, in one and half years, I realized it is not my cup of tea. Too much of measurements was really suffocating and it even hindered my freedom to think. When I told my father that I couldn't do that any further, he allowed me to choose whatever I liked. That's how I ventured into Philosophy.
Soon after completing studies and returning to Kerala, offers began coming. From Kerala Cafe till this time, things just kept falling into place.
Finding happiness
If you ask my father which movie of mine he loved, he would say 22 Female Kottayam and my mom loves films such as Oru Indian Pranayakadha and Diamond Necklace. My father always used to tell me to be passionate about whatever I do. My idea is to entertain. There's no particular format or a formula for that. In fact, I try to make an entertainment value from whatever I do.
Happily married
We just bought an apartment and are busy with the furnishing and other stuffs. She is the one who has given me a home. Well, she is an awesome cook.
Both of us are foodies. Recently in social media, many pointed out we both have put on weight after marriage. We would like to keep it like that and I think no one should be bothered about it.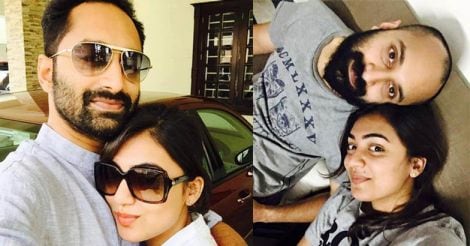 Fahadh and Nazriya
Working together again
Right now, doing a film together is not a concern for us. There are a lot of other things that we are into. Well, yes if a script exciting enough for both of us comes our way, we won't mind doing it.
Talkative nature
I talk a lot and at times, such personal interactions and observations have helped me grow as an actor.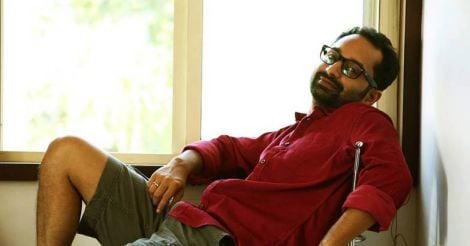 Fahadh will be working with Anwar Rasheed this year
Upcoming project
I have committed one project with Anwar Rasheed. Hopefully the movie will go on floors by April or May. It's a slightly big film and will be one-of-a-kind for me. So that will be my only film this year after Maheshinte Prathikaaram.
I don't see a visible difference in myself or in the films, but the audience have changed drastically. So definitely, as an actor, there's a lot more to explore.