He was already a lyricist of merit by then claiming a fair share of popularity for himself. But B.K. Harinarayanan, the Olanjalikkuruvi fame, was aghast during a function in Thrissur where he was invited as a guest. There were many on the dais. One of the organisers who was sitting close to him got up to deliver the welcome speech. He tested the mike and said, 'Our chief guest, B.K. Harinarayanan, hasn't arrived as yet,' least aware that the very person he was mentioning was sitting just behind him. Such was the reclusiveness of Harinarayan that he was seldom identified at a public place.
His lyrical stint has witnessed creations which have been wide and varied. He has proved his mettle in all kinds of songs, peppy, slow, fast, new age and so on. He even went step further and wrote a Sanskrit song for the film Action Hero Biju, which was released recently.
Having penned more than 65 songs in about 17 films so far and most of them being hits, Harinarayanan feels it better to go unnoticed in the public as long as his songs are enjoyed by all. The song-writer shared with Onmanorama a few thoughts on being a lyricist and being a successful one too.
How aspirations bloomed
Frankly speaking, I had never dreamed of becoming a lyricist by profession. But I used to write poems in a small way and winning poetry competitions at zonal levels boosted my confidence. Eventually, I wrote some songs for an album titled Patturumaal. And then I wanted to see how it would work if I wrote for film songs. Fortunately, I had a friend named Jayakumar who was assistant of filmmaker B. Unnikrishnan. I was introduced to him and my entry to filmdom began with Prithviraj-starrer Thriller.
First experience of being recognised in the public
I am still a very unknown person and I like it that way. I go to every function to which I am invited. Yet I take care to avoid hype and attention. I still prefer using public transport and enjoy the freedom to move about unnoticed any where I like.
Lyricists don't get much attention now: Rafeeq Ahmed
The experience of signing the first autograph?
I had experiences of signing autographs. Though I don't really remember where was the first one, I can say that it was an awesome experience for me. But I fondly recollect one instance when a person wanted the lyrics of the song Olanjalikkuruvi, written in my hand and I obliged.
Between freedom of poetry and tautness of lyrics
Poetry is an outpouring of deeply felt emotions and ideas which is expressed with as much freedom as you choose. It is very personal. While lyrics is something that a film director and music director want for a particular situation or a character in a film. It is something that a filmmaker wants to contribute to the visual and aesthetic chastity of her cinema. A lyricist is just a part of the crew behind the making of a song.
Favourite songs close to heart
It's hard to name any few. But if you persist I would say, Olankalikkuruvi (1983), Thalavettam Kanumba (1983), Pakalinu veiyil (1 by Two) and so on..
When legends render your verse
When I heard Olanjalikkuruvi in the voices of noted singers Jayachandran and Vani Jayaram I really felt like crying with pride and pleasure. It was a strange feeling when legends like them, who we are familiar with songs written by maestros like Vayalar, P. Bhaskaran and so on, sing words penned by myself.
Are modern lyrics less poetic and more orchestrated?
Every age has its own tastes. The way change in every aspect of times reflects on our lives lyrics too are no different. There can be hardly anyone who doesn't use English words in their daily life communication. Similarly, situations and premises of film plots too have changed. So, definitely the approach to music, songs and lyrics too would resonate with the same change around us. We need to cater to the taste of present audience. Also we need to care about the commercial aspects.
Tinkering with lyrical creations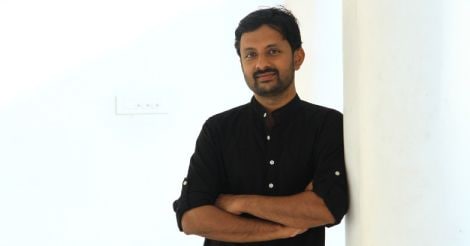 Yes, it can disturb a lot. It really hurts when things you feel good are altered by external interventions. But I have a cue, which really saves my day and so does others involved in the making of the song. I bring the thought to the fore that a film song is not for my personal satisfaction in the first place. It is the situational concept developed by film director and music composer. So my job is to work for them and to work it out well and my success is in how far the creator of the film and the music director are satisfied with the song. Anyway, we have the option to explore our creative freedom through other means of expression like poetry, novels and so on. Occasionally, though, I do write poems in magazines.
Upcoming projects
Most of them are not announced and hence I am unable to name them. Darwinte Parinamam, James & Alice, Jacobinte Swargarajyam are some of the already announced films.