"The world around us is changing with the increased usage of gadgets and the movie Lens is set in this particular world", says Jayaprakash Radhakrishnan who directed and did the lead role in the film.
Jayaprakash is well-known among movie buffs as an actor for his roles in Yennai Arindhaal and Urumi but now the artiste is stepping into new path with his directorial venture 'Lens'. But not many know that he is a Malayali.
Ever since the trailer of the multi-lingual movie was released, many celebrities including Lal Jose and Vineeth Sreenivasan have extended their support calling it as a 'must-watch' movie. Most of the Malayalam movie buffs came to know about it when Lal Jose announced that his company would be releasing the film in Kerala.
The movie, which won Gollapudi Srinivas Award for the best debut director and was screened at many film festivals, will hit the screens across Kerala on July 17 under the banner of LJ Films Pvt Ltd, and Onmanorama caught up with the writer-director-actor Jayaprakash Radhakrishnan.
Excerpts from the interview:
Tell us about Lens
About three or four years ago, when I was on a Skype call with my acting tutor, an idea flashed across my mind. 'What if I die now when I am video-chatting with you,' it struck me.Lens is such a film on an online chat between two strangers. Only 30 per cent of the movie is set outside and the rest is set in the world of video-chat rooms. The film questions the choices we have in life and the morality behind it.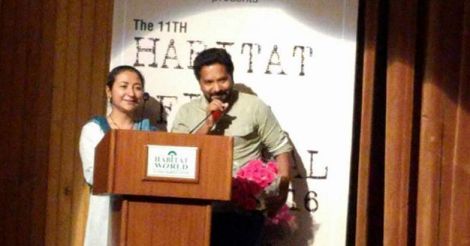 Jayaprakash at the 11th 'Habitat film festival' in Delhi
How did LJ films come on board?
When we were trying to find a distributor, the sound engineer of the movie M.R. Rajakrishnan suggested – why don't we show it to Lal Jose? Even though that was just a random thought from him, we took an appointment with Lal Jose and screened the movie for him. He loved it and immediately agreed about the distribution.
Kerala audience are readily accepting the changes in the industry. Do you think that would help Lens?
See, I would have found anyone for the distribution but I think Lal Jose's association is the best thing that has happened for Lens. Comparing to other industries, Malayalam is witnessing different experimentations in filmmaking and as you said, such changes are getting wide acceptance and that's definitely a positive sign. So, lets see.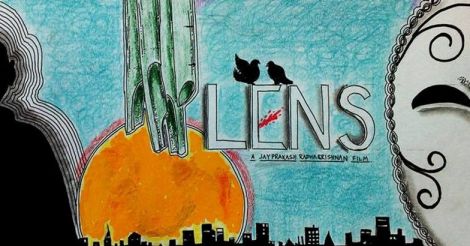 Poster of the movie
The Malayalam connection
One connection is that music director of the movie Siddharth Vipin (Kurukshetra fame), sound engineer Raja Krishna and myself are Malayalees.
The characters in the movie Aravind and Nikki interact with each other and other people in their lives in English, Hindi, Malayalam and Tamil.
Basically, the characters switch between different languages to bring in a realistic manner. Most people who use social media speak in multiple languages and my film targets a cosmopolitan audience.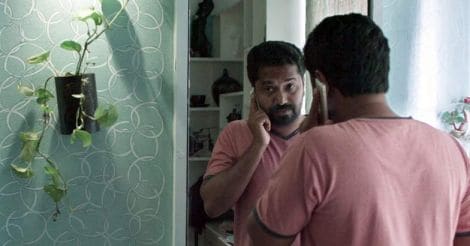 A still from the movie 'Lens'
Despite a bold theme, Lens was certified U/A
Yes, that came as a pleasant surprise for me too. When I applied for certification, I thought we will get 'A'. In fact, the censor board was happy and even told us that children should watch the movie with parental guidance.
How was it helming the role of writer, director and actor?
Well, that was not intentional. But, I didn't have a choice. I had returned to Chennai after quitting my job in US as a software engineer to try my hands at acting. In the meantime, I developed interest in writing and that's when I decided to try direction. I wrote a story for my friend, who was supposed to direct a feature film. When that project delayed, I wrote the script of Lens. Initially, I was only supposed to direct and not act. But as I couldn't find an actor, I ended up there as well.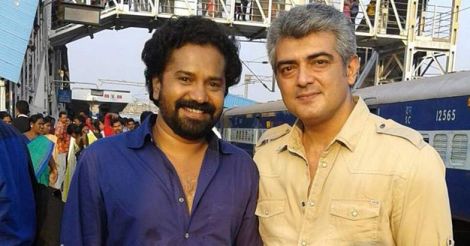 Jayaprakash with Ajith Kumar on the sets of 'Yennai Arindhaal'
Didn't you approach anyone for the role?
I did, I narrated the script to a couple of big actors and producers. Since the content is bold, they were not willing to take up this project. Neither was our team ready to rope in a new face, nor could I wait for one.
Would we be seeing more of your directorial ventures?
I don't work strategically but I just go with the flow. I like to tell stories and enjoy doing that. So, let's see. I am really glad that many filmmakers are also coming out to support new-comers. Like Lal Jose, Aashiq Abu too have extended hand for Sanal Kumar Sasidharan's film. Coincidently, his movie Ozhivukalathe Divasam will also be releasing on the same day as mine.