Cinema is something Kalidas Jayaram had grown up with. He faced the studio lights and cameras at a very young age and two of his movies, Kochu Kochu Santhoshangal and Ente Veedu Appuvinteyum, are still favorites with Malayalee moviegoers.
The young boy, son of Mollywood star Jayaram and yesteryear actress Parvathy, could also grow out of the shadows of his parents and make a mark on his own in Mollywood.
However, Kalidas' new innings in filmdom as a hero is through a Tamil film titled Meenkuzhambum Manpaanayum, which hits the screens today.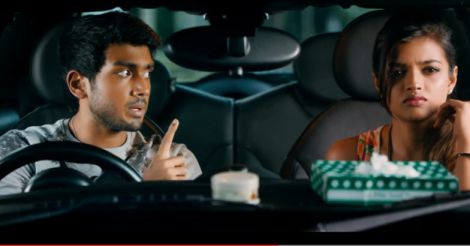 Kalidas Jayaram and Ashna Zaveri in 'Meenkuzhambum Manpaanayum'.
With his transformation from Master Kalidas to Mr Kalidas, he will join the bandwagon of children of filmmakers and actors who have followed in the footsteps of their parents.
The 22-year-old lad, who could win many hearts with his charming smile in the Cadbury Silk commercial, oozed confidence of recreating that magic on the silver screen during a free-wheeling chat.
Excerpts from the interview:
Spoofing his way up
My performance mimicking the stars of Kollywood at an award ceremony was appreciated by lots of people. That video also became a rage in the virtual world. Soon, an offer to act in a film titled Oru Pakka Kathai came my way. When I completed that movie, the next film, Meenkuzhambum Manpaanayum, followed. In fact, it is my second movie in Tamil.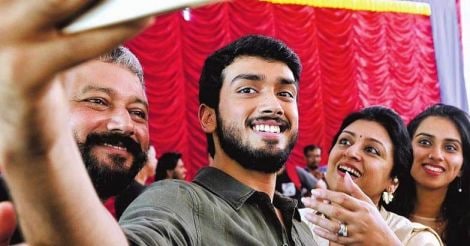 (From left) Jayaram, Kalidas Jayaram, Parvathy and Malavika at the location of 'Poomaram', Kalidas' upcoming film in Malayalam.
With the 'Ulaganayagan'
Kamal Haasan is one of my favorite actors. It is an honor that I could share screen space with him in my first release on return itself. I could spend time with him during an entire day's shoot. He makes it a point to encourage his co-actors and he is always ready to offer tips to help them perform with their full potential. I have been lucky to act with him in my second Tamil film.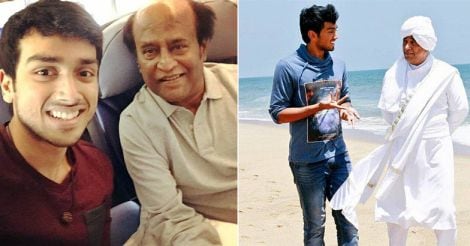 Kalidas Jayaram with Rajinikanth (left) and Kamal Haasan.
Amma's advice
When I told my mother about the offer from Kollywood, she advised me to concentrate on my studies and finish my degree first. Like any other mother, she was also concerned about her child's academics. Heeding her advice, I completed my degree course before signing Meenkuzhambum Manpaanayum.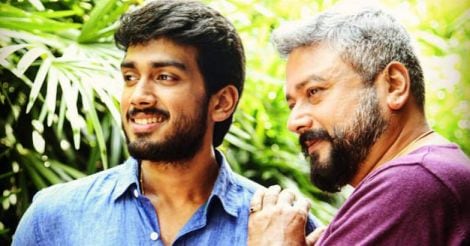 Kalidas and Jayaram
However, she is not at all perturbed about the movie's release or my performance. My father also does not interfere in my acting, though he offers useful tips and tricks for better acting. I am happy that I could dub for the role myself.
To conquer the young hearts
Meenkuzhambum Manpaanayum boasts an amazing line-up of actors such as Prabhu and Urvashi and that is a strong point of the movie. It tells the story of an incredibly sweet and touching filial bond between a father and son. The gap between the two generations also gets highlighted.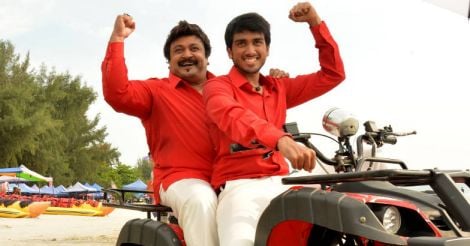 Prabhu and Kalidas in 'Meenkuzhambum Manpaanayum'
It is a film of the comedy genre, written and directed by Amudheswar. Though this is his first independent directorial venture, he has been associated with the industry for over 20 years. Ashna Zaveri is the heroine and the music is by D. Imman. I hope the Malayali audience too will love the movie.
More than just weight loss
I had a good bulky body during my college days. It dawned on me at one point that if I gain more weight, it would do no good. I started devoting a good deal of time to working out and dieting. To be honest, I decided to shed extra flab not to boost my film career prospects. Fitness plays a key role in everybody's life and taking care of one's own body is important to maintain a healthy lifestyle. It took me about a year to slim down.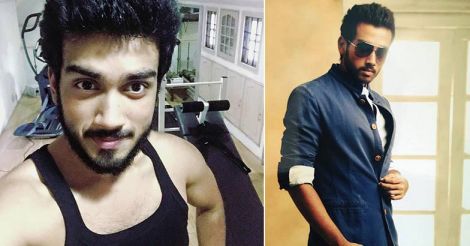 Sister, a good judge
I did my first mimicry performance in front my sister Chakki (Malavika). Still, she is the first listener when I try out a new voice. She would point out mistakes and help me fine-tune the imitation. I had never performed in front of my father. He came to know about my skills in mimicking people only when I got on stage at the award show. I mimic Kollywood actors such as Vijay, Ajith and Kamal Haasan. I've not tried spoofing Malayalam actors yet.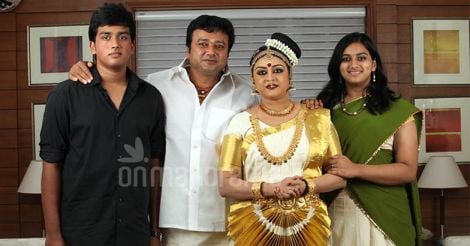 An older family picture.
Currently, Kalidas is shooting for Abrid Shine's Poomaram, which is his first Malayalam movie on return. Though several directors have approached him with scripts, he is yet to finalize his next project in Malayalam.