It was a dream come true for Karthika when Amal Neerad offered her the lead female role in his new movie. The Dulquer Salmaan fan is excited to have acted with her favorite in her debut. 
Karthika is no stranger to the movie industry though. The daughter of acclaimed Bollywood cinematographer C.K. Muraleedharan feels at home in a movie set.
How did you feel when you faced the camera for the first time?
I have been to many movie sets with my father. So I was not nervous like a kid on the first day of school. But I was still tensed when the director said action and cut. Gradually, I got used to it. I realized that acting in a movie was not as easy as watching a shoot.
How did you land in the role?
I always wanted to act in movies. I had acted in plays in my school and college days. When a Manorama team came home to interview my father, they asked me if I wanted to be an actor. I said I would not mind if Dulquer Salmaan was my hero. That wish has been granted!
What was your experience with Dulquer Salmaan? 
It was wonderful! He supports a lot in acting. He helped me overcome my initial fears and tensions. He makes you comfortable.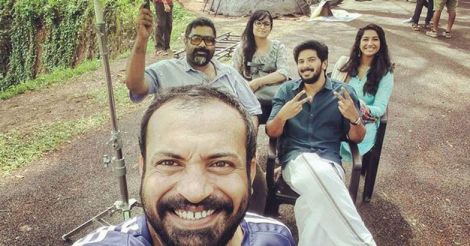 Karthika on the sets of the movie. Photo: Soubin/Instagram
What are your plans for studies and career?
I am a degree student at the Srishti School of Arts in Bengaluru. I also experiment with acting since I always liked the profession.
Do you plan to make acting a profession? What are your other interests?
I will definitely act if good stories and movies come my way. I do not want to compromise on my studies though. I am yet to chart out a plan.