Shedding the aura of stardom and the so-called winning formulas, Malayalam cinema has been shifting its focus to realities of the daily life of late. The latest to this set of realistic films, made by youngsters who dare to look at cinema as a powerful medium beyond its market values, is Kismath which hit the screens on Friday.
Written and directed by Shanavas Bavakutty, the film portrays an unusual story of the love between a Muslim youth and a dalit woman in the backdrop of Ponnani in Malappuram district. Shanavas speaks to Onmanorama.
About Kismath
I have been a councilor in Ponnani municipality since 2005. The incidents in my film are what I saw there really. A Muslim man and a dalit woman came to the Ponnani police station in 2011. They wanted to live together. I saw how their relatives, the locals and the policemen reacted to them. Kismath is an attempt to inquire what happened to the man and woman.
Kismath is not something peculiar to Ponnani. It could happen anywhere. Such incidents happen because of our narrow-mindedness. I know it's a burning topic but I did not have to face any objection from any side during the shoot. I will only be happy to see the film triggering some debates and discussions.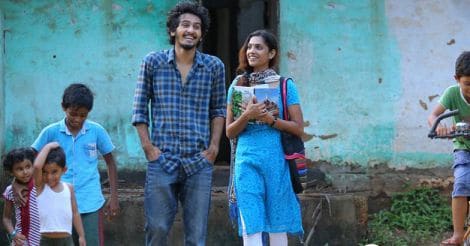 A still from the movie
The Challenges
I have not studied filmmaking from any institute. But that was not a big problem. Marketing is the real issue. A film not only has to be good, but it has also to be marketed well. A film needs stars, a big production banner etc to be promoted well. In our case, we didn't have any of these. But fortunately, director Lal Jose sir watched the film and he agreed to distribute it.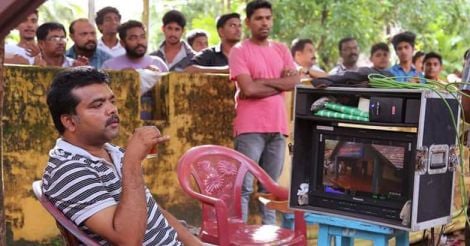 Shanavas on the sets
The Cast
I was fortunate to get a set of seasoned and budding actors with immense talent. The lead characters are played by Shane Nigam and Sruthi Menon. Shane has already done some roles but it's the first time he is playing a lead role. Some people asked me why I cast Sruthi to play the role of Anitha, a dalit girl. Sruthi is based in Mumbai. Both Shane and Sruthi have played their roles exceptionally well. Vinay Forrt, Alancier Lay all of them have played their roles brilliantly.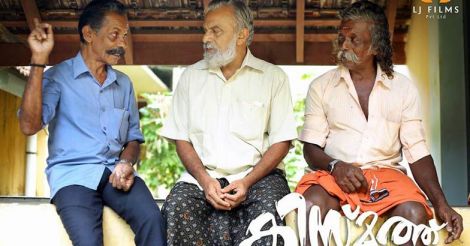 A dalit heroine
I had approached a few actresses to play Anitha's character but they turned down the offer. They may have their own reasons to avoid the character who is a dalit and elder than the hero. But I wonder why some of the new faces whom we had auditioned also were not willing to play the role. They were worried that playing such a character may affect their career.
Ponnani
Ponnani is often portrayed as a strict religious land in our popular discourses. But the real picture of Ponnani is a different one. It is a land that has gifted many eminent personalities like poet Edasseri to the world. It is a land where there are no political clashes. The people here are loving and caring. My film also features the real Ponnani.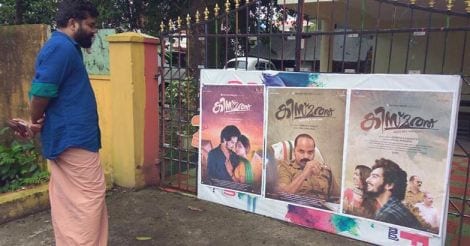 Shanavas looking at the posters of 'Kismath'. Photo: Facebook
The expectations
We are a bit anxious to see the people's expectations. The trailer and the songs have been watched by many. I'm worried the people are expecting another Ennu ninte Moideen or Thattathin Marayathu. My answer to them is Kismath is only "Kismath". We don't have any commercial interests.
We are very advanced in education and other social development indicators, but our standard as a human being is coming low day by day. My film is only an attempt to portray the times we are living in.