'Kattappanayile Rithwik Roshan' is the dream child of three youngsters, who began their journey with NAD, a production banner christened by combining the first letters of their names, 23 years ago.
Of the three, Aby parted ways midway, but Dileep and Nadhirshah continued with NAD.
The dream is coming true with 'Kattappanayile Rithwik Roshan', the first movie of the production house. As the movie is set to release shortly, director Nadhirshah has a mixed feeling: happiness punctuated with tension.
The new movie is different from his earlier blockbuster, 'Amar Akbar Anthony', which had an impressive cast of superstars.
'Rithwik Roshan' has a newcomer in the lead, and the movie does not boast of having superstars in its end credits.
In a freewheeling conversation, he speaks of his journey to 'Kattappanayile Rithwik Roshan'. Excerpts:
Such confidence!
I draw my confidence from the screenplay. Scriptwriters Vishnu and Bibin had the story ready even when we were working on 'Amar Akbar Anthony'. The original plan was to get the movie ready by another director, and even the lead actor was different. But it didn't work out and as fate would have it, I became its director. Dileep liked the story, and he came forward to produce the movie.
Read also: Kattappanayile Rithwik Roshan trailer: Nadhirshah guarantees fun-filled entertainer
Who is Hrithik Roshan?
The original plan was to cast another actor as the hero. But after going through the story, I felt Vishnu would be the right person to portray the character. He is a good actor… We were particular that the new movie should have no resemblance to 'Amar Akbar Anthony'. There should be novelty and it excites me.
Salim Kumar…?
'Kattappanayile Rithwik Roshan' will mark the return of the old, familiar Salim Kumar we have seen in 'Pulival Kalyanam' and 'Kalyana Raman'. His energy level is double of what we had seen before. This will be a riot of laughter, and the movie will be more thrilling than 'Amar Akbar Anthony'.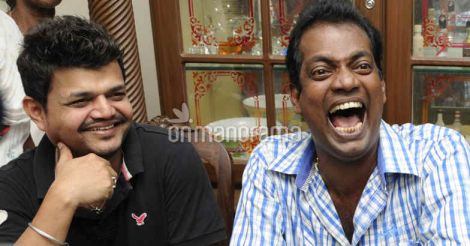 Nadirshah with Salim Kumar. File photo
Where did you learn direction?
I didn't learn direction by assisting lead filmmakers. I used to watch all movies along with the audience, and it taught me about films. I know which scene would make them laugh and what would make them boo. In fact, the audience is my guru. They will like 'Kattappanayile Rithwik Roshan' more than 'Amar Akbar Anthony'.