Music director Anand Madhusoodanan is on cloud nine with all the six songs of the upcoming movie, 'Pa Va' (Pappanekkurichum Varkeyekkurichum), topping the music chart. The 'Podi meesha' song, from the movie became an instant hit from the day of its release.
It's not that easy to capture the hearts of Malayali audience, says the young musician. "And for an upcoming musician like me, the wide acceptance of the songs from 'Pa Va' is indeed a great honor."
Anand Madhusoodanan talks about his aspirations and his experience working with some of the finest singers in the industry.
Tell us about 'Podi meesha' and your experience working with a veteran singer of P. Jayachandran's calibre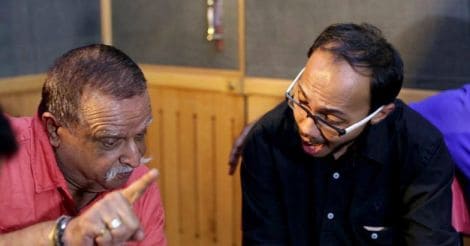 Music director Anand Madhusoodanan with singer P. Jayachandran. Photo courtesy: Facebook
Ajeesh Thomas, the script writer of the movie is basically a cartoonist. So, he had scripted all the scenes as illustrations that imparted the feel of watching a movie. When I saw the scenes depicting the nostalgic thoughts of two ordinary boys, I quickly composed a tune, which everybody liked. Santhosh Varma penned down the lyrics for the tune, and it was he who suggested Jayachandran sir for the song.
Meeting Jayachandran sir was a dream come true moment for me. Initially, I was too nervous to even face him, but he is a gem of a person, I must say! I sang the song for him first. After listening to it, the comments he gave still ring in my ears. "This is a brilliant piece of work. It's like listening to music maestro Raghavan Master. I think this could fetch me a hit this year", Jayachandran sir smiled. What more could an upcoming musician ask for!
The song tracks of 'Pa Va' are different from the usual ones. Are you a person who loves to experiment with music?
Not only me but every musician, I believe, experiments with music. Some experiments reap success while some bring in losses. In 'Pa Va', I'm glad my experiments had a positive outcome.
How did you join the 'Pa Va' team?
The bunch behind this movie, including director Sooraj Tom, are my friends. We have been working together for ads and jingles for eight years now. I was roped in initially for doing the background score for the flick. Later, after composing 'Podi meesha' song, they entrusted me with the music for the film.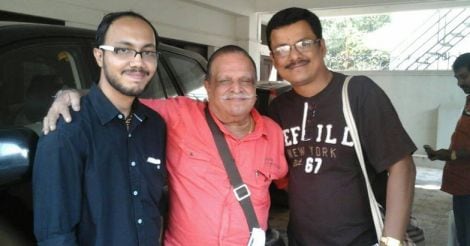 Anand Madhusoodanan (L) with singer P. Jayachandran and lyricist Santhosh Varma (R). Photo courtesy: Facebook
Your entry into the film industry?
I had no backing from any popular artist. It's only because of my passion that I kept running behind directors. It was through Anoop Kannan that I met director Ranjit Shankar. I composed about five songs for his movie 'Mayflower', but the project was then cast aside. Then, it was through another movie of his 'Molly Aunty Rocks', that I made my debut in music direction. The movie had just three songs and they did well.
Your inspiration to be a musician?
It's Ustad Zakir Hussain, the famous tablaist. I was three or four years old when Ustad did an advertisement for the Taj Mahal tea brand, practicing tabla in the backdrop of Taj Mahal, sipping a cup of tea. The music he played on the tabla captured my senses and became the sole reason for my passion to be a musician. I started playing the chenda from quite a young age, since I couldn't get an apt teacher for learning tabla. I don't think there would be another musician who has acquired inspiration from an ad, Anand chuckles.
'Chinna chinna asai' fame Minmini has made her comeback with the 'Kalyanam' song. Your decision to choose her for the song?
Minmini was a leading playback singer, and was the favourite pick of musicians like AR Rahman and Illayaraja sir. Due to some personal reasons, she stayed away from the industry. The 'Kalyanam' sequence song in the movie portrays the 1980's era. I wanted a vocal that could bring the feel of that era. And Minmini has brought the right feel to it as expected.
About your family, upcoming projects and aspirations you cherish being in the music industry
My mom and dad complete my family. We are basically from Thrissur. My upcoming project is Ranjith Shankar's, 'Pretham' starring Jayasurya, which is scheduled to be released by the mid of August.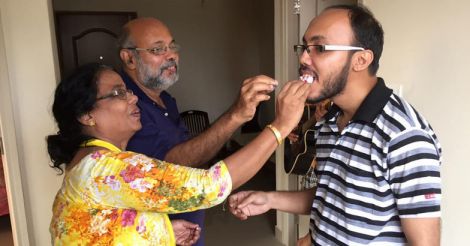 Anand Madhusoodanan with his father and mother. Photo courtesy: Facebook
I'm basically a sound engineer and I want to establish myself as a good musician in the industry. In my opinion, the music industry doesn't exist now. It has been overshadowed by the film industry. The music industry, as Jayachandran sir said, needs a facelift. I'm also focusing on generating music in gaming industry. It provides a more international exposure.
The feeling upon tasting this huge success?
After listening to the songs VK Prakash sir came over to meet me and we talked for hours, and many musicians such as Rahul Raj complimented me for the work. All these are moments to cherish for a lifetime.
I'm glad people liked my songs and I'm thankful to them for making it popular. In my life I have tasted both failure and success. So, I remind myself not to be over excited when success comes my way.
About Pa Va
It is a feel-good movie, narrating the story of the lives of two ordinary octogenerians. It is a family entertainer and I hope that people will accept the movie, the same way they have accepted its songs.