Why did Kattappa kill Baahubali? Will the sequel provide the answer? Prabhas does not confirm but guarantees that the movie is more action-packed and dramatic than the record-breaking first part.
The Telugu hearthrob who shot into international stardom through Baahubali - The Beginning has a gratifying birthday present this year – the release of the sequel's teaser. Baahubali - The Conslusion will hit the screens on April 28, 2017.
While Prabhas celebrates his 37th birthday on Sunday, he says he is as excited as his fans about the release of the most-awaited sequel in Indian cinema. He speaks to Onmanorama amid preparations for the grueling shoot of the movie but leaves enough room for cinematic suspense. Prabhas, who has not taken up any other project since he started shooting for Baahubali – The Beginning in July 2013, says the preparations to shoulder the epic role started six months before the shooting started. He bulked up his body weight from 84 kilos to 102 kilos in just six months.
The all-muscle transformation was not easy though. He had set up a gym at his home at a cost of Rs 1.5 crore. It was precisely this dedication that prompted director S S Rajamouli to pick Prabhas for the role. The hunk says the burden of anticipation after the grandeur of the film has made the follow-up work even more harder.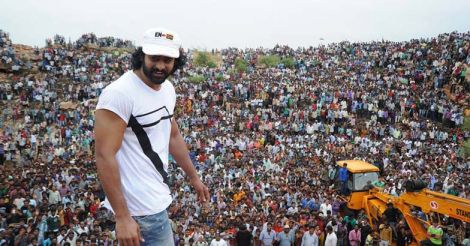 Prabhas bulked up his body weight from 84 kilos to 102 kilos in just six months
Prabhas, the Chennai-born engineering graduate, made his debut as an actor through Eeshwar in 2002. His second movie, Varsham, made him an unavoidable presence in Telugu cinema but his break was yet to come. The role of the refugee in Rajamouli's Chhatrapati made him into a superstar. When Rajamouli ventured to shoot the epic movie of Baahubali, his choice about the lead actor was clear. The commitment of Prabhas was as crucial as his enviable physique in successfully completing 300 days of rigorous shooting.
Prabhas in conversation:
Is Baahubali 2 going to answer the big question: Why did Kattappa kill Baahubali?
Who knows? Maybe you have to wait until the third part of the movie. If you want to know what punch the second part has packed, you have to wait until April 28. That is the fun, right? The second part is more dramatic. It has all the action sequences the audience has been waiting for. Baahubali was an experiment. The experiences we have got from that movie have gone into the sequel. Baahubali 2 has all its advantages.
How did you alter your physique for Baahubali?
That was a tremendous task. Mahendra Baahubali and Amarendra Baahubali demanded different physiques. It was a challenge to transform my body for both the roles. I changed my food and lifestyle accordingly. Fortunately, most of the shooting was in the Ramoji Rao Film City in Hyderabad, allowing me a bit of time to spend with my family and friends.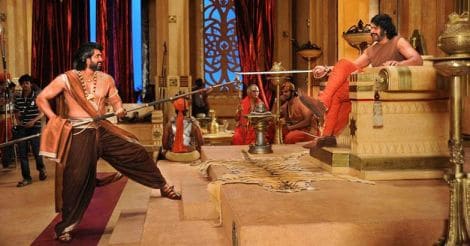 Prabhas on the sets of 'Baahubali 2' with his co-star Rana Dagubbati
How did Baahubali change your life?
Baahubali was a dream project. People recognize me wherever I go across the globe. That is an experience beyond comparison.
Does your image as Baahubali come in the way of choosing future roles?
Of course. After such a role, I am under a lot of pressure in choosing other characters. That is a challenge. At the same time, I am excited to think about the roles that may come my way.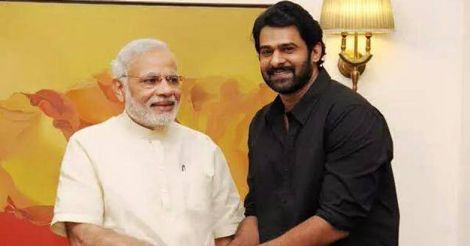 Prabhas with PM Modi
A major part of Baahubali was shot in Kerala. How do you remember the shooting experience?
The shooting at the Athirappilly waterfalls was nothing short of majestic. I like travelling through forests. I could spot a lot of wildlife before we packed up. But Athirappilly is not my favorite destination in Kerala. It is Alappuzha. I heard about Alappuzha during a shooting at Tenkasi four years ago. I travelled more than four hours to reach Alappuzha and went on a boat ride. I took in the greenery and the beauty of the lake. That is perhaps the most beautiful place I have ever been to.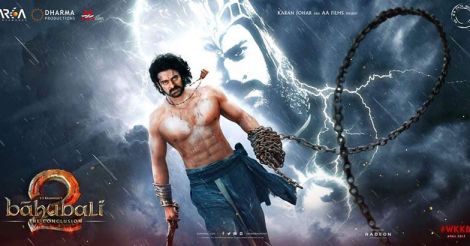 First look poster of 'Baahubali 2' launched at MAMI fest
Have you watched any Malayalam movies?
I have seen a lot of movies done by Mammootty sir and Mohanlal sir. Those stars are very inspirational as artistes. I had met Mohanlal sir a few months ago. He is very cool and jovial. I had also watched Nivin Pauly's Premam. That is a beautiful movie.
You are the highest paid actor in Telugu cinema. What about a role in Malayalam?
I started acting in 2002. I have acted in big budget movies and smaller movies in my career. Malayalam movies are always backed by strong scripts. You also have brilliant technicians. I have no qualms about doing a movie in Malayalam.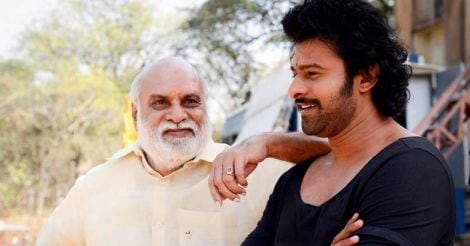 Prabhas with director Raghavendra Rao
What excites you other than cinema?
Cinema takes the first position. Then comes travel and friends. I also like to play volleyball.
You have turned 37. Your bachelorhood has drawn much gossips. Don't you think you have to clear the air about the gossips surrounding you?
Not yet. I only have cinema in my mind.