Director B Unnikrishnan, after watching the movie Anuraga Karikkin Vellam (AKV) mentioned about newbie Rajisha Vijayan as great actor. She handled the role of Elizabeth in the film and won accolades for her natural acting. She talks to Onmanorama
About the first film
As my first film, AKV was a very good experience. I am excited that the audience accepted me for my role in the film. The film crew were friends and we knew each other well. Since Rahman and his brother Jinshi were all known to me, a lot of care went into the making of the film. That the film succeeded in spite of good competition is pretty encouraging.
Since we are all friends, the shooting was conducted in a very relaxed environment. Even though I was under tension since this was my first venture, I knew this is what I had been wanting to do.
All characters are important in this film and I am thankful that a newbie like me was given this character. I had the firm belief that whatever I do in movies should be of substance and I am happy that it turned out that way.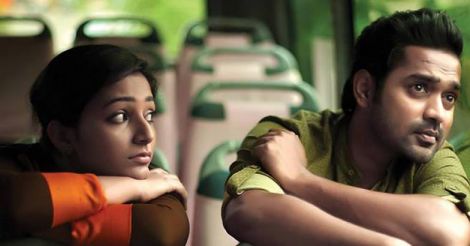 A still from the movie
About being an anchor and an actor
There is a huge gap between the two. When presenting, I need to talk only as Rajisha. When I am acting, I need to infuse life into the character envisaged by the script writer. I need to believe what we see in the set and act accordingly. I dubbed for the film and I found dubbing a bigger challenge.
Also read: 'Ugram Ujjwalam' is beyond inspiration: Rajisha Vijayan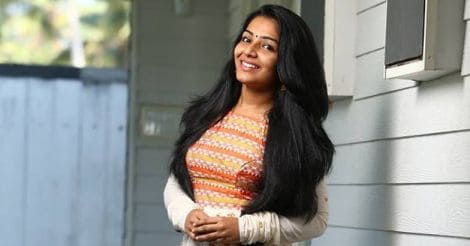 While shooting we would be prompted but dubbing is something we need to do all alone in a dark room. My respect for dubbing artists doubled after one experience. However, I was very happy that I could lend form and sound to the character.
How did the role of Elizabeth come to you?
I knew Rahman was working on a film and he called me once to ask whether I could do the role. All except me were confident that I could do it. After hearing the story, I felt the audience would like it because it is realistic. Then I gained the confidence to do it.
How did you prepare?
I went to architectural college and also learnt driving. Although I am bad at driving, Asif Ali used to inspire me and said he would handle any issues in my driving. He did so, by keeping his hands always ready on the handbrake when I drove for the shoot. I was afraid that my bad driving skills would damage the costly camera inside. By God's grace nothing went wrong. Rahman has also been able to extract the most from me as an actor.
Originality in acting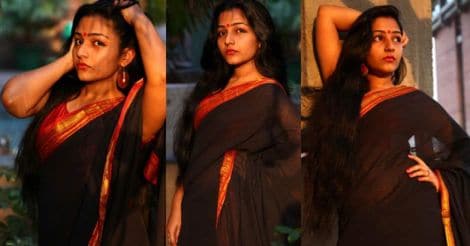 I do not know, honestly. I believe it would come out naturally if you are committed to a role given to you. Five minutes before the shoot, I used to make me believe that I am the character. Then I perform in front of the camera because by then I would have an idea of the character and the situation. In combination scenes, our acting would depend on how others act with us. The role of the director and scriptwriter cannot be denied in bringing out the best in us. The casting in the film was perfect and when those who know acting performs well, they inspire us to do the same. I am lucky I was able to get a good director and a terrific cast in my first film itself. I am thankful to all.
How about acting with Biju Menon, Asif Ali and Asha Sharath?
Most of my combination scenes were with Asif Ali. Acting by Biju Menon is inspiration in itself because he strives to bring in a lot of variations in his acting. I believe Abhilash would be one of the best roles of Asif Ali. I was tensed when I first had to act with Asif, but he was cool. We soon became friends and he was very supportive. He is very professional.
The set should have been in a jolly mood with Soubin around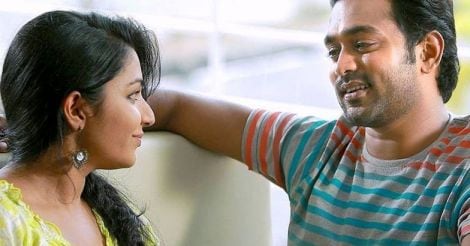 Rajisha and Asif Ali
Soubin is very jovial. We are not in good terms in the film but he used to make me laugh until the last five minutes for take. He brought a Harley Davidson during this period and used to eat chocolates often. All of us were friends of Rahman and so we were all at ease. The only problem was when I was driving and all the crew would warn me about the camera inside the car. That would take the air out of me and I would start shivering. I also had to try hard to avoid my Kozhikode slang.
After seeing the film with my parents and the crew, I saw that my parents' eyes were full. My father said that he did not expect so much from me. My sister has not stopped talking about the film. We were all excited. The accolades through Facebook and from the industry is also encouraging. I am happy that my effort were recognised.
Family
My house is at Perambra at Kozhikode. My father is Vijayan and my mother is Leela. My sister Anjusha has completed plus two.