With music lovers applauding the mellifluous number 'Raavumaayave' from the yet-to-be released Malayalam movie Vettah, singer Rinu Razak is on cloud nine and is hopeful of a new innings.
Within a few days of its release, the song had gained positive response and the singer, who first shot to fame with the song 'Mounam Chorum', is happy that the soft melody has struck the right chord with the audience.
Onmanorama catches up with the singer for a conversation:
Association with Shaan Rahman
Meeting Shaan Rahman was like a dream come true. After judging my performance at a music reality show on television, he offered me a chance to sing, when we were on air.
I happened to sing a track for a movie and Shaan Rahman played it to Jude Antony Joseph, the director of Ohm Shanthi Oshana. Jude liked my rendition, and he asked Shaan to rope me in for the project and thus I sang two songs—'Mounam Chorum Neram' and 'Sneham Cherum' that set me off on a musical journey. I consider it as a blessing that not a single track of mine has been rejected so far.
I am happy that in such a short period of time, the songs from the movie Vettah was heard and liked. This will be my fifth song with Shaan, and I feel grateful to him for being my pillar of support. He gives me full freedom while singing and is calm and composed during work.
Mellifluous voice
I don't have any special voice training. I have been learning classical music since the age of 3 and regular training is underway. I'm humbled to hear that I have a soft voice. Maybe that is an added grace for me.
Balancing education and music
I am currently pursuing a bachelors degree in Literature at Farook College, Kozhikode. I always try to make studies and music go hand in hand. Everyone in my family loves music and has encouraged me to pursue it seriously. Being a culturally focused college, we do get good exposure.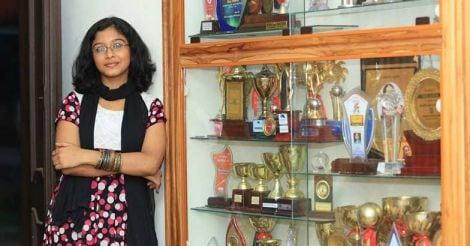 I love doing live shows since it gives the exact feedback
Doing stage shows
Working on a playback at a studio and performing live stage are two different scenarios. I love doing live shows since it gives the exact feedback, like what the audience loves to hear from me.
Preparations for looking good on stage
I don't think one should bother about looks while doing stage shows. I go for whatever is comfortable for me to wear.
Plans for acting
Not really. I have not yet explored that side of mine.
Writing, a hobby
It is just recently that I started blogging. My mother has been a huge motivator as she was the one who induced the interest in me. From a very young age, she used to get me classics to read and gradually I developed an interest in penning poetry. I don't write on a regular basis; it happens incidentally whenever something comes to my mind. Playing guitar is yet another hobby.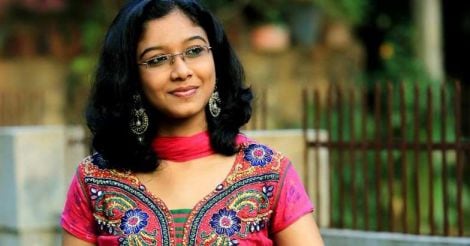 It is just recently that I started blogging, says Rinu
Biggest compliment
There are many. Sujatha chechi's words now play on my mind. I've known her since I was 12. After hearing an unplugged version of the song 'Mounam Chorum', she told me my voice has grown mature over the years and has become optimal for singing!
Favourite picks
My debut song from the movie 'Om Shanti Oshana' will always be close to my heart, but I like 'Doore Doore' from the movie Ormayundo Ee Mugham for its lovely composition.