Shabana Azmi has won five national awards and a niche for herself with her clear opinions and unwavering positions. Onmanorama talks to the iconic actor who just turned 65.
"Embrace your age. Don't try to be young." You have said this so many times. At 65 years, do you think that is practical in the movie industry?
Age is not an issue in the movie industry any more. Talent is all-important. Even actors in their 90s get good roles. They get suitable scripts. A few years ago, there was a feeling that actors went out of demand after 90. Now there is no need to try to appear younger.
There are many superstars but not a single lady superstar
Kangana (Ranaut), Priyanka (Chopra), Deepika (Padukone) … all of them have left their imprint. But cinema is male-centric, as all of us know. A movie's commercial success depends on it. That is why we have not coined the term lady superstar yet.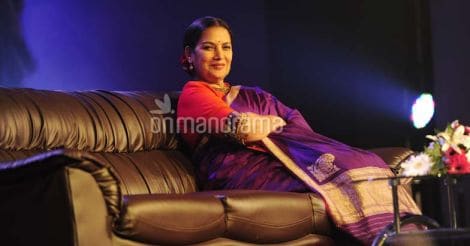 Actress and social activist Shabana Azmi at Manorama News News maker award 2014 presentation ceremony in Kochi. Photo: Josekutty Panackal
Has the empowerment of women been reduced to writing and movies? If so, what can we do about it?
Our country is full of female deities. But in real life, our girls lead a miserable existence. Our country is diverse in religions and culture. But the concept of unity in diversity is not applicable in the empowerment of women. The people and the media must act together towards that goal.
Is it fair to mix religion with art? You had protested the recent fatwa against A.R. Rahman
I had offered all my support to Rahman. He is one person who knows what a movie needs and what it does not. The fatwa against him was issued by an organisation which does not have any idea of cinema. They had also issued a fatwa against me – for shaving my head for the movie "Water". Nobody took a note of it then. The fatwa against Rahman has got so much publicity because of the increased intervention of media.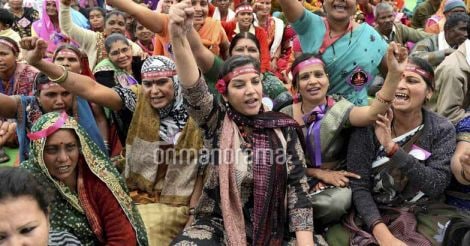 Veteran actress and social activist Shabana Azmi take part in a global protests 'One Billion Rising' campaign to end violence against women in Bhopal. Photo: PTI
You have also reacted against mixing politics with cinema. What do you think of the students' agitation in the Film and Television Institute of India, Pune?
There are a lot of people who manages cinema and politics at the same time. We cannot say that there should not be any political interventions in the Pune institute. But I have always objected to promoting undeserving people to key posts just for their political affinities. I was expressing that objection by supporting the students' strike.
Has art become just a commodity?
It has always been so. Now the media is giving undue importance to movies which spread such false notions. Many substandard movies become successful only after the media supports them. The media should take care not to promote movies which give out erroneous messages.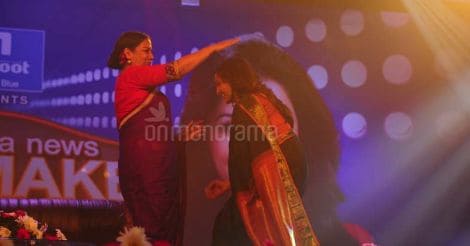 Shabana Azmi blesses actress Manju Warrier after presenting Manorama TV News maker award 2014 at Kochi. Photo: Josekutty Panackal
Is the distinction blurring between commercial movies and parallel movies?
Our social milieu was different. Parallel cinema then dealt with issues such as the zamindari system, slavery and inequality. Cinema has changed with the times. Offbeat movies are made even now but youngsters are telling the stories of cities rather than villages.
Do you enjoy the kind of movies Farhan Akhtar makes?
Of course! I like movies such as Zindagi Na Milegi Dobara (directed by Zoya Akhtar and co-written by Farhan). Farhan is an expert in telling different stories with a background today's generation can identify with.
Why are you keeping away from south Indian cinema?
It is not deliberate. I do not know the languages. I do not act in south Indian movies because I am concerned about the limits of language.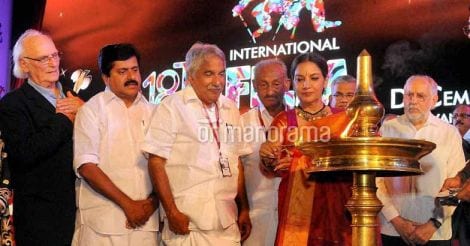 File photo/PTI: Chief Minister Oommen Chandy and Shabana Azmi at the inauguration of the International Film Festival of Kerala in Thiruvananthapuram
Do you see south Indian movies?
I do not watch them. Again language is the limitation. But I personally know a lot of moviemakers from south India. All of them are highly talented. I was amazed by the crowd that turned up at the International Film Festival of Kerala in Thiruvananthapuram. An audience like this who are in love with cinema is the hope of the art.