He has played a key role in the success of 'Minnal Murali'. Meet Manu Jagadh, one of Malayalam cinema's most-valued production designers (think 'Ee.Ma.Yau'). After finishing fine arts he started off as an assistant to veteran art director Sabu Cyril and been with him for ten years before making his independent debut in Malayalam cinema.
The church he and his team had constructed on the shores of the Aluva river was demolished by some hooligans and it had sent shockwaves in the film industry. It was also widely discussed on social media. Manu admits that the reason why 'Minnal Murali' became a reality was that everyone worked with the same energy and goal towards the fruition of a great film. In an interview with Manorama Online, he also recalls with gratitude the collaboration and support of producer Sophia Paul that helped him complete his work on time and the way he wanted it.
To work for India's first superhero film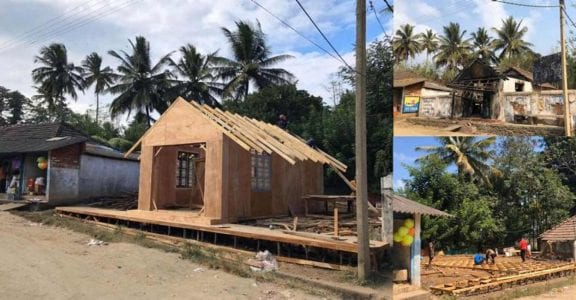 Basil's first brief was that this will be India's first superhero film. But he also pointed out that we are not modelling it after a typical American superhero film. The story is happening in a village. We are planning to create a local superhero; someone you might be more likely to see around your village. Just to listen to Basil's narration itself was fascinating. He would connect the speaker and let us hear the background score during the narration. So we are getting a clear visual picture. It felt like reading a comic book. The film has also been given the same feel. Everyone should feel that they are reading a comic book was how Basil told us.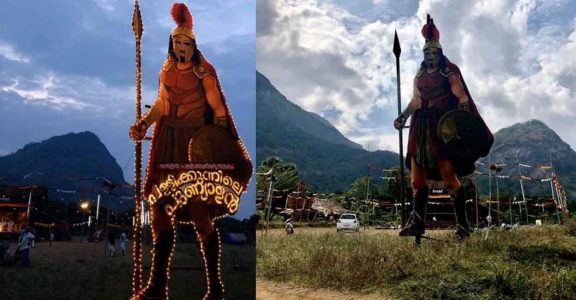 It doesn't take much time to get involved in the film when Basil starts his narration. His narration is so visually enriching that you are already seeing the characters and places in your mind's eye. That makes my job easier. We couldn't have asked for a better break than 'Minnal Murali' in Malayalam cinema. After all, such films don't come to you every day. We have had historical films, but nothing like a superhero film so far in Malayalam. So we were all super thrilled to be a part of India's first superhero film.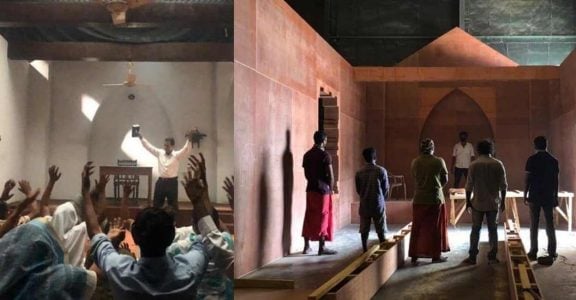 Basil's Kurukkanmoola
If my memory serves me right, Basil's house is at Kurukkanmoola. Or he has some connection with that place. I think it's a village in Wayanad where he hails from. But the film's sets were constructed at Byrakuppa which was on the border of Karnataka-Wayanad border. There is a river there and that's why we decided on that place as we wanted to create a township hedged by this river.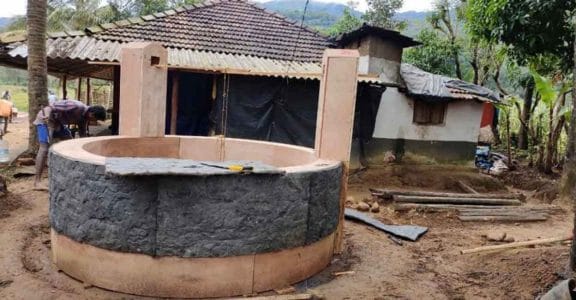 We had to create an imaginative village called Kurukkanmoola from scratch. From the tea shop, Jaison's tailoring shop to Bruce Lee Biji's karate shop—everything was a set as it wasn't practical to use their shops for our shooting purpose.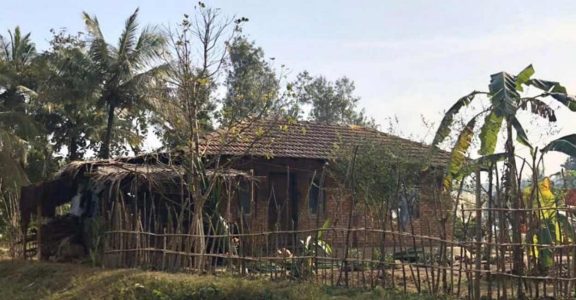 Whatever the film required, we created it. Even the riverside was conceived by us according to what the film demanded. It's not easy to get something like that. Byrakuppa was the place Basil had earmarked during 'Kunjiramayanam'. It was already there in Basil's mind. When we were scouting locations for 'Minnal Murali', Basil told us about that place. After exploring various locations, we finally decided on Byrakuppa. The residents speak a mix of Kannada and Malayalam. All those factors have really helped the film. We have really enjoyed creating the village and the props. Be it the bus or the houses.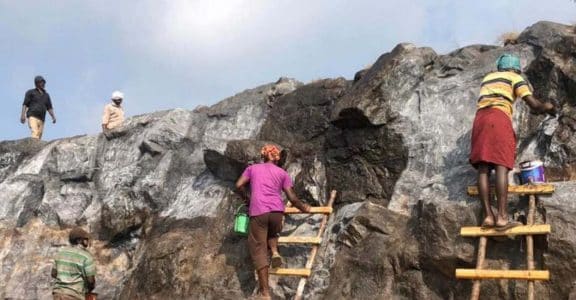 Practical effects instead of VFX
You can see Shibu testing his superpowers using pots and pans in the film. The vessels were made of metal, plastic, and glass, and when Shibu signals they had to move. His power had to be felt in all inanimate objects. Even the photographs on the wall had to vibrate when he signals with his hands. His house had to shake under his mighty power. And all these weren't easy to deliver.
We took the help of an old electric motor for this purpose. And it all took a lot of time. We would try various methods and eventually go with the most effective one. You can even see the beedi strips jumping on Paili's table. All credit should be given to our teamwork. I would sit with my painter, carpenter, and special effects team to come up with ideas. And they were as invested in this as much as I was.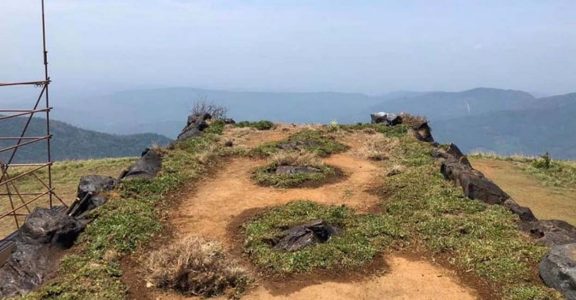 The ones who vandalized the sets might be feeling remorseful now
We were only here to make a film not to hurt anyone's religious sentiments. Cinema is a universally loved entertainment, which cuts across race, religion, or nations. So it was quite disillusioning when some people thought we had made those sets with the purpose of hurting religious sentiments. Our producer had to incur heavy financial losses.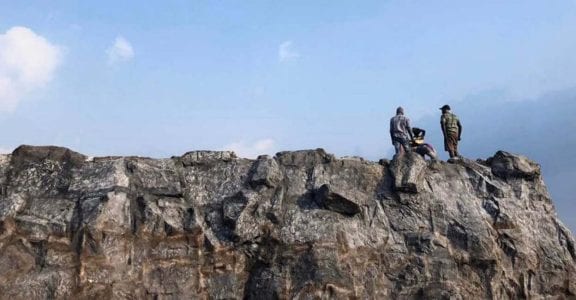 Through this act of vandalism, they destroyed the efforts of so many people. Not to forget the financial loss. I am sure the ones who ruined it wouldn't be thinking of what their actions did to us. Did they really gain anything from it? I am sure after watching the film, they must have thought about why they even did something like that. More so as there is no stress on any religion in 'Minnal Murali'. That set was to shoot the film's climax. And after that, we could have wrapped up the shoot too.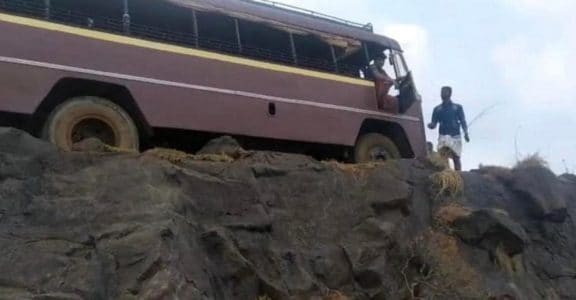 And it took a lot of effort and time to put up a similar set at Karnataka. Thankfully there was a church there that was similar to our set or something we had in mind. The church was in a dilapidated state. And we had to start from scratch and rebuild a set. Having said that we could actually build a much better set this time around. That has helped the film. That was a scene that required over 5000 artists and it was quite a task to bring them during the pandemic time. But I guess everything happened for the good and we managed to finish the film as we imagined.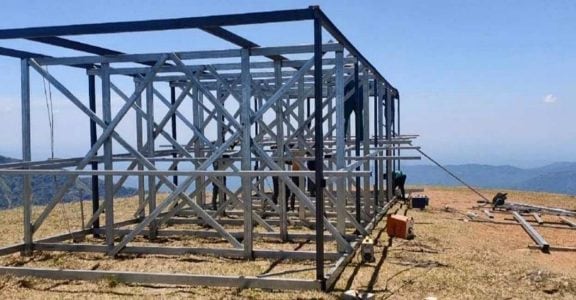 Was 'Minnal Murali' my most challenging work?
Since I do every film with a lot of love and dedication, I have never felt like this was a job for me. All that is on my mind is to give my 100% to every film and finish the work on time. Having the support of my producer helped me to finish my work on time and according to how I wanted. One thing about this film is that we had a lot of fun during the making of the film. This was teamwork at its best. Of course, we were all disheartened when the sets were demolished, and it wasn't easy to find a new place to erect the sets during the pandemic.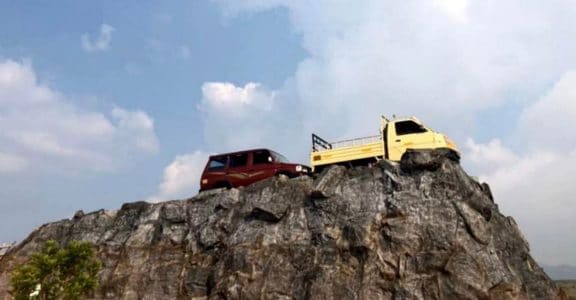 We all somehow wanted to give our best for this film and finish it on time. Even in Karnataka, we had some issues. But when they visited the sets, they were fine and gave us permission to shoot. We had a lot of support from the Karnataka government. Today the ones who destroyed our sets must be repenting seeing all that celebration. If that Kaladi shoot had happened, it would have really helped the people there. Their hotels would be full. A lot of people would have got jobs. Really sad!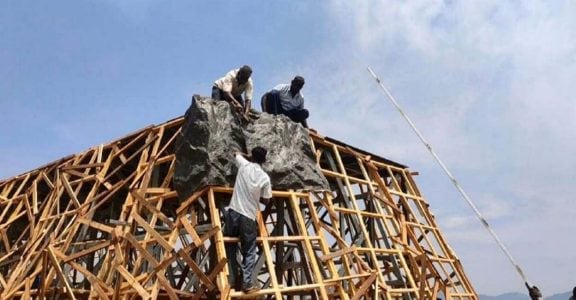 Productions support
We had so much support from the production side. What we need foremost is financial support and Sophia Paul was a dream producer. We had permission to do anything for the betterment of the film. That's why I keep stressing on the fact that this film is the result of a solid team effort. A lot of our work depends on a good production house.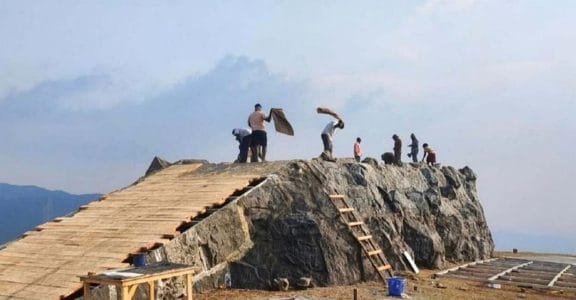 Imagine if we had to do everything for the film and yet don't have the resources to do that? We have had some bad experiences before. It so happens that our straight talk might not go down well with a lot of producers. See what happened when everyone was on the same page here? It's been a while since I had the opportunity to work in a good film backed by a great producer.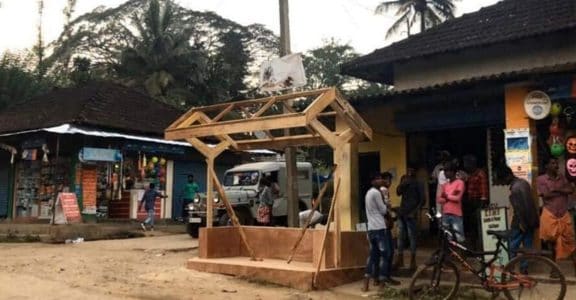 Sameer Tahir was our backbone
Sameer Tahir was one of the strong pillars of our film. No matter what we do from our designing side, unless they are captured beautifully it won't get the desired results. That's why Sameer Tahir's contribution was so important. There was not a single loose frame in the film. Initially, we had hired another cinematographer. We had even discussed the colour palette of the film but for some reason, he had to withdraw from the project. When a new chap comes, he would be visualizing the film in a different way. And I had to sit with the new cinematographer all over again and discuss the production design and fervently pray that we are on the same page. But Sameer exceeded my expectations. He was able to elevate our work through his frames. I couldn't be happier.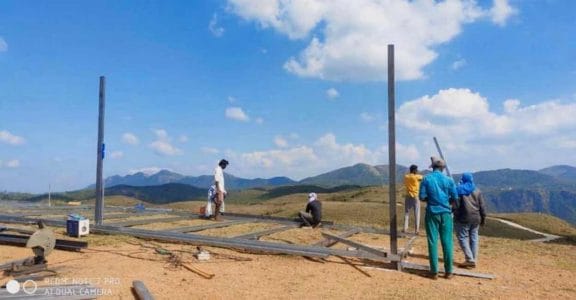 A huge theatre miss
'Minnal Murali' was made for the theatre. That is definitely a regret. This film would have been an amazing theatre experience more so as this was Malayalam cinema's first superhero film. But the positive side is that today the film has reached out to an international audience and that's heartening. Though I wish I could have enjoyed the film sitting amidst the audience, especially the climax. We had conceptualised it thinking of the theatre audience. We all loved shooting the climax.
Result of a team effort
I am so proud of my teammates. Every one of us put in our hundred percent and the result is there for all to see. We had a great collaboration with the VFX team. We have done a lot of things that come across as VFX and that was challenging. They had a definite idea of what they should do and add once we had done our work.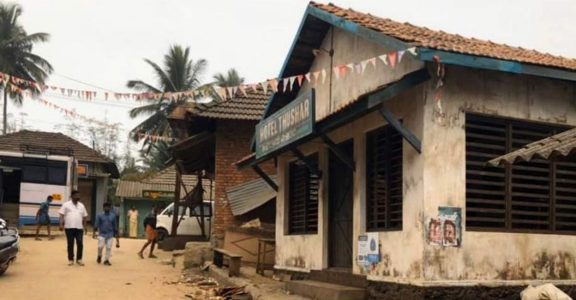 That bus accident scene for instance was a set. The VFX team made it look real. Similarly, the magnetic experiments at Shibu's house shouldn't come across as artificial. Considering even children can spot VFX, we didn't want anyone to point it out.
Sabu Cyril's disciple
It's thanks to my 10-year experience working under Sabu Cyril that I had the confidence to take up this project. He is known for taking on humongous projects. He has this uncanny ability to remain cool amidst any kind of crisis. I have learned a lot of things from Sabu Cyril. Every time I start on a project I think of him and the invaluable lessons I learned from him.