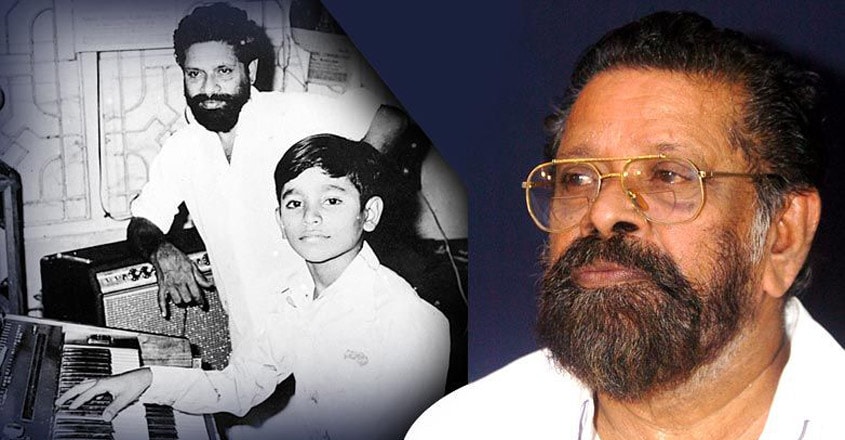 It was one of his neighbors in Palluruthy who hailed legendary composer MK Arjunan's music as unadulterated like the pure milk. There is an interesting story behind this unusual comparison of music and milk. Arjunan's mother Parvathy used to grow two cows at their house. She sold fresh milk only in the neighborhood. However, when the demand for fresh and unadulterated milk went up, Parvathy decided to stop her business as she was not interested to add water in the milk to increase quantity.
Maliyekkal Kochukunju Arjunan, insists on not adding 'water' in milk or in his music. Many wonder whether this iconic music composer who had gifted some of the evergreen melodies to Malayalam cinema had been overlooked for a state award, for more than half a decade, because of his honesty and straight forward approach. "I haven't created a single song solely for the purpose of winning an award. I haven't imagined winning award for any of my songs. Neither have I tried to win it through recommendations. I don't bother to enquire whether my films compete for awards," MK Arjunan had told in an interview when he won the state award for best music composer in 2018.
Not many know the tale of hardships and poverty that Arjunan had to endure to scale the majestic mountain of soulful music.
Beginning
MK Arjun was born on 1 March 1936 to Maliyekkal Kochukunju and Parvathy. His father was a well known kolkali instructor and mridangam artist in Fort Kochi. Ten among his 13 siblings had already died when Arjunan was born. His father too passed away when Arjunan was just six months old. Parvathy stared at a bleak future having no means to raise her youngest kids Prabhakaran and Arjunan. It was a person from the neighborhood, Raman Vaidyan, who arranged for the young boys to be admitted at a charity home run by the Ananadashramam in Palani. Arjunan was in class two when he left home to continue his education at the ashram.
At the charity home, the brothers were educated in the gurukula system where the disciples stayed with the teacher. Besides, they were trained in handicrafts as well. Arjunan and Prabhkaran used to sing at the evening prayer meetings at the ashram. It was the head priest Narayana Guru who recognized the incredible musician in Arjunan. Soon, Arjunan and Prabhakaran began training in music with Kumarayya Pillai at the latter's house, close to the ashram.
The brothers had stayed at the ashram for around 7 years before the institution began deteriorating. Before they left, the brothers had gone to meet their teacher Kumarayya Pillai who said, "You (Arjunan) will earn your living through music and you (Prabhakaran) would become an ironsmith. (Prabahakaran went on to become a mechanic at Marikkar Motors).
Path to music
As predicted by his guru, Arjunan chose the path of music and continued training under another teacher called Vijaraghavan. He began singing in plays and used to play harmonium at the clubs. During those days, a father and son used to go for walks at the road in front of Arjunan's house. They lived barely two kilometers away from Arjunan's house. Augustine Joseph and his son Yesudas often stopped in front of Arjunan's house to catch a quick chat.
One day, a group of youngsters approached Arjunan asking him whether he could compose one of Ponkunnam Damodaran's poems that was published in the news paper. They wanted to sing the poem while performing a street play. After the poem was composed they were confused about who should sing it. An eighteen year old Arjunan had Yesudas, who was a few years younger to him, in his mind. Augustine Joseph too had shown the green signal. It was on a day in the 1950's when Yesudas' sound was recorded for the first time on a spool recorder at the house of a prominent doctor in the locality. Hardly did they know that they were creating a moment of history.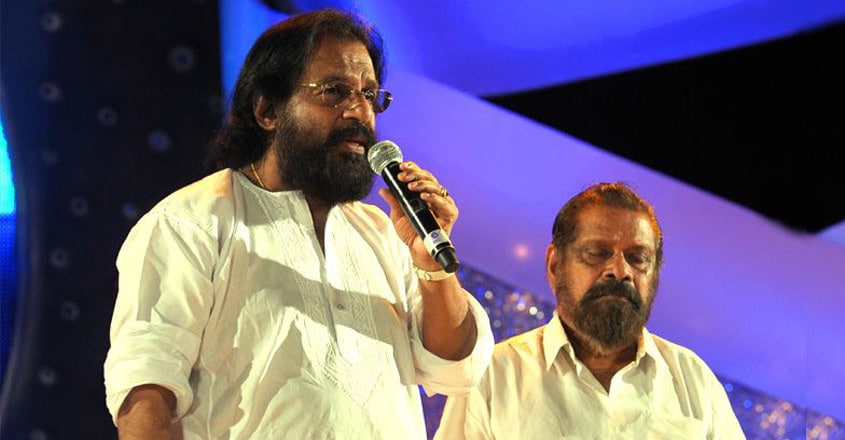 Growth as a composer
Arjunan hadn't turned eighteen when he was offered a chance to compose music for plays by Paulose from Paravoor. Around 67 years ago, Arjunan composed the first song 'Thammiladicha Thamburakkal' that was penned by PM Kasim and sung by Maradu Joseph, in the play 'Pallikuttam'.
"MG Baby was supposed to compose the music for that play. However, his demand to change the lyrics wasn't approved and the offer came to me," Arjunan didn't have any hesitation in admitting that he was a replacement for another composer. It didn't take too long for Arjunan to become one of the most desired composers in the theater.
The year 1960 would be remembered as a landmark year in the illustrious career of MK Arjunan. It was the year when legendary composer G Devarajan had spotted Arjunan. G Devarajan was the composer for 'Doctor' the debut play of the theater troupe Kollam Kalidasa Kalakendra. He was looking for an assistant and it was clarinet artist TT Antony who suggested Arjunan's name. Young Arjunan was scared when the senior composer warned him that he wouldn't hesitate to fire him if he didn't like the former's work. But, it grew into a beautiful teacher – disciple relationship that lasted forever.
Arjunan had assisted Devarajan for around a decade before moving into films. Even when he created super hit songs in the silver screen, Arjunan didn't abandon the drama stages. He used to compose one or two songs in a year for plays until recently. In an impressive record, Arjunan had composed more than one thousand songs for around 300 plays.
Prime years
It was the owner of the Kalidasa Kalakendra drama troupe, O Madhavan, who suggested changing the tune of one of the songs composed by Devarajan for the play 'Achanum Bappayum'. However, Devarajan was at Madras, busy composing for films. Madhavan asked Arjunan to recompose the song. However, Arjunan refused to change what was composed by his mentor and promised to compose a new song if noted poet ONV Kurup wrote another one. But there was no time to write a new song. Arjunan was compelled to recompose the song that was done by Devarajan.
The play was staged and the songs earned great praise. One day, Arjunan received a letter from Devarajan. "The bond that we shared until now ends here. Do not try to meet me anymore. I do not want you to write to me or call me," the letter read. A devastated Arjunan had decided to quit music. But his friends supported him and forced him to change his decision.
Years later Arjunan's son Prasannan (Anil) was all set to open a music studio in Thiruvananthapuram. Arjunan wished to invite his mentor for the inauguration and went to Madras to invite him personally. Despite waiting for more than one and half hours, Arjunan wasn't invited inside. Though Arjunan tried to reach through Devarajan' wife, he wasn't asked in. Finally, Arjunan barged inside and apologized for recomposing the song. He explained how he had to do that for the troupe's survival. Devarajan remained unmoved.
After some time, Devarajan asked him the date of the inauguration. However, he suggested that the time wasn't auspicious. Finally, Devarajan spoke with an astrologer to decide on a later date. The senior composer asked Arjunan whether he had arranged any singers to record songs on the first day. Though Arjunan suggested a few names, Devarajan dismissed all of them. He thought those singers weren't good enough and offered to bring a few singers with him. On the day of the inauguration, Devarajan brought at least ten talented singers with him, that too by picking up all their expenses. The studio where the songs of legendary Devarajan were composed on its opening day continues to be one of the leading recording studios in Thiruvananthapuram.
Successful combinations
Arjunan became an independent composer creating music for the lines written by P Bhaskaran for the movie Karutha Pournami in 1968. However, it was noted lyricist Sreekumaran Thambi who invited Arjunan to compose for his second movie Rest House. It was the beginning of an amazing artistic bond that created some of the most splendid music in the history of Malayalam cinema. Sreekumaran Thambi, in a fit of rage, had said to the makers of a movie that his lines would get noticed even if it were composed by G Devarajan's harmonium artist. When he said that, Thambi hardly knew Arjunan. However, Arjunan said that Sreekumaran Thambi had invited him after the latter was impressed with his compositions in Karutha Pournami.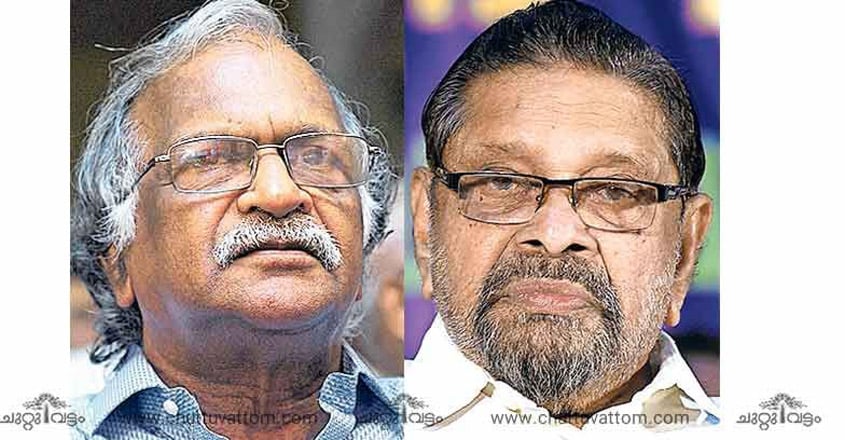 Arjunan who had great respect for the legendary lyricist always referred Sreekumaran Thambi, who was a few years younger to him, as Thambi sir. Meanwhile, Thambi lovingly called him 'Arjunaa'. Among the 700 songs that MK Arjunan had composed for more than 200 movies, 300 of them were written by Sreekumaran Thambi. It was Thambi's lines that accompanied the beautiful music of Bhayanakam which finally won Arjunan the much deserved state award. This amazing balance was also seen in the relationship between Thambi who is known for his haughty nature and Arjunan who impresses with his soft spoken ways.
Making of a legend
Arjunan had turned to his own mentor Devarajan when he wanted an assistant while composing for Karutha Pournami. Devarajan suggested his most trusted lieutenant RK Sekhar. As Arjunan was to Devarajan, Sekhar became the former's man Friday until his death.
It was at Sekhar's home in Madras that many super hit Malayalam songs were born. When the duo took breaks during compositions, Sekhar's son Dileep would play the tunes on his harmonium. Arjunan too was fond of little Dileep who was passionate about music and displayed incredible flair for it. In 1976, Sekhar's unexpected demise had shocked everyone. Sekhar's wife had requested Arjunan to introduce her son at a few studios.
In 1981, Arjunan recorded the song 'Eranattin Mannil Ninnum Unarnenitidum' for the movie Adimachangala with the 13 year old Dileep playing the key board, at the AVM Studio. After that, Arjunan hadn't composed even a single song without the magical keyboard compositions of Dileep. Though he was criticized by many prominent musicians for making a small boy play key board for his songs, Arjunan had great faith in Dileep's talents. However, the musician barely had any idea that he too was being part of history as Dileep grew up to become musical maestro AR Rahman.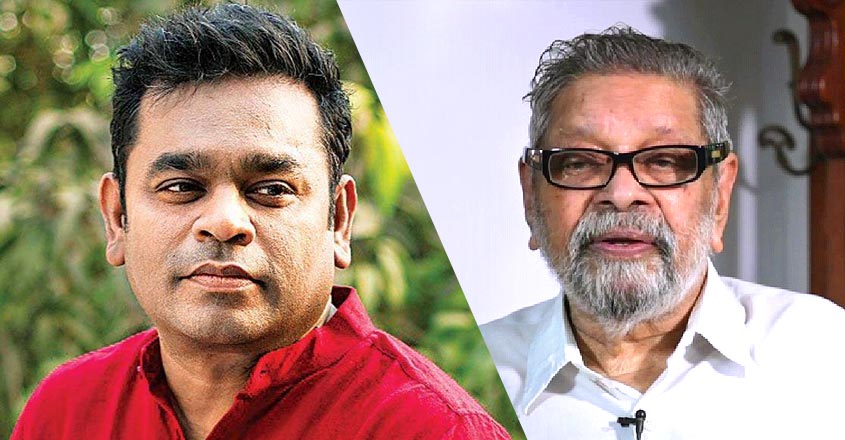 Arjunan was settled in Palluruthy even when Malayalam cinema was based in Madras. He would return as soon as his work got over. However, he stayed back in Madras after Sekhar's demise to support the latter's family. Arjunan had stood beside a visibly weak Sekhar when they composed the music for the movie Chottanikkara Amma. Besides, it was he who helped a young AR Rahman, find his first recording studio. Arjunan had been a great pillar of support for his dear friend's family.
It was after a while that Arjunan had composed music for three movies directed by the same director. He had composed for Jayaraj's movies Naayika, Veeram and Bhayanakam. It is no surprise that the flair for music runs in the family as Arjunan's son Asokan and his son Midhun Asokan too are music composers.
Midhun worked as the music programmer for all the songs in the movie Bhayanakam. Arjunan's youngest daughter Sreekala is a well known dancer. Rekha and Geetha are his other daughters. There was a unique rhythm of love when he said the name of his wife Bharathi whom he had courted before marriage.
Film maker Jayaraj had told many that he secretly wished for MK Arjunan, who had won the state award for composing music for plays 16 times, to win his first state award for film music through one of his movies. Finally, in 2018, MK Arjunan won his first Kerala state award for best music composer for his beautiful songs in the movie Bhayanakam directed by Jayaraj.