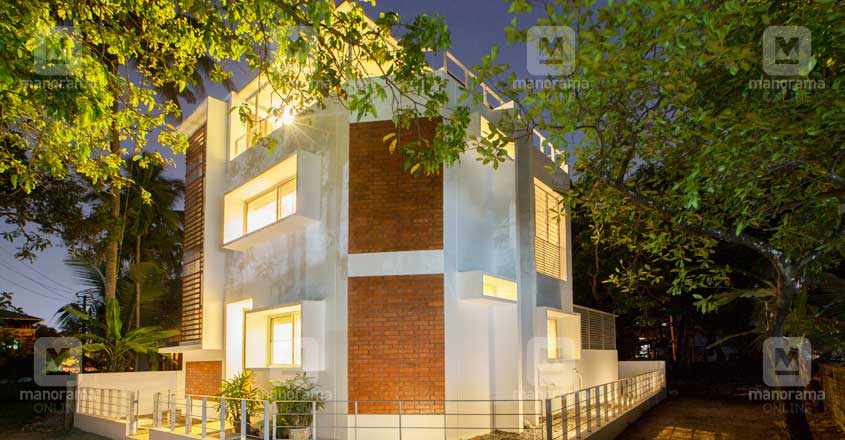 It is no big secret that purchasing land in a metro city like Kochi would burn a hole in your pocket. So, the most reasonable way is to build a house in the existing plot, no matter how small it is. Ashish and Rakesh Kaimal's brand new house is the perfect example of a beautiful and space efficient house that is built on a really smaller piece of land.
This house has been designed overcoming the spatial challenges posed by a 3 cents plot. As the owner is settled abroad and only his aged parents live in this house, the family wanted it to be cost effective and easy to maintain as well.
Minimalistic designs and features are the highlight of this house. Heat resisting aluminum roofing sheet is paved on the roof. So, the temperature inside the house is very comfortable. The foundation was built after doing piling as this is a marshy land. The walls are built using bricks; exposed bricks too are used to add texture and highlight.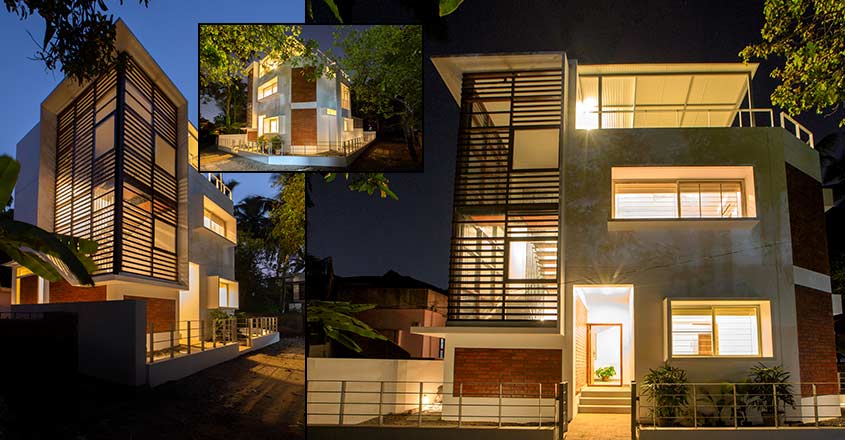 This quaint house, designed in 70 sq ft of area, has living and dining spaces, kitchen with work area and three bedrooms. The interiors are arranged in the open style. The living and the dining spaces, pooja space and the kitchen are arranged as part of the main hall.
The stairway that sports an interesting design is the highlight of the interiors. It is made in metal – wood finish and utilizes space in the most meticulous way. Steel louvers are installed on the wall beside the stairway. Lots of natural sun shine and cool breeze come into the house through these louvres.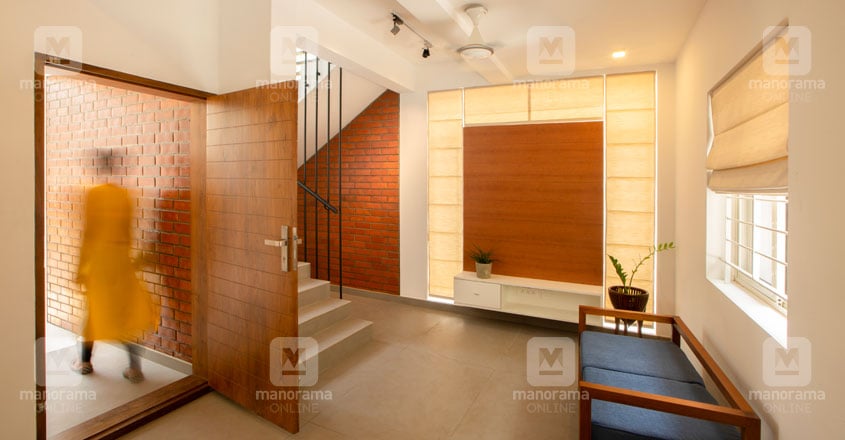 Huge windows line the walls to bring in more light and air as the house stands on the small and congested plot. In - built wire mesh are fixed on the windows to keep away mosquitoes. Vitrified tiles are paved on the floor. Following a similar pattern of flooring throughout the house has helped in reducing the expenses as well.
The kitchen cabinets are made in the marine plywood and mica finish. An adjacent work area completes the kitchen space.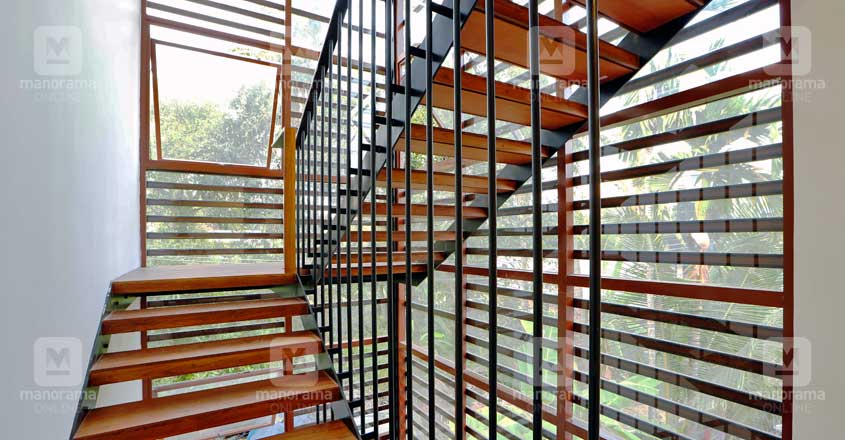 The bath attached bedrooms have full length sliding wardrobes for storage.
The boundary wall isn't too tall so that the beautiful view of the house could be enjoyed from all the directions.
The guests who visit the family wouldn't believe that this spectacular house, that has all the facilities, is built on just 3 cents. The family says with a smile that they often have to show them the plan of the house. This mesmerizing abode has proved that a house could be easily built on a smaller plot with excellent planning and smart designs.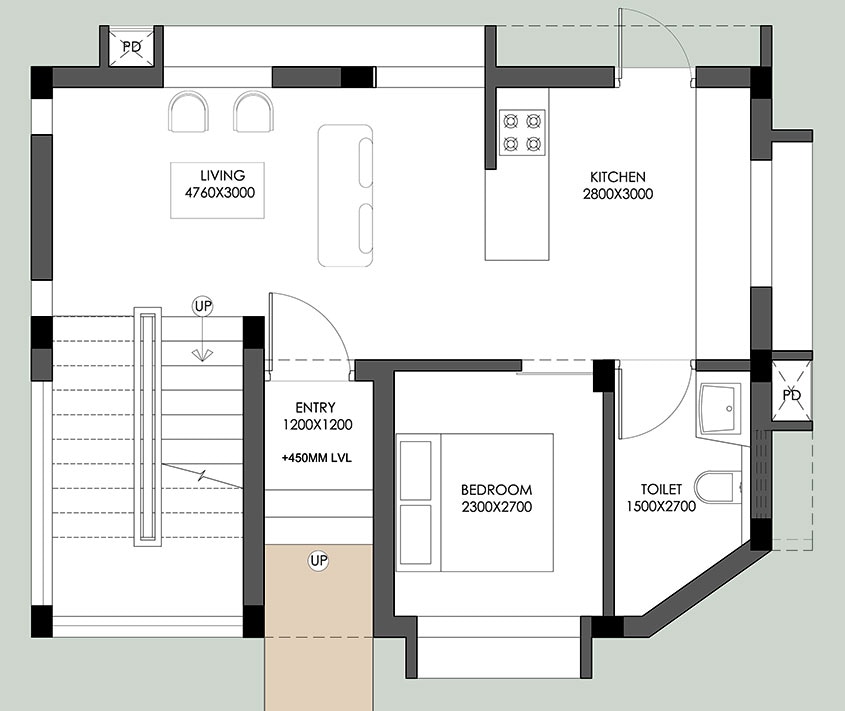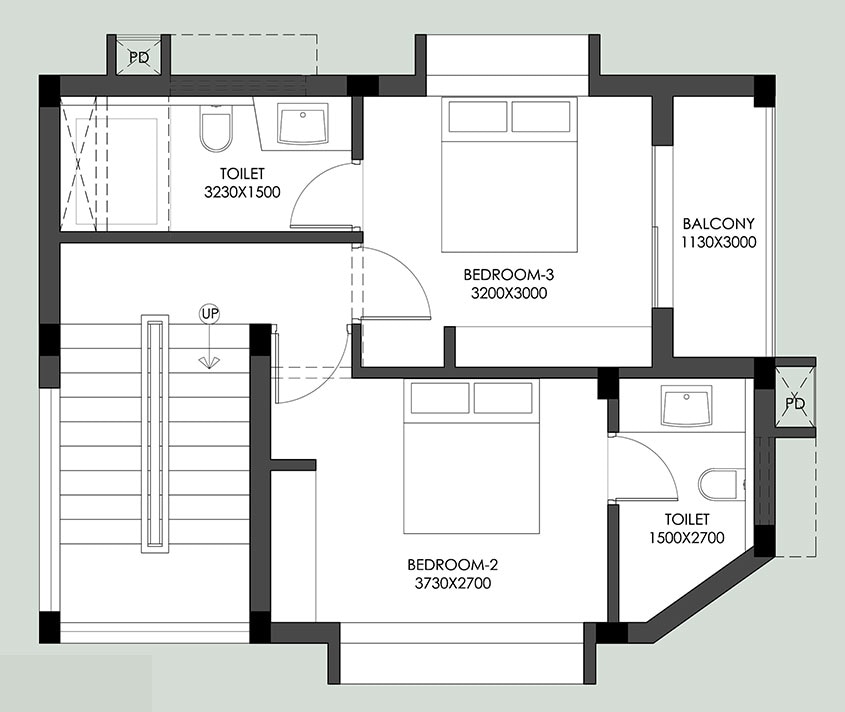 Project Facts
Location – Palarivattom, Kochi
Area – 1170 SFT
Plot – 3 cents
Owners – Ashish Kaimal and Rakesh Kaimal
Design – Thomas Mathew and Cyriac Panamkuzha
Parinamah Design and Build, Kochi
Mob - +91 95671 29671