This house named 'Walls and vaults House' situated in Kulangaramuri in Kanjirappilly is a nature-friendly home in form and function. The house owes its name to its vault-shaped roof.
Before designing the home, the architects Lijo Jos and Reni Lijo made a detailed study on the site and its features. The lifestyle of the residents was also taken into consideration for designing. The plot is inclined to one side. Three different paths pass through the other three sides. The architects designed the home in such a way that it would look as if emerged naturally from the area to which it is inclined.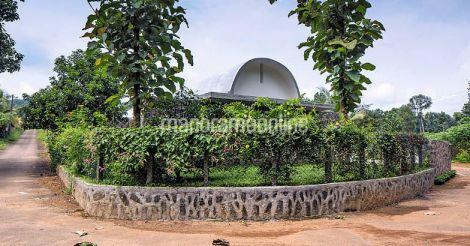 Exteriors of the house
Kanjirappally is known for extreme climatic conditions, with heavy rains during the monsoons and scorching heat during summers. Precautions have been taken to tackle heavy rains, while the outer walls and vaults are erected to tackle the heat. The peculiar shape of the vault makes it easy for the heat to escape from inside.
The principle of parallel structures has been followed while designing the 3190 sq ft house that is built on 37 cents of land. A long courtyard connects both these structures. While the living room, the dining room and the kitchen are assigned on one side, four bedrooms are set on the other. The bedrooms have been placed back to back. There are other courtyards on either sides of the house, adjoining to the wall. These courtyards have equal length as the home.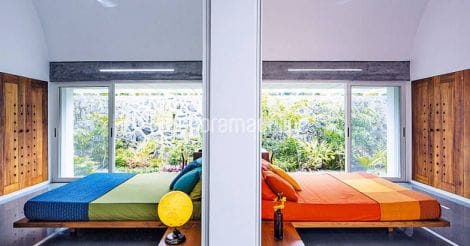 The bedrooms
This house was visualized as enveloped in greenery in a sheer nature-friendly manner. That was the reason why the courtyards are linked together with a beautiful garden that has been nicely landscaped. Thanks to the open courtyards, the residents of the house can enjoy the rain staying inside the house. The rainwater is filtered before it flows down into the well.
While all other rooms in the house are 10 feet high, the room at this area is 14 feet high. But, from a distance, you won't feel the difference of height. Eco-friendly and reusable construction materials like aluminum, windows, teak shelves, kota stone and lappato granite are used.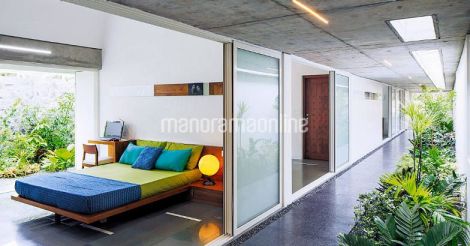 The verandah next to the bedroom
Here, the home itself is the center of attraction. No other decorations are added on since functionality is of paramount importance in this house. Nothing else should distract the beholders attention.
Know the Architects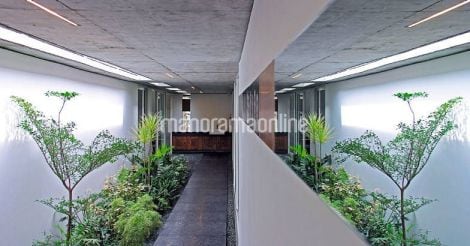 This house was visualized as enveloped in greenery in a sheer nature-friendly manner.
Lijo Jos and Reni Lijo are the architects of this house. Lijo completed his B.Arch from SIT College, Tumkur while Reni graduated from BVBCET, Karnataka in 2001. The duo commenced an architectural firm in Thrissur and named it Lijo Reni Architects in 2005.
This brilliant couple has won many accolades including several IIA awards, All India Stone Architectural award and JK State Young Architect of the Year award.