Among the many interesting bills that are posted on random walls in the lanes of Colombo a particular kind stands out for any traveller with a Kerala or Indian connection.
Some self-proclaimed healers and magicians offer something that is called Malayali Gurukam or Malayalam Gurukam. This is a form of witchcraft that is used in some cases by people to win over another person romantically and in others to ruin rivals and foes physically or financially. In a country where the majority of the population professes Buddhism, it is hard to find anyone who would openly admit to using Gurukam, but many members of the Sinhalese community have stories to share of others who they believe have used such black magicians.
A posh resident of Colombo will be the first to point out that it's only people in villages that use black magicians but it was widely believed that Ranasinghe Premadasa, who was the president of the country from 1989 to 1993, hired the services of a practitioner of Gurukam to put some sort of curse on LTTE supremo Velupillai Prabhakaran in order to kill him, but unfortunately for Premadasa, he was the one who was assassinated at the hands of the Tamil separatist group.
These Malayali Gurukam practitioners usually sit near small Hindu shrines that have printed cloth images of Murugan and offer all kinds of services. Those seeking to win the heart of a love interest are offered powders that are meant to be mixed in food. In Kerala, this is called 'aandha podi.' The mantras chanted by these black magicians are supposedly in Malayalam, but videos of their performances on streaming platforms show them uttering something that would sound like utter gibberish to Malayalis.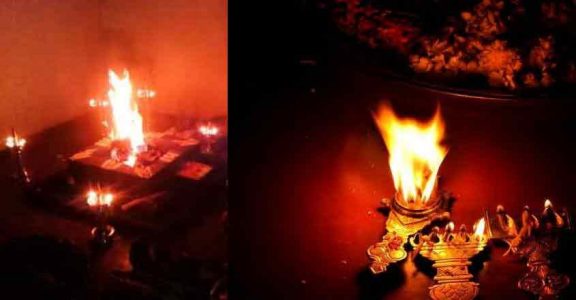 Sri Lankans insist that these sorcerers are Malayalis who immigrated to the island when the British ruled the Indian subcontinent. There is probably an element of truth in this belief, as it's a well-known fact that sorcery and 'witchcraft' are still practised in Kerala. As is the case in Sri Lanka, it's hard to find a Malayali who will admit to hiring a mantravadi to fast track some desire. This writer's Malayali relatives and friends prefer the pilgrimage route to getting what they want, regardless of their religion.
One usually sees such things only in films. There was, however, one case of a Malayali employee of a multinational technology firm in Bangalore who had a financial dispute with his landlord, who was also a Malayali. The latter told his tenant that he would deduct a month's rent from the deposit to paint the flat that was being vacated. Instead of taking his landlord to court and losing time and energy, the young man, who knew that his landlord was highly superstitious, decided to put random objects and oils inside a small steel vessel and covered it with a red cloth, placing it overnight in the landlord's front yard. As expected, the frightened landlord contacted his astrologer, who told him that the contents of the vessel, which included turmeric powder and rice among other things, had some power because of black magic. The landlord ended up paying more than Rs 50,000 (this story dates back to 2010) to conduct a ritual to remove the negative effects of the curse. The Malayali techie may not have gotten his money back but was more than satisfied with the outcome that he came to know through a common acquaintance.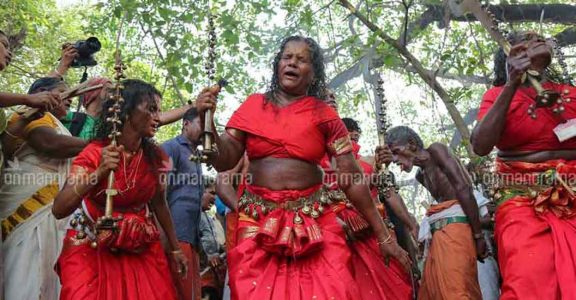 Kattadiyas
Just about every single village in the stretch from Matara in the southern coast of Sri Lanka to Marawila, which is north of Colombo has its Kattadiya, a village sorcerer who supposedly uses his powers to heal physical and mental illnesses as well as help alter a person's financial destiny.
The simple rural folk of these villages are often frightened of these Kattadiyas who allegedly have as much power to do harm as good. Leonard Woolf's 1913 novel titled The Village in the Jungle, which was brilliantly adapted into a film by Lester James Peries, looked at the superstitious beliefs of villagers in southern Sri Lanka, including their reliance on sorcerers and fear of demons.
Some Sri Lankan historians believe that the Kattadiya community are descendants of migrants from Kerala. Over time there was a cultural and religious exchange between the Malayalis and Sinhalese, with the former learning Sinhala and becoming Buddhists and being considered Sinhalese, and the latter worshipping Hindu gods and goddesses.
The Kattadiyas are an essential part of Sri Lankan folklore and it's an open secret that some influential families in Colombo rely on them for life advice.
Sri Lanka also has its own version of the velichappadu, an oracle between a deity and its devotees. Dr D Tennakoon has written in detail about the Anamitirala, which performs the same functions that the velichappadu does.
Even with the high literacy rates and human development indicators in both Kerala and Sri Lanka, a significant number of people in both places seem to be fixated with the powers of the supernatural and cling on these superstitious beliefs. While there are people like Dr. Abraham Kovoor who fought these kinds of superstitious beliefs with science, in a country where even a former president relied on astrologers and random charlatans, it's hard to change centuries-entrenched mindset.
(Ajay Kamalakaran is the author of 'A Week in the Life of Svitlana' and 'Globetrotting for Love and Other Stories from Sakhalin Island')