In my last couple of articles, I have discussed about the spectacular biodiversity of India and the growing problem of human-animal conflict across the nation. I have also highlighted upon the need for regional cooperation between China, South and South East Asian nations at multi-lateral forums for an integrated and coordinated approach called Joint Conservation Initiative (JCI) for dealing with the challenges of successful conservation efforts to protect the rich biodiversity of the entire region including India.
In this article, I will primarily highlight upon how to deal with the challenges of rising human-animal conflict across India. It is important to understand that the root cause for all existing conflicts between wildlife and humans across the length and breadth of the nation is predominantly economic in nature. Hence, for successfully dealing with the human-animal conflict, one has to broadly introspect and confront with the socio-economic challenges of the rural communities and rural residents of remote border areas, forested areas, fringe dwellers and forest residents in a comprehensive manner. Unless this burning socio-economic need of the rural inhabitants and communities living adjacent to biodiversity parks, forests, sanctuaries, nature reserves and national parks are addressed; no successful conservation effort for reducing human-animal conflict is ever going to work out effectively.
For any effort by the local forest department to reduce human-animal conflict, it is important to include the local inhabitants and villagers, fringe dwellers and forest residents as important stakeholders in the process of conservation. Involving local communities in forestry works such as laborers in preparing forest roads, collection of major and minor forest products; involving them as guides, additional security personnel and members of intelligence gathering in and around villages adjacent to national parks can significantly reduce incidences of poaching, illegal trapping and capturing of wildlife, stealing of precious forest products, restrict grazing of cattle close to protected areas and even prevent unintentional propagation of forest fires. Close association between forest departments, related NGOs and the village communities in social forestry and wildlife conservation projects around the globe has achieved very positive and promising results in several developing and under developed nations; and India should be no exception to that rule.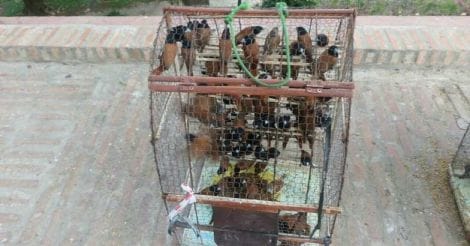 Illegal capture of birds in Cambodia. Photo: Peiman Zandi
The flow of economic opportunities in densely forested areas with poor infrastructure, education and health center facilities can establish strong socio-economic connectivity between the local inhabitants and existing government and non-government machineries. Employment opportunities, together with establishment of local education and health facilities will not only help transform the local communities socio-economically; but will also contribute significantly in keeping local communities free of the influence of several insurgency groups, highly organized poaching units; and wildlife, wildlife products and illegal forest produce trafficking groups operational across several forested areas of this rich biodiverse nation.
Security and intelligence outputs and contributions from the adjacent village community members could be one of the biggest boons in protecting vulnerable wildlife in the forests and also enhancing overall security of remote forested areas and border regions of the nation. Involving villagers positively in social forestry activities, establishing forest protection communities and overall building of awareness regarding conservation of wildlife and protecting forest resources can not only help in the comprehensive conservation efforts but also successfully reduce incidences of human-animal conflict that is rising across the nation in alarming rate.
Also read | Needed: a new model for biodiversity conservation in Asia
Human-animal conflicts are assuming alarming proportions

One may ask, how? The answer is that the improvement of the socioeconomic opportunities of the people adjacent to forest belts has always been found to reduce their direct and indirect dependencies for sustenance on the local forests. This significantly reduces the level of encroachment into the forested areas and unwanted human interventions and also reduces anthropogenic footprints in the sensitive ecosystems and as a consequence, it reduces chances of human-animal conflict. It is also important to strengthen the existing forestry laws to make sure that no encroachment or illegal infrastructural development projects are allowed in densely forested and virgin forest areas to avoid habit fragmentation that pushes vulnerable wildlife into human habitation penetrating deep inside several wildlife refuges.
Necessary infrastructural development cutting across sensitive eco-regions such as railway tracks, highways, freight corridors must have provisions to avoid accidents with the wildlife at the lee hours of the night. Strict monitoring of such connective passes is important and reducing speeds should be ensured by enacting proper laws. The drivers using such sensitive corridors need to be sensitized as well properly trained and educated to deal with occasional and unexpected movement and migration of wild animals across such passages.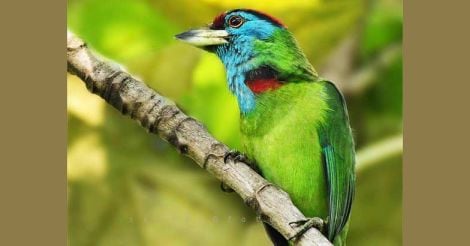 Blue-throated barbet. Photo: Saurav Ghosh
Additional local security needs to be employed to redirect approaching animals to such corridors when a high speed vehicle is using the passage way. This will generate additional part-time employment for the local residents through the railways or forestry departments as well as secure less confrontation with wildlife. In several developed nations, highly specialized and alternate wildlife passes are constructed across sensitive corridors for allowing animals to pass without obstructing the movement of the passing traffic. Such alternatives are also being tried in different parts of the country and should have positive impacts in reducing unwanted accidents impacting wildlife like elephants, deer, several carnivores migrating along sensitive infrastructure corridors.
If the agricultural lands do not infringe so deep inside forested areas and cut across important animal migration corridors the human-animal conflicts can be reduced significantly. That educational awareness and sensitization can change community perception about conservation and help towards reducing human-animal conflict is exemplified by several villages of Nagaland that has changed their traditional hunting rights into conservation efforts by protecting endangered migrating raptors across the state resulting in international recognition of their dedicated efforts. If the rural health centers are equipped with adequate supply of anti-snake venoms and people are educated to take assistance of modern medicine instead of superstitions for snake bite treatment, more precious human lives can be protected; and that would also change the negative perception about snakes across the country.
Yearlong campaigns must be conducted in forested and wildlife sensitive areas to teach people to learn to co-inhabit peacefully with local wildlife rather than turning confrontational. It is important that all these major and minor steps are taken in an integrated fashion to make slow but steady changes in addressing the challenges of human-animal conflict.
Photo credits: Aranyak Foundation, Dhaka, Bangladesh.
(The author is a Canada and India based freelance journalist specializing in global geo-political, strategic and foreign policy issues, science & technology and environment & conservation related themes.)