India is a nation blessed with abundant bio geographic variations and characterized by unique ecosystems stretching across the length and breadth of the nation. From the Alpine mountain vegetation of the mighty Himalayan ranges to the dry and xeric deserts in the west; and from the estuarine tidal creeks rich in mangroves in the east to the tropical rain forests of the south, India has a wide diversity of flora and fauna unparalleled in beauty and splendour.
Also read: Needed: a new model for biodiversity conservation in Asia
No doubt that India is recognized as one of the biodiversity nation of the globe with unique species of flora and fauna, many of whom are not found anywhere else in the world. One of the biggest factors contributing towards such spectacular biodiversity of the nation is the wide variation in weather and climatic regimes that exist in various parts of this vast nation; and the fragile ecosystems that have evolved for millions of years to give rise to complex biomes rich in unique flora and fauna.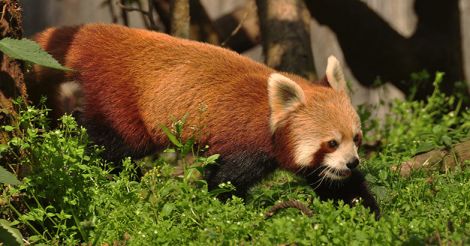 Red Panda. Photo: Saurav Ghosh
This unique diversity of flora and fauna of the subcontinent has coexisted for thousands of years with her human inhabitants, until fairly recently. But the latest unfolding human-animal conflicts across different states and union territories of the nation have been taking a heavy toll on the wildlife resources of the nation.
The human animal-conflict is taking the shape of serious human-elephant conflicts in the east, north-east and south of the country, while human-leopard conflicts are reported across northern, eastern and north-eastern states of India. Recently, human-lion conflicts are being reported in the Junagadh district of the Gujarat state. Rapid raids of the standing crops by different species wild boars, deer, antelopes, peacocks, elephants and other wildlife species are reported across western, central, northern and eastern India has been quite rampart.
If we take the time to probe a little beneath the surface of the human-animal conflicts in India, we will discover that the basic causes are the same in almost all the scenarios. Uncontrolled and unrestricted expansion of human population and illegal encroachments inside the vulnerable forests are the major factor for the rising cases of the human-animal conflict across the nations.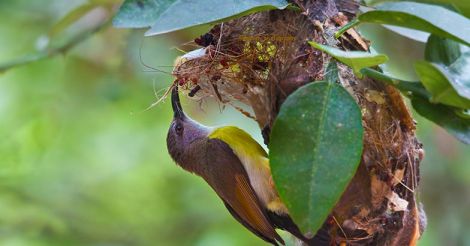 Purple rumped sunbird. Photo: Saurav Ghosh
Successful conservation practices across the nation have to some extent helped in increasing the wildlife populations and even contributed to their higher density in some parts. But the concomitant rise of human populations has resulted in wildlife habitat fragmentation and loss of premier habitats for many endangered herbivores (like elephants, deer, antelopes, wild boars), specialist carnivores (such as lions, tigers, leopards, snow leopards, clouded leopards), omnivores (like bears), birds (parakeets, peacocks etc.), and other such vulnerable species.
As a consequence, the wildlife has been pushed beyond their comfort zone and threshold level, forcing them to enter into human habitation and agricultural fields under desperation for survival. Similarly dependence of economically backward rural communities, remote village members, forest inhabitants and fringe forest dwellers on the scanty forest resources for the five F's (such as food, forage, fodder, fibre and fertilizer) is bringing human and animals in direct conflict with one another for their survival.
Furthermore, due to unequal economic growth patterns across the nation with stronger gaps forming between the rich and poor; as well between the urban and rural areas, divisions among various sections of the Indian society are growing steadily. This in turn has been giving rise to feelings of alienation among forest based marginal communities, making them vulnerable to exploitation and susceptible to adopting unfair means for their economic sustenance.
The greatest push factor behind all forms of insurgencies across this vast nation has been due to unequal and unjustified distribution of wealth among various sections of our society. Unfortunately, a vast section of such marginalized communities are concentrated in the highly forested belts of the nation and along the vulnerable border areas.
As a consequence poaching, illegal capture of wildlife, untimely harvest of major and minor forest products, illegal trafficking of wildlife and wildlife products along important transit check points in the international border areas are increasing rapidly bringing human and animal to head on conflicts. Lack of education, awareness, sensitivity and ignorance towards sensitive forest and wildlife resources are further negatively impacting human-animal relationships across the nation. Fear, superstitions and negative feelings about wildlife results in brutal mass killing of every single trapped leopard, tiger, hyena, bear, bison, monitor lizard or snake that has ever miss-ventured into adjoining human habitation is a crude reality facing the nation.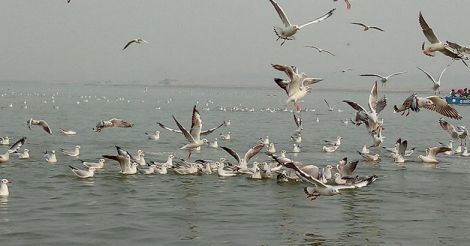 Sea gulls. Photo: Srimoyi Mazumder
Over exploitation of the forests by adjoining human populations in the form of illegal harvest of forest produce, illegal grazing in restricted areas and illegal encroachments for extending agricultural areas into virgin forests are also disturbing and endangering vulnerable local wildlife. Unplanned infrastructure development like developing railway tracks, establishing highways and freight corridors across extremely fragile ecosystems have been causing death of endangered species like elephants due to repeated unfortunate accidents.
Electrocution by coming in contact with high tension wires, pesticide poisoning, accidental anthropogenic forest fires and environmental pollution are also proving detrimental to vulnerable and endangered wildlife species in different parts of the nation. Unless an amicable and conservation friendly, comprehensive policy is developed by the nation; both members human and animals will continue to bleed one another in a dimensionless agenda for the survival of the fittest.
The wildlife stands the highest risk of the burden as they are helpless against the continuous human onslaught into their vulnerable habitats. In a future article, we will explore the possibilities of reducing and containing the impacts of such human-animal conflicts across the nation.
Photo credits:Aranyak Foundation, Dhaka, Bangladesh.

(The author is a Canada and India based freelance journalist specializing in global geo-political, strategic and foreign policy issues, science & technology and environment & conservation related themes.)