"May in Aymanam is a hot brooding month. The days are long and humid. The river shrinks and black crows gorge on bright mangoes in still, dustgreen trees."
Thus began a novel published in 1997 and written by a then relatively unknown young writer called Arundhati Roy.
The God of Small Things went on to become the biggest literary sensation in this part of the world, fetching its author the coveted Booker Prize.
Twenty years later, as another May gives way for rainy June, there's brooding expectation all around for Arundhati Roy's second novel, enchantingly (and mysteriously) titled, The Ministry of Utmost Happiness.
The novel will be released in India on June 6 and most booksellers have already taken hundreds of advance order. Meanwhile, The Guardian has given out (a teaser of) an extract of two chapters, triggering tremendous excitement among her admirers.
And as we all eagerly wait for the pleasure of holding the book in hand and relishing her exquisite sentences, here's a personal recollection of the experience of reading Arundhati Roy for more than 20 years now.
I first came across the name way back in 1988-89 on Doordarshan as scriptwriter/actor of the English Telefilm In Which Annie Gives It Those Ones. She even won the National Film Award for best screenplay that year. The movie was a brilliant attempt at reflecting the mindset of the contemporary, urban youth of the time.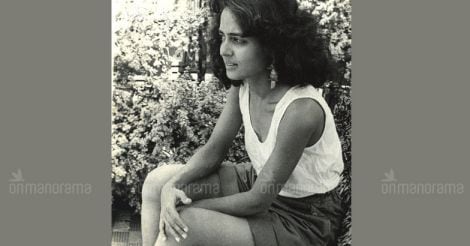 A rare photograph of Arundhati Roy by the late Victor George
Set in the National Institute of Architecture (where Arundhati studied), it has many of the usual qualities that we now associate the writer with. It was irreverent, witty, political (even polemical) and anti-establishment at heart.
The second time I noticed the name was when Shekhar Kapur made the much acclaimed film Bandit Queen based on the life of Phoolan Devi. While the whole world celebrated the movie, Arundhati Roy came up with a scathing critique titled "The Great Indian Rape Trick".
I read it and was overwhelmed by the brilliance of both her argument and idiom.
Three years later, she shook the world with her debut novel which sold millions of copies and got translated into more than 40 languages. It was a very unique book, original in many ways. Particularly striking was her prose style, its freshness as well as its boldness in stretching the possibilities of the English language, a point noticed by the judging committee of the Booker Prize as well. A great creative mind just announced to the world its arrival in such grand terms that nobody in India did before. Tagore may have won the (only) Literature Nobel for India, but The Gitanjali has never had the kind of reach or acceptance that The God of Small Things got the world over.
But if the readers hoped that more novels would follow it, they were in for some disappointment. In the next work that she published, Arundhati Roy shed all her fictional feathers and turned directly political.
The End of Imagination (1998) attacked the Vajpayee government for reversing India's stated position on nuclear weapons and cautioned the overjoyed citizens about the dangers of playing with nuclear fire.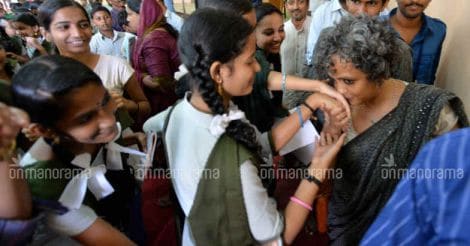 Arundhati Roy with schoolgirls in Thiruvananthapuram. File photo: Rinkuraj Mattancheriyil
This was when an ecstatic Kamala Das (Kerala's most famous woman writer) was serving sweet (specially prepared payasam) in her neighborhood to celebrate India's entry into the Nuclear Club.
Arundhati Roy not only arrived, but ensured that her presence was felt.
What followed was a series of contrarian essays that questioned our assumptions of development, progress, nationalism etc and there was no sign of her returning to fiction.
Many people even wondered if what the title of her first major essay (The End of Imagination) suggested had actually been realized in her case (the Malayalam expression for such an experience is 'aram pattuka').
And for many years her detractors and critics taunted her (and her followers) with the the tag of 'a one book/novel wonder!' Well, not anymore, I suppose.
Arundhati Roy may not have written any fiction in the last 20 years, but during this period she transformed into India's foremost political/social commentator.
In essay after essay, book after book, she questioned the nation's socio-political agenda. She became the voice of the voiceless and championed the cause of the marginalized.
She exposed the unholy nexus between the political leaders and the corporate bosses.
She consistently positioned herself against middle-class conformism/conservatism and often aired unpopular opinions, whether on nuclear weapons, big dams, Maoist rebellion or the Kashmir problem.
In the process, she created numerous enemies, mostly of the ruling class. Two important English journals, Outlook and Frontline (along with their editors Vinod Mehta and N. Ram) gave unconditional support, but her powerful enemies saw to it (and still do) that she doesn't get a free run.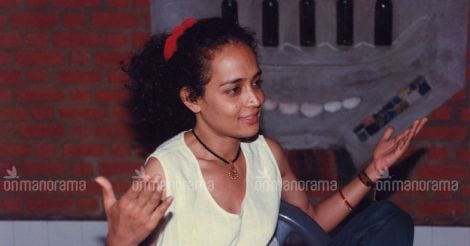 Arundhati Roy sometime in 1997, the year 'The God of Small Things' was published. File photo: P.R. Devadas
She has been pulled up by the court, attacked by politicians in and outside the legislative halls as also vilified on the social media.
But nothing has dented her spirit and she carries on with great energy and industry. The amount of research she undertakes should shame our academic experts.
Arundhati Roy's essays might look flashy and rhetorical on the surface but they invariably hold analyses of the highest quality-- radical and relentless perhaps, but always rigorous.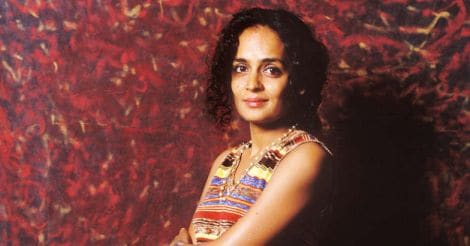 Nothing has dented Arundhati Roy's spirit and she carries on with great energy and industry. Getty Images
That she has a way with words is common knowledge as also her special ability to coin delightful titles. 'The Greater Common Good', 'The Algebra of Infinite Justice', 'Listening to Grasshoppers', 'The Doctor and the Saint', 'Walking with the Comrades' are all very evocative (even romantic) phrases, unusual for polemical discourses.
The Ministry of Utmost Happiness is an equally wonderful title. Whether it contains a dominant narrative component or not, I expect it to have a strong political undercurrent.
I don't think Arundhati Roy can ever be apolitical. She never was. The God of Small Things may have been a hundred other things, but it was a political text as well. The fragile looking but fierce Radha that we saw even earlier when 'Arundhati Roy gave it those ones' hasn't left her yet. She doesn't look like leaving her ever.
As I anxiously wait to be entertained by her delightful sentences, I'm also getting ready to be pained and provoked.
(The author is associate professor in the department of English at St Berchmans' College, Changanassery. His areas of expertise include Shakespeare Studies, Literary Theory and Cultural Studies. A bilingual writer, public speaker and translator, he is an active presence in the academic circles of Kerala.)