The present political crisis in Maldives has once again brought to light India's dilemma in its neighborhood. This is an occasion when a powerful nation finds its might irrelevant in dealing with a small and weak neighbor.
The experience in other countries has shown that neither flexing muscles nor being laid back helps in ensuring that our neighbors remain stable, peaceful and friendly. Their domestic demands, international ambitions, internal strife and geographical disadvantages complicate their relationships with India and they tend to blame India for their ills. Democracies and dictatorships are not different in their love-hate relationship with India.
Ironically, it is the dawn of democracy which brought tensions between India and Maldives. Former president Gayoom was no democrat, but he maintained stability in his country and good and balanced relationships with India and its other neighbors. But the tussle between democratically elected presidents, Nasheed and Yameen, has assumed global importance, leading to a meeting of the UN Security Council, a phone conversation between the US president and the Indian prime minister and visits of Maldivian special envoys to China, Pakistan and Saudi Arabia.
The strategic importance of Maldives may be exaggerated, but the perception is that it is more important than its size of 298 sq km and its four lakh population would justify. The reason is the importance that maritime security in the Indian Ocean has assumed, particularly after the focus of global power shifted from the Atlantic to the Indo-Pacific. The policy of China to create a string of pearls around India to assert its influence has alerted the other powers to the dangers of Chinese domination. The Belt and Road Initiative of China has also made even the tiniest of the Asian states significant in the connectivity that China wants to establish in the oceans.
Maldives has been in search of an identity for itself, given the fact that it is a Muslim country, extremely vulnerable to external interference. No one lamented the absence of democracy during the thirty years of the rule of president Gayoom. An externally inspired coup attempt against Gayoom was put down by the Indian army in 1988 at the behest of the Maldives government. But the island began to be rocked by internal divisions when Mohamed Nasheed won a democratic election in 2013. Nasheed had to resign in a huff and took refuge in the Indian embassy in the capital Male for several days seeking Indian intervention which never materialized. Nasheed said he had been forced to resign and called it a coup.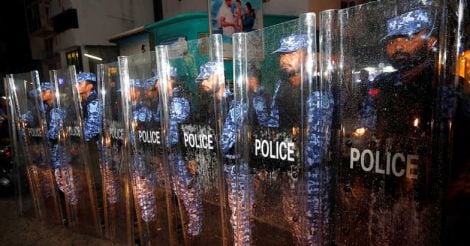 Abdulla Yameen seized power in 2013 after a controversial election. Nasheed won the most votes in the first round in that election, but the Supreme Court annulled it despite the positive assessment of international election observers and made Yameen the president. President Yameen got Nasheed arrested on charges of corruption and sedition and got him sentenced to thirteen years and disqualified from contesting any elections. After months of incarceration, Nasheed managed to be freed on medical bail for treatment in London. Subsequently, having moved to Sri Lanka, Nasheed began to challenge Yameen to get back to power.
The first week of February 2018 witnessed dramatic developments in Maldives. On February 1, the Maldivian Supreme Court ordered the release of nine individuals, whom the court named as political prisoners. The court also ordered authorities to restore the seats of 12 legislators who had been sacked for defecting from the ruling party, adjudging that the cases were politically motivated. When Yameen refused to release the prisoners, there were reports that the court would move to impeach him even though such an authority did not rest with the court.
President Yameen fielded his attorney general (AG) Mohammed Anil in warning the Supreme Court against any such move. "Any Supreme Court order to arrest the president would be unconstitutional and illegal. So, I have asked the police and the army not to implement any unconstitutional order," the AG went on record as saying. Yameen's next move was to send the military to barricade the parliament. Simultaneously, the Yameen government ordered a crackdown on the Supreme Court and in an unprecedented measure, imposed a state of emergency on February 5 for a period of fifteen days. This triggered immediate censure of the Yameen government internationally – by the US, European Union, United Nations and India. However, powers like China, Saudi Arabia and Pakistan kept quiet.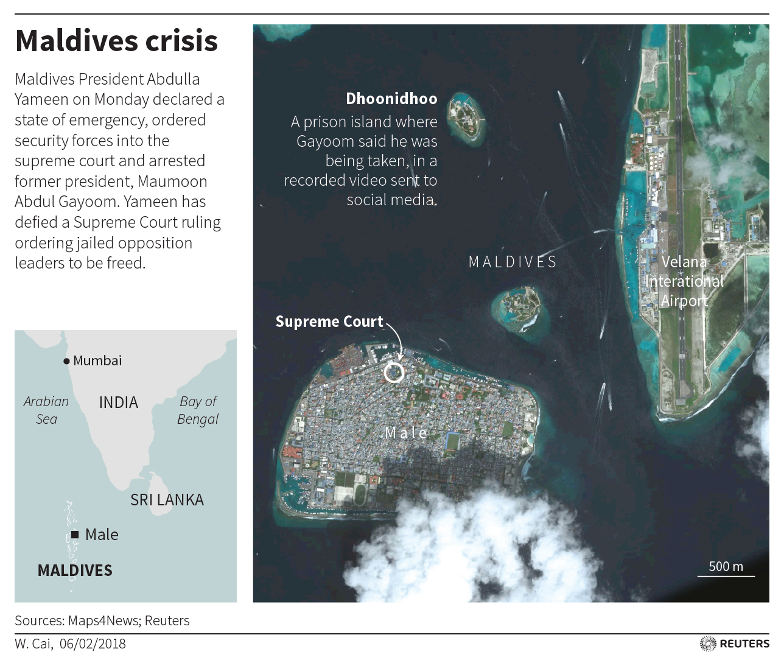 On February 6, three Maldives Supreme Court judges annulled their own order to free a group of imprisoned opposition politicians after two of the court's justices were arrested. Yameen described the original court ruling a coup and a plot and remarked on national television, "This is not a state of war, epidemic or natural disaster. This is something more dangerous... This is an obstruction of the very ability of the state to function."
After Nasheed invited India's intervention and India reportedly kept its forces in readiness to meet any contingency, it was speculated that India might intervene almost three decades after the then Prime Minister Rajiv Gandhi had sent 1,600 soldiers to Maldives on 3 November, 1988, though the situation was very different. This time, there was no external threat and the actions of Yameen were within the constitutional framework of the country. Any action by India could be considered only if there was a popular uprising and violence. The provision for 'Responsibility to Protect,' a relatively new concept at the United Nations, could be legitimately used in that event.
Clearly, there is no immediate danger for Yameen who will take a call when to hold presidential elections in Maldives due this August. Yameen has managed to steady his rocked boat, but it remains to be seen if he would be able to win the next elections.
Donald Trump's telephone call to Narendra Modi was ominous, but both China and India seem keen to avoid a confrontation on Maldives. Both have expressed the hope that a local solution would be found to resolve the crisis. But Nasheed has made a serious charge that China has colonized several Maldivian atolls and that religious fundamentalism was taking hold of the country. India cannot but take note of these developments and prepare itself for preventive action.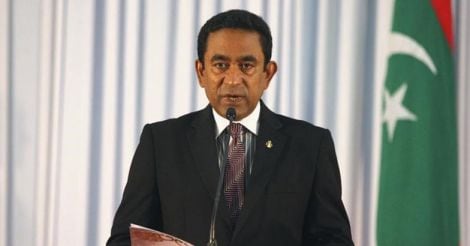 Clearly, there is no immediate danger for Yameen who will take a call when to hold presidential elections in Maldives due this August.
India has very few choices at the moment to ensure that China does not turn Maldives into a Chinese vassal state. Since India was comfortable with Gayoom, it was not too enthusiastic about the transition to Nasheed, particularly after he allowed a Chinese Embassy to be opened in Maldives. It was only after Nasheed was ousted that he turned to India and became a proxy for India. Yameen made overtures to India, but the situation was not considered conducive for a visit by Modi when he visited all the island states in the periphery of India.
India will continue to be in a dilemma on Maldives as long as instability continues there. An intervention is unlikely unless violence erupts engulfing Indian citizens on the islands.
(The writer is a former diplomat and the deputy chief of the council for higher education in Kerala.)
Read more: Latest world news | Columns