If you kidnap and blindfold a Malayali and then take him (or her) to Sri Lanka and then take off the blindfold, it may just be possible to convince him that he's in Kerala.
Hilly lanes in the town of Dehiwala, which is just outside Colombo city limits, bear an uncanny (and almost eerie) resemblance to Thiruvananthapuram's Jawahar Nagar! Many Sri Lankans and Keralites have remarked that the Temple of the Tooth in Kandy and the Vadakkunnathan Temple in Thrissur look like long-lost cousins.
From its coconut tree-laced fields and green hills to its traditional homes roofed with Mangalore tiles and idiappam, puttu and fish curries, no place feels more like Kerala than the island that is across the Palk Strait from India.
The similarities that extend to customs and mentality are not lost on the Sri Lankan soul. This writer was once fortunate enough to get a specially curated tour of the house where the great writer Martin Wickramasinghe lived. The curator of the museum said it was an honour to show "relatives from Kerala around."
The island's foremost literary, cultural and public personality, Dr W A Abeysinghe has translated the works of Kamala Das and MT Vasudevan Nair into Sinhalese. These books have captured the imagination of rural Sinhalese in a way that very works of 'foreign' literature ever have.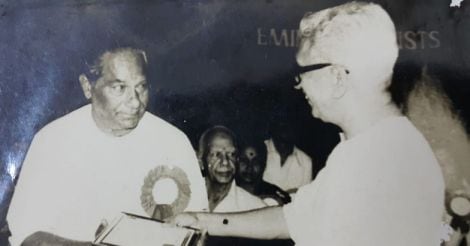 Madhavan receiving an accolade from then Kerala chief minister K Karunakaran.
Post-independence, the Hindi film industry may have managed to capture the hearts of Sri Lankans, but before success of Bollywood, one particular form of Indian performing arts had the people of the island hooked: Kathakali.
'In Once Upon a Tender Time', Sri Lankan author Carl Muller wrote about a Madhavan, who launched his 'Bharatanatyam Ballet' at the St. Peter's School in Colombo in 1940.
"Madhavan, let it be recorded, was lionised wherever he performed," Muller wrote. "The governor of Ceylon, Sir Andrew Caldecott and Lady Caldecott honoured him. Sir Andrew garlanded him and referred to his performance as 'nothing finer in the world of Indian dance'."
Older generation Sri Lankans recall their parents and grandparents talking about the performance and how it led to many people in the country wanting to learn Kathakali and Bharatanatyam.
Madhavan was a great pioneer and courier of Indian culture. He performed an array of dances in his Bharatanatyam ballet. "And so the enchantment went on and his foot tapped to the beat of the Samhara Thandavam and the Kamadhahanam wrapped him in the embrace of the god of love and he rose too, as an ecstatic audience gave the young dancer a standing ovation," Muller wrote.
The performance remained the talk of Colombo for weeks on end. In its September 23, 1940 edition, 'The Times of Ceylon' wrote: "Madhavan, the great Indian dancer, gave conclusive vindication of the encomiums paid to him as the outstanding exponent of the Kathakali… It was a bewildered audience that left the hall, bewildered at the mastery of the art displayed by this young Malabari. This was the first wholly Kathakali recital ever seen in Colombo. Madhavan's remarkable movements, all lend flavour to the minutest action in his performance."
A day earlier, 'The Sunday Illustrated' in Colombo wrote about how Madhavan took Kathakali to America and Europe. "… the young Malabar dancer soon became the sweetheart of the ballet world of Europe and America," the paper wrote. "Madhavan created a revolution in the ballet by carrying out a re-orientation of the Kathakali. He succeeded. The West applauded him. This man was described by art critics as a magnificent human."
In his book, Muller writes that Madhavan's son, P Ravichandran of Palakkad, was his colleague in Sharjah in the 1990s.
An almost forgotten legacy
After reading about the achievements of Madhavan, this author decided to try and get more information about this great man from Palakkad, who made it big in the world of western ballet. Alas, in keeping with time-honoured Indian tradition of forgetting our heroes and national icons, there was almost nothing I could find online.
There are passing mentions of Madhavan being a classmate of Guru Gopinath in the great institution now known as the Kerala Kalamandalam.
There is also a major reference to him in the book written by Louise Lightfoot, the great Australian architect, choreographer and dancer, who is credited with contributing to Australia's cultural life through western ballet and Indian classical dance.
In 'Louise Lightfoot's In Search of India', Lightfoot (who passed away in 1979) wrote, "The fact that to Madhavan, the only Kathakali actor to go abroad, received such fine applause from discerning ballet-loving audiences of London, Paris, New York, etc., proves that Kathakali training certainly ranks with that of Russian Ballet… The experience gained by Madhavan dancing night after night before big audiences gained him a great confidence in himself. Young, and always sure that his facial muscular system will respond to the demands, he dances with splendidly and with a strong personal style. He is one of the world's great solo dancers."
It would take a lot of painstaking research and other efforts to retrace Madhavan's steps and do justice to his legacy, something that was kept alive thanks to a Sri Lankan writer.
(Ajay Kamalakaran is the author of 'Globetrotting for Love and Other Stories from Sakhalin Island'.)
Read more: Column