While Britain grieves the recent bomb attack, Manchester stays strong. It is often said that Manchester is England's first city, but as former prime minister Benjamin Disraeli once said, it is also the "philosophical capital of the world."
But the explosion that rocked Manchester Arena three days ago has proved that there's more to Manchester than meets the eye: the true beauty of the city lies in its preparedness to shore itself up and endure.
On Monday night, 22 were bombed out while attending a relaxed evening enjoying a pop concert at the Manchester Arena. The aftermath, however, has not paralyzed the city of Manchester. The citizens have stood together in dignity helping one another. Mothers brought flasks of piping hot tea for the children of strangers, and for the police. Locals offered a warm room to families they had never known before. Random motorists turned up, offering lifts.
'Pls help me...': frantic parents hunt for kids after UK concert blast

Taxis from even faraway Liverpool area were offering free rides to hundreds of concert goers, to wherever they wanted to go.
There has been an instinctive solidarity in the country, particularly in Manchester. There were billboards saying, "This is Manchester. We unite and we are strong. Our doors are open to strangers and we give free taxi rides. But, we do grieve." It was a sad lament.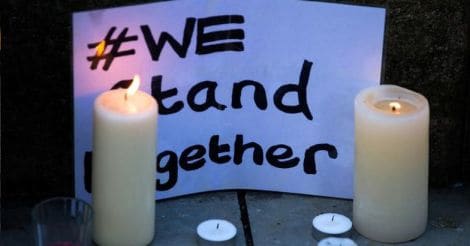 Candles and a message of condolence are left for the victims of the Manchester Arena attack in central Manchester. Reuters
Funeral doves, along with big blue balloons, were released to the sky above crowds of mourners. But everyone admits that it will take time for the reality to sink in. The trauma is there in the air but the strength of the city is readily apparent.
The nation's politicians showed solidarity by spontaneously suspending the election campaign after the carnage.
The catastrophe took place at Manchester, the back of Arndale Shopping Centre, one of the biggest music venues in the world, when kids in T-shirts and posters came to listen and celebrate the performance of former child star Ariana Grande. One of the youngest to succumb was Saffie Rose Roussos, who was aged only eight.
The death toll is likely to rise but the spirit of Manchester will endure.